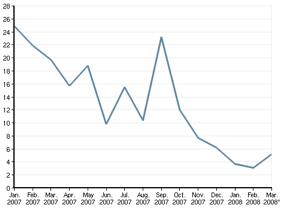 "Five years later, the United States remains at war in Iraq, but there are days when it would be hard to tell from a quick look at television news, newspapers and the Internet," observes New York Times reporter Richard Pérez-Peña. "Media attention on Iraq began to wane after the first months of fighting, but as recently as the middle of last year, it was still the most-covered topic. Since then, Iraq coverage by major American news sources has plummeted, to about one-fifth of what it was last summer, according to the Project for Excellence in Journalism."
The past week saw a dramatic escalation in violence in Iraq and rising civilian deaths, prompting analysts to warn that "Iraqis may be about to witness a new phase in the cycle of violence ... intra-Shi'ite bloodletting that could tear Iraq apart and more deeply embroil U.S. forces." But even these developments have barely cast a media ripple.
The Iraq war has also been losing ground for attention on the internet, according to a recent report which shows that "the war in Iraq continues to decline in search interest, down 120 percent over the past three and a half years," while interest turns to topics such as Paris Hilton, Ashley Alexandra Dupre, Heath Ledger and the latest YouTube video.