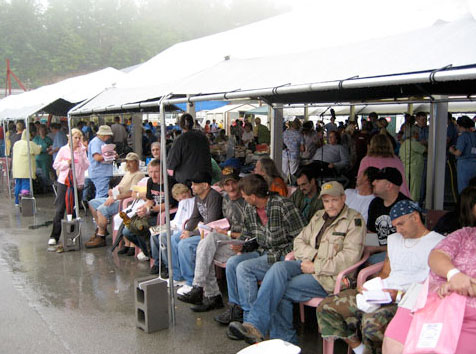 ATTN: Nancy-Ann DeParle, Director of the White House Office of Reform
Dear Nancy-Ann,
First, forgive me for being familiar, but we were introduced by our mutual friend, Scott Lucas, at a University of Tennessee Torchbearers' reunion in Knoxville about 25 years ago. I'm confident that neither of us could have imagined that we would be advocates for health care reform two and a half decades later.
I am writing to invite you and, if their schedules permit, President Obama and Secretary Sebelius, to join me next week at a remarkable event in Los Angeles that I am confident you will never forget. I'm also confident it will inspire you to redouble your efforts, if that is possible, to make certain the President has the privilege of signing a meaningful and comprehensive health care reform bill later this year.
As you may know, I was an executive at two of the country's largest health insurance companies, Humana and CIGNA. As you may also know, I recently testified before the Senate Commerce Committee about how insurance companies confuse their customers and dump the sick -- all so they can satisfy their Wall Street investors.
I left my job a few months after seeing firsthand the consequences of the actions insurance companies take every day to meet those investors' relentless profit expectations. I saw it in the faces of the thousands of people who had been waiting for hours in the rain to get care many of them so desperately needed but couldn't afford because they were either uninsured or underinsured. They had been waiting in long lines since long before daybreak to get care from doctors who were volunteering their time to treat them in animal stalls at a county fairground in Wise County, Virginia, not far from where you and I grew up. Other volunteers had worked for days beforehand to scrub and disinfect those animal stalls and to set up tents that would be used as additional treatment sites. Many of the people who came for care slept in their cars in the fairgrounds parking lot for two days or more to be assured of getting inside the gates.
The organization that made it possible for those folks to get the care they needed was Knoxville-based Remote Area Medical (RAM). RAM's original mission was to provide free care to people who lived in remote villages in third world countries. Soon after it was founded, about the time you and I first met, RAM's founder, a British citizen and former actor named Stan Brock, realized that there was a great and growing need for his organization's services all across America.
RAM has been providing free care in Wise County once a year for 10 years. When I went to the eighth annual "expedition," as RAM calls these events, in July 2007, I was a curious insurance company executive. When I went back last month I was an advocate for comprehensive health care reform and a critic of the many health insurance practices that make it necessary for people to stand in line, in the dark and in the rain, to get care in animal stalls.
The expedition in Los Angeles, to be held at the Forum where the Lakers used to play, will be the biggest one RAM has ever held in the United States and the first one in a major city. It will start at 6 a.m. on Tuesday, August 11 and extend over eight days, far longer than the three days of the Wise County expedition.
I apologize if this seems like short notice. If you and President Obama and Secretary Sebelius cannot attend, please send someone else from the administration, if for no other reason than to meet Stan Brock, one of the most remarkable people you will ever meet, the volunteer doctors and other health care professionals, and, most importantly, a few of the people who will be standing in line to get care.
A final note: I have been called a whistleblower for speaking out against the health insurance industry. I see myself as someone who is simply trying to shine a light on industry practices the industry would rather not be made public. I feel that I am at long last living up the Tennessee Volunteer credo that is inscribed on our Torchbearer plaques: "He that beareth a torch shadoweth himself to give light to others."
Please join me in Los Angeles next week to shed light on the plight that an ever growing number of Americans are finding themselves in as a result of insurance industry practices that should be illegal.