The Franklin Center for Government & Public Integrity (through its Wisconsin Reporter and Watchdog.org websites) has aggressively attacked the "John Doe" probe into possible campaign finance violations during Wisconsin's 2011 and 2012 recall elections. Its outlets have also published new information about the apparent targets of the investigation, but they have omitted an important detail: Franklin Center has close ties to individuals and groups that may be caught up in the John Doe.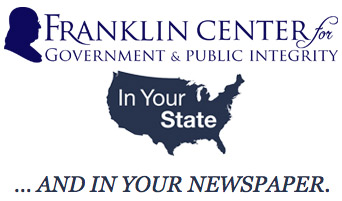 The only name associated with the investigation, Eric O'Keefe, helped launch the Franklin Center's operations in 2009, and his Sam Adams Alliance group provided the majority of its startup budget; O'Keefe has spoken publicly about being subpoenaed in his capacity as director of Wisconsin Club for Growth. Franklin Center's Director of Special Projects John Connors, and the Executive Assistant to the President Claire Milbrandt, also have close ties to a group reportedly involved in the John Doe probe. Its former Director of Operations and General Counsel, James Skyles, worked with another group active in the Wisconsin recalls.
Franklin Center's Wisconsin Reporter has written 16 stories so far that are highly critical of the John Doe probe and prosecutors (calling its series "Wisconsin's Secret War"), but these latest revelations raise questions about whether the outfit has a conflict of interest in its coverage.
"It does sound like a conflict-of-interest situation that minimally ought to be disclosed, whenever stories are written," said Robert Drechsel, Director of the Center for Journalism Ethics at the University of Wisconsin School of Journalism and Mass Communications. "Particularly if the reporting in question is being done by an entity that holds itself out as nonpartisan and as doing the same kind of journalistic work being done by any traditional journalism institution."
Franklin Center Attacks John Doe, Citing Unnamed Sources
After Milwaukee Journal Sentinel reporter Dan Bice first reported on the new "John Doe" investigation -- a secret inquiry unique to Wisconsin that is "just like a grand jury except no jury," led by special prosecutor Francis Schmitz, a former federal counterterrorism prosecutor with Republican credentials -- interest was high, but thanks to the John Doe's strict secrecy rules, details were hard to come by.
The Franklin Center/Wisconsin Reporter quickly filled the void.
Wisconsin Reporter launched its "Wisconsin's Secret War" series in October, citing unnamed sources to reveal that Wisconsin Club for Growth, Americans for Prosperity, and Republican Governors Association had received subpoenas, and describing details about "after-hours visits to homes and offices" and prosecutors' "demands for phone, email and other records." Thanks to those unnamed sources, Wisconsin Reporter had a new platform, and used it to recast the John Doe investigation as "an abuse of prosecutorial powers" with "the apparent goal of bringing down Gov. Scott Walker." The Walker campaign and 28 other groups also reportedly received subpoenas.
"This is a taxpayer-funded, opposition-research campaign," an anonymous source told the Wisconsin Reporter.
Wisconsin Club for Growth soon became the most prominent name associated with the John Doe after its director, Eric O'Keefe, told the Wall Street Journal editorial board that he had been subpoenaed, with the investigation allegedly looking into what the Wall Street Journal called "illegal campaign coordination" between campaigns and independent groups. The group is also led by RJ Johnson, a top Walker advisor.
CMD uncovered how in 2011, O'Keefe's Wisconsin Club for Growth took in $12 million, some of it from dark money conduits like the Koch-connected Center to Protect Patient Rights (CPPR) and the Wellspring Committee, and in turn shuffled millions to other organizations that spent money on ads during Wisconsin's Supreme Court race and recall elections. (CPPR, which is connected to the billionaire Koch brothers, was recently fined $1 million by California's elections board for its role in what the Washington Post called "a series of money swaps and transfers through a network of politically active nonprofit groups" to avoid donor disclosure. California prosecutors called it "campaign money laundering").
All of the groups involved in Wisconsin Club for Growth's monetary transfers are "dark money" groups, a phrase which refers to election spending by nonprofits that exploit loopholes in campaign finance disclosure laws, and keep their donors secret by running "issue ads" designed to influence elections.
Franklin Center's John Connors Directly Connected to Dark Money Web
A central character in the Wisconsin Club for Growth dark money web is John Connors, the Franklin Center's "Director of Special Projects," who has close ties to many of the groups receiving funding from O'Keefe's Wisconsin Club for Growth. Some of those groups have reportedly been subpoenaed.
In the wake of the Center for Media and Democracy's reporting on money changing hands between O'Keefe's Wisconsin Club for Growth and groups tied to Connors, Franklin Center's Wisconsin Reporter quickly went on the offensive in a series of articles, making up its own definition of "dark money" for an unfounded attack on CMD's credibility, and falsely claiming that CMD's reporting constituted the launch of a "national campaign" to "unseat the governor."
None of the articles note Connors' ties to the Franklin Center/Wisconsin Reporter, even when attacking CMD's stories that address him by name.
Here are some examples of those ties:
Connors registered the web domain for United Sportsmen of Wisconsin, a group that worked with Wisconsin Family Action and Americans for Prosperity on an operation during the 2011 recall races in which absentee ballot applications were sent with the incorrect date for elections. Connors' Citizens for a Strong America transferred $236,000 to United Sportsmen in 2011. The United Sportsmen group was embroiled in scandal earlier this year after outgoing Assembly Majority leader Scott Suder cut a $500,000 taxpayer-funded "sweetheart deal" for the group, which Governor Walker rescinded after public outcry.
A review of Franklin Center's tax filings shows that it has paid $235,157 to Connors' Milwaukee-based consulting firm, J Connors & Co, over the past two years ($114,930 in 2012 and $119,227 in 2011). A close Connors associate, Claire Milbrant, who has worked at J Connors & Co since its founding in 2009, was also hired by the Franklin Center last month as its Executive Assistant to the President.
In addition to being the Franklin Center's "Director of Special Projects" -- part of its "leadership team," according to the organization's website -- Connors registered Wisconsin Reporter's "Watchdog.org" web domain.
Franklin Center/Wisconsin Reporter has attacked CMD's reporting about Connors' groups but has failed to mention that one of its directors is directly tied to those organizations.
CMD's calls to John Connors for comment have not been returned.
Group Led by Wisconsin Club for Growth's Eric O'Keefe Helped Launch and Fund Franklin Center
Mike McCabe, Executive Director of the Wisconsin Democracy Campaign, cautioned that the public still doesn't actually know what the John Doe investigation is about: we only know what Franklin Center has reported, and what Eric O'Keefe, the Wisconsin Club for Growth chair, told the Wall Street Journal editorial board.
"It's no accident that he went to Murdoch's newspaper, and no accident that it ran as an editorial [in the Wall Street Journal] rather than a news story," said McCabe, whose nonpartisan, nonprofit group tracks election spending in Wisconsin.
On Wisconsin Club for Growth's last published IRS Form 990, O'Keefe was listed as one of just three board members who spend hundreds of hours a year leading and guiding that group, whose budget increased twelve-fold in 2011 while Scott Walker was facing a potential recall election and also grew in the 2012 election year.
O'Keefe's ties to the Franklin Center run deep. He was the CEO and chairman of the Sam Adams Alliance, which in 2009 launched and funded the Franklin Center. According to an O'Keefe bio from last year: "Under his leadership, the Sam Adams Alliance (SAM) has established some of the most active and respected organizations in the freedom movement, including American Majority and the Franklin Center." Whether he continues to fund or direct funds to Franklin Center is unknown.
O'Keefe's Sam Adams Alliance, whose president was the former executive director of the Illinois State Republican party, acted as the Franklin Center's "sponsoring organization" until the group obtained its 501(c)(3) status, according to its communications director. According to the Milwaukee Journal Sentinel, much of the $2.9 million Franklin Center raised in its first year came from the Sam Adams Alliance. (The other group that O'Keefe boasts of creating in his bio, American Majority, was established to recruit and train Tea Party political candidates, and held a rally in support of Governor Walker during the height of the 2011 protests featuring Andrew Breitbart and others.)
Franklin's President, Jason Stverak, previously worked as Regional Field Director for O'Keefe's Sam Adams Alliance, after leading the South Dakota Republican Party for six years. Their allies speak of O'Keefe and Stverak in the same breath. For example, in the acknowledgement section of James O'Keefe's book, the undercover videographer whose heavily-edited videos helped bring down ACORN (and who is not related to Eric O'Keefe) thanks "Eric O'Keefe and Jason Stverak for their role in the citizen journalism movement."
In only one of the sixteen articles Franklin Center/Wisconsin Reporter has written on the John Doe have they touched on O'Keefe's ties to Franklin Center.
"The public has to be very wary of taking for granted what is being reported by the Wall Street Journal and Wisconsin Reporter," McCabe said. "O'Keefe and others have decided that is who they want reporting on John Doe, they've decided what to leak, and how they want it framed, and what they want the public to believe what the investigation is about," he said, while prosecutors and judges are gagged by the John Doe's secrecy order.
Ties to the "Coalition for American Values"
Franklin Center also has connections to another mysterious organization active during the Wisconsin recalls called "Coalition for American Values." That group dropped $400,080 on a flood of ads in the final weeks before Governor Walker's recall election, and attracted significant attention by making a unique appeal: instead of promoting Walker or attacking his opponent, the ads attacked the premise of the recall itself. The ads depicted individuals who claimed they would vote for Walker not necessarily because they support his policies, but because they opposed the use of recall under these circumstances.
These ads, coupled with similar messaging from Governor Walker, proved effective. Exit polls on June 5, 2012 showed that sixty percent of voters thought recalls were only appropriate for cases of official misconduct -- a complete reversal from polls conducted in November 2011, just as the recall was launched.
The address Coalition for American Values lists on its filings with Wisconsin's Government Accountability Board, and on its associated PAC's filings with the Federal Election Commission, is 119 S Emerson St #231 in Mt Prospect, Illinois. This is also the address given for Coalition for American Values' lawyer, James Skyles, who was General Counsel and the Director of Operations for the Franklin Center until March 2011.
The "treasurer" listed on Coalition for American Values' FEC filings and the contact on its filings with Wisconsin's election board is Brent Downs. In 2008, when Connors chaired the Marquette College Republicans, Downs was his treasurer. Both were both students at Marquette University at the same time, and Downs, like Connors, also chaired the Students for Prosperity chapter of David Koch's Americans for Prosperity at Marquette University.
In its FEC filings, the Coalition for American Values reports tens of thousands of dollars of payments to Connors' Campaign Now! consulting and direct mail firm (which he has run out of the same office as J Connors & Co, along with Claire Milbrant).
The Coalition for American Values explicitly called for the reelection of Governor Walker, so the group reported its spending, but it did not report the true origin of its funds. Wisconsin law requires that nonprofits or corporations disclose the source of all contributions "made for" the purpose of funding their ads -- but Coalition for American Values sidestepped those rules by claiming that the $400,080 was not specifically provided to the group for the ads, despite there being few other reasons that a donor would have given the group hundreds of thousands of dollars.
Franklin Center Takes Bull by Horns
The Franklin Center/Wisconsin Reporter has led the charge against the John Doe investigation, the prosecutors involved, and even reporters covering the topic.
Professor Theodore L. Glasser, a Professor of Communications at Stanford University, told CMD that at a minimum, a news outfit should disclose their connections to the subjects they are reporting on. "For the reader, without that transparency, it is hard to make a judgment about the independence of that reporting," he said.
"Not to say that the conflict [of interest] would go away with transparency, but it would at least allow readers to judge for themselves."
Mary Bottari contributed to this article.