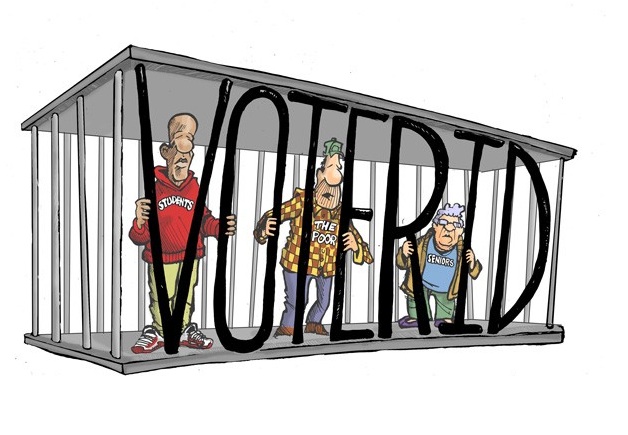 In May of 2011, Wisconsin Republicans took the rather extraordinary step of stopping work on the budget to pass a voter ID bill in advance of the recall elections. Earlier this year, Walker vowed to call the legislature back into session to pass a new voter ID law if courts didn't ultimately uphold the measure, which lower courts had blocked.
Yet now that the voter ID law has been reinstated, Walker and legislative Republicans have, thus far, declined to make any effort to mitigate the law's negative impact on the 300,000 voters who don't have the forms of ID required under the law. Most of those who don't have ID are people of color and students -- which happen to be populations that tend to vote for Democrats.
On September 13, with just five weeks before election day, an all-Republican panel of 7th Circuit judges put Wisconsin's voter ID law back into effect, leaving hundreds of thousands of people just weeks to get the ID necessary to vote.
The Advancement Project and ACLU have noted that the state would need to issue 6,000 IDs per day to protect the right to vote. Yet two-thirds of the state's Department of Motor Vehicles offices are only open part-time, and just one is open on Saturday, making it exceptionally difficult for working people to get an ID or to drive a friend or family member who doesn't have one.
Democrats have called on Walker to extend DMV hours, but the governor has dismissed their pleas, asserting that "there's no barrier" to getting an ID for hundreds of thousands of people in the state. He shrugged off the burdens on voters as "a lot of hype and hysteria by some on the left."
The state elections board has no budget to launch a public education campaign, so many in the state are unaware that, in contrast with past elections, they will need identification at the polls. According to a Marquette University poll issued October 1st, 20 percent of registered voters don't know they'll need ID on election day. The board has asked the legislature for $460,000 in already-appropriated funds to support a public education campaign, but has not yet received a response.
Walker and legislative Republicans went to great lengths to put the voter ID restriction in place, but are now making zero effort to fairly implement the measure.
Their inaction is even more appalling given that the law was not needed in the first place. In-person voter fraud occurs at a statistically insignificant rate in Wisconsin -- in-depth investigations by both Republicans and Democrats have found, at most, one or two cases of voter impersonation in each election -- but the law could have a statistically significant impact on the outcome of November's elections.
Polls show that the race for governor is a statistical tie.
"Disingenuous" 7th Circuit Ruling
Also on Tuesday, the full 7th Circuit issued written opinions in its divided decision upholding the reinstatement of the voter ID law. Five judges -- all appointed by Republican presidents -- voted to uphold the September 13 ruling putting the law into effect, and five judges, both Republican and Democrat, voted for rehearing the case. The tie left the three-judge panel's September 13 decision in place.
The opinion supporting the law's reinstatement was "disingenuous," said University of California-Irvine law professor Rick Hasen.
Writing for the five Republican judges, Judge Frank Easterbrook dismissed concerns about voters not getting IDs before November 4, declaring that the law "was enacted in May 2011. Voters in Wisconsin who did not already have a document that Wisconsin accepts have had more than three years to get one."
Yet, as Professor Hasen notes, until the 7th Circuit's decision in September, "the law had been put on hold, and a federal judge had determined the law was likely unconstitutional and a violation of the Voting Rights Act. Why should individuals who lacked the narrow kind of ID necessary for the law have gone out to get it when there was a good chance (as predicted by a federal judge) that the law would never be implemented?," Hasen wrote on his Election Law Blog. The opinion also ignored the critical differences between Wisconsin's voter ID law and the Indiana law at issue in the U.S. Supreme Court's ruling in Crawford v. Marion County.
Judge Ann Claire Williams, a Clinton appointee, issued a sharply-worded dissent. "It simply cannot be the answer to say that 90 percent of registered voters can still vote. To say that is to accept the disenfranchisement of 10 percent of a state's registered voters; for the state to take this position is shocking."
"The state has conducted hundreds of elections without a voter identification requirement," she wrote. "It had been preparing for months to do the same again."
"It is simply impossible -- as a matter of common sense and of logistics -- that hundreds of thousands of Wisconsin's voters will both learn about the need for photo identification and obtain the requisite identification in the next 36 days."
Eleventh Judge, Blocked by Ron Johnson, Could Have Been Deciding Vote
The outcome in the 7th Circuit might have been different if Wisconsin Senator Ron Johnson had not blocked an eleventh judge.
The Seventh Circuit split 5-5 on the question of rehearing the voter ID challenge -- thereby leaving the panel's decision in place -- because the eleventh seat has been vacant for more than four years. The deciding vote could have been Victoria Nourse, a University of Wisconsin law school professor nominated to the bench by President Obama in 2010.
Ultimately, Nourse's nomination was not confirmed, leaving a vacancy on the Seventh Circuit that could have broken a tie vote on that closely divided appellate court, although there is no way to predict how she or her successor would have voted.
---
This article has been corrected to remove an erroneous suggestion that the failure of the Nourse nomination was caused in any way by the policies or actions of the Chairman of the Senate Judiciary Committee. Nominations fail for a variety of reasons, and it was incorrect to attribute this to the Chairman or to suggest that he made the Senate's long-standing blue slip rules worse when in fact he and others have sought to improve and expedite the confirmation process in countless ways. (Full disclosure: CMD's Executive Director, Lisa Graves, served as Senator Leahy's Chief Counsel for Nominations, and has approved this correction, which reflects her knowledge of these processes.) We regret that this error was posted by CMD.