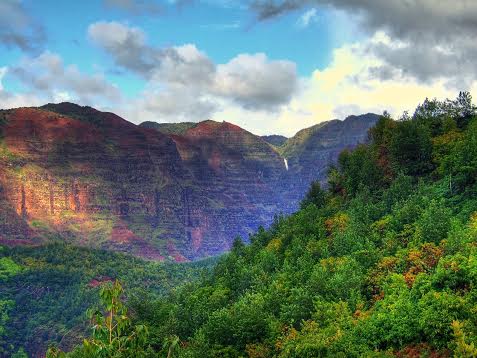 U.S. Magistrate Judge Barry Kurren overturned Kaua'i County's law regulating the use of pesticides and genetically modified organisms (GMOs) this week. He ruled that it was preempted by Hawai'i state law, although not by federal law.
The four chemical companies operating on Kaua'i -- DuPont Pioneer, Syngenta, Dow Chemical subsidiary Agrigenetics, and BASF Plant Science -- challenged the law in court, arguing that it is invalid and unfairly targets their industry.
The county law, Ordinance 960, was passed in November 2013 and would have gone into effect this month. It requires buffer zones between fields spraying pesticides on GMO crops and sensitive areas like schools and hospitals. It also requires chemical companies and large farms to disclose types and quantities of pesticides they spray as well as the location of fields growing GMO crops. (Read more here.)
West Kaua'i resident Malia Chun said in a press release by Hawai'i Alliance for Progressive Action, "It's discouraging to witness the injustices and inadequacies of the American legal system, which in this case has valued and protected corporate profit and trade secrets over people's simple, basic human right to know what toxic chemicals they are being exposed to in excessive amounts almost daily."
The environmental advocacy organizations Earthjustice and the Center for Food Safety had joined the case in order to help defend the law, also representing Pesticide Action Network, the Surfrider Foundation, and a group of local residents affected by pesticide drift.
Earthjustice attorney Paul Achitoff told Earth Island Journal, "Obviously I would have preferred a different ruling… I will recommend to my client that we appeal to a higher court."
As investigative reporter Paul Koberstein wrote in a groundbreaking report for the Center for Media and Democracy, "For the better part of two decades, Syngenta, BASF Plant Science, DuPont Pioneer, and Dow AgroSciences have been drenching their test crops ... on the southwest coast of Kaua'i with some of the most dangerous synthetic pesticides in use in agriculture today, at an intensity that far surpasses the norm at most other American farms..."
The law's supporters argue that the health of the people, animals, and plants of Kaua'i are at stake in a vast experiment by the chemical industry.