-- by Lee Fang, The Nation Institute and Nick Surgey, Center for Media and Democracy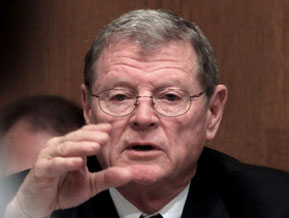 If Republicans win control of the U.S. Senate this year, Senator Jim Inhofe (R-OK), a lawmaker famous for his belief that the entire body of climate science research is a "hoax," will take control of the Senate Committee on Environment and Public Works, which oversees matters relating to pollution and environmental problems.
So it should be little surprise then that Inhofe made an appearance by video last week at the Heartland Institute, a think tank famous for peddling big business-friendly viewpoints on behalf of corporate sponsors, during a conference for climate change skeptics. The group, like Inhofe's political action committee, is funded through hefty donations from the oil and gas industry. Inhofe's speech came during the lunch session led by Christopher Monckton, a British pundit famous for his outlandish views, including the belief that AIDS patients should be "quarantined."
"You guys are the only ones out there that can be effective in this battle," said Inhofe, cheering on the conference attendees. "Good luck you guys, let's win this together."
Watch the video below:
---
The article originally appeared at Republic Report