The American Legislative Exchange Council (ALEC), which has secretly lobbied for the adoption of its corporate-backed bills and tracked them for years, is likely anticipating or actually under an IRS examination, says a former head of the IRS Exempt Organizations division, Marcus Owens. He makes this observation in light of recent claims by ALEC staff that it does not track where its bills are introduced or passed, despite extensive evidence that it has done so for years and bragged about doing so.
ALEC: "We Don't Track Our Model Policies ..."
In December, Molly Jackman examined ALEC for the non-partisan Brookings Institute, studying which ALEC bills were introduced in state legislatures in the 2011 and 2012 sessions. Jackman conducted "Boolean string searches," to search for language taken from 169 ALEC "model bills" selected from the library of more than 800 ALEC bills, available at the Center for Media and Democracy's ALECexposed.org. She identified 132 bills, which contained language from the ALEC "model" bills. Because ALEC has claimed that nearly 1,000 of its bills are introduced every year, she contacted ALEC's communications and public affairs team to ask for a copy of the ALEC list.
As Jackman recounted to CMD, she was told not only that she could not have a copy of ALEC's bill tracking spreadsheet but also that ALEC categorically does not track where its model bills are introduced.
Just in case she didn't get the message, ALEC then took to Twitter to repeat the claim.
The official ALEC twitter account - @ALEC_States - tweeted publicly at the Brookings Institute: "@BrookingInst, we don't track our model policies."
... Except It Has Done So for Years
For many years, ALEC has researched and tracked where its model legislation has been introduced.
1. For years, ALEC has boasted to prospective funders and its existing members that it tracks legislation.
In a 1995 document, then ALEC Executive Director Samuel Brunelli described the 973 bills introduced that year, of which he said that 23 percent became law: "With our success rate at more than 20 percent, I would say that ALEC is a good investment," wrote Brunelli. "Nowhere else can you get a return that high." In various ALEC publications, such as those published in 1985, 2000, 2008, 2009, 2011 and 2013 (all on file with CMD), the organization wrote that its staff engages in what it described each time as "legislative bill tracking."
From the 2013 document just last year:
"Beyond model legislation, ALEC's policy staff provides non-partisan research, policy analysis, scholarly articles, reference materials, legislative bill tracking and expert testimony on a wide spectrum of issues, including its annual Rich States, Poor States, Report Card on American Education, and EPA's Regulatory Train Wreck Reports."
ALEC's own words, "legislative bill tracking," are completely unambiguous, but there is more.
2. ALEC sends "Issue Alerts" to its members
The good government organization Common Cause obtained hundreds of bill alerts and similar communications, each sent to multiple legislators in dozens of states, for the years 2010, 2011, and 2012. (Disclosure: I was Staff Counsel at Common Cause when they made the IRS complaint, during which I led the Common Cause research on ALEC.)
The ALEC "Issue Alerts" were part of a massive 2012 IRS Whistleblower submission filed by Common Cause about ALEC, alleging widespread lobbying. It is obvious from reviewing these communications that ALEC tracks its model bills. Take a look at them yourself here.
3. ALEC has used Microsoft Excel to track its bills, and CMD has copies of them
CMD has numerous copies of ALEC's bill tracking documents, from 2010, 2011, and 2012. For example, Excel spreadsheets for both the ALEC "Civil Justice" task force and for its Energy, Environment and Agriculture task force track when and where each model bill gets introduced. They were sent periodically to the legislators, corporate lobbyists and special interest group reps with updates on the bill's passage throughout the year.
For the Civil Justice task force, for example, a second electronic spreadsheet of "problematic bills" ALEC opposes has been sent to legislators. One example of these "problematic bills" concern so-called "false claim" laws, which have been described by the New York Times as bills to "make it easier to recover money from businesses that defraud the state." You can see an example of these spreadsheets, part of the Common Cause IRS submission, here.
4. ALEC "legislative scorecards" sent to its funders
CMD has on file numerous "legislative scorecards" published by ALEC. This has been a long-term practice of ALEC, which has lobbied for the introduction and passage of its bills for years, and not just in recent years. For example, the 1992-1993 version described 693 ALEC model bills introduced and noted that 99 became law.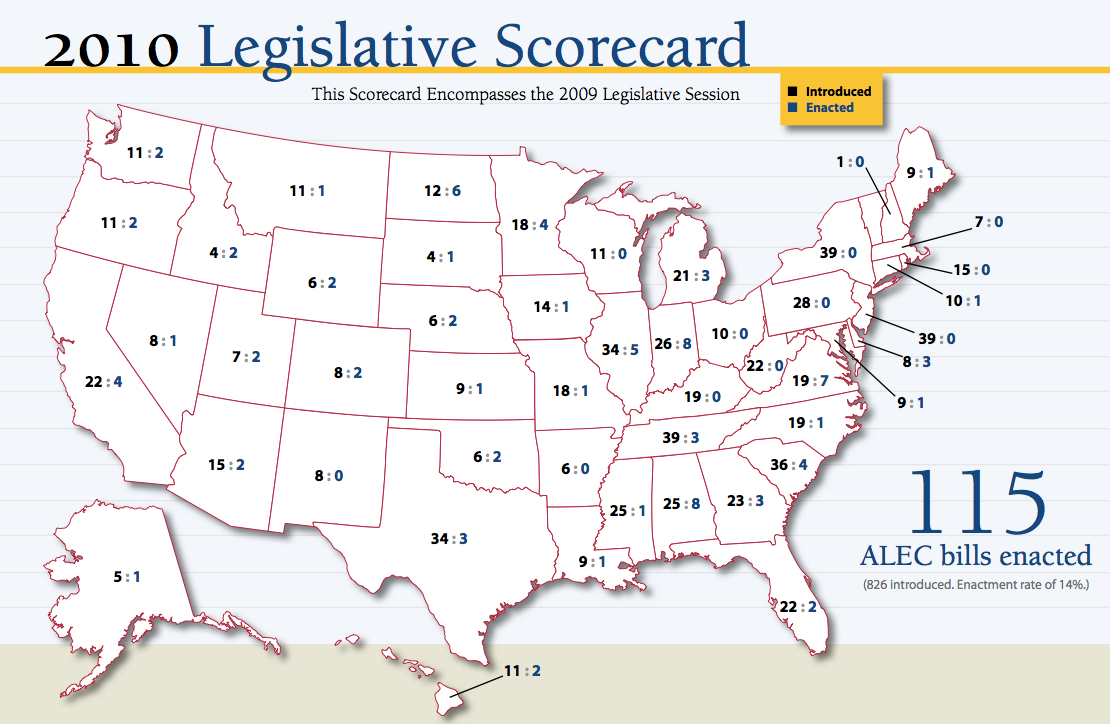 Similarly, the 1995 scorecard touted a record 978 bills introduced, with 231 becoming law. "At least one piece of mode legislation was introduced in every state," it boasted of that year.
Fast forwarding to 2006, that scorecard celebrated 808 ALEC "model" bills introduced, with 142 becoming law. The most recent version of a scorecard (as distinct from the Excel spreadsheets and other more recent communications) obtained by CMD was from 2010, which described 826 ALEC bills introduced, with 115 enacted into law.
Each scorecard clearly shows ALEC tracks legislation.
Some of this tracking has already been reported elsewhere. The New York Times, for instance, reported in April 2012 on ALEC's colorful spreadsheets: "Beyond creating model bills, ALEC keeps careful track of state legislation, as well as national issues, and tries to mobilize its lawmaker members to take action. Aides on ALEC task forces keep detailed, color-coded spreadsheets on "good bills" and "problematic bills" in all 50 states, and they regularly send e-mails to alert legislators about ones that ALEC opposes or supports."
The tracking documents referred to in the Times article, were provided to the IRS as part of more than 4,000 pages of evidence that Common Cause submitted in its April 2012 whistleblower complaint against ALEC. The Common Cause complaint alleged ALEC had engaged in extensive lobbying, which they had failed to disclose to the IRS.
Why Deny the Obvious?
According to one IRS expert, ALEC appears to be denying the bill tracking because it looks a bit too much like what a full-blown lobby shop might do and as a 501(c)(3) tax-exempt charitable organization (think the Red Cross) ALEC can only engage in very limited lobbying. ALEC has repeatedly reported to the IRS that it does zero lobbying.
Marcus Owens -- who on behalf of the group Clergy Voice filed an IRS complaint regarding ALEC's undisclosed lobbying in 2012 -- told CMD that "the tracking of ALEC-sponsored bills has the look and feel of lobbying."
The recent ALEC claims that it does not track legislation suggest that "ALEC is either under IRS examination, or believes that one is imminent," according to Owens.
A "significant portion of its activities could be, or are being, construed as lobbying by the IRS," Owens noted. If found to have violated IRS rules ALEC could be fined and penalized, as could the member corporations funding ALEC and benefiting from its lobbying for their bills.
One of the internal ALEC documents released by The Guardian in December 2013 was a legal memo to ALEC from its lawyer Alan Dye. The memo stated: "though we do not believe that any activity carried on by ALEC is lobbying, the IRS could disagree." It went on to suggest a strategy of transferring any activity that the IRS took issue with to a new entity called the Jeffersonian Project. The Jeffersonian Project would be a 501(c)(4) organization that free to engage in unlimited lobbying activities to advance the ALEC agenda.
The ALEC (c)(4) would share its entire staff with ALEC, be housed in the same office as ALEC, and have a board chosen by the existing ALEC board, according to those materials. Some of the new organization's staff would register as lobbyists according to the Guardian documents, but would do so not as "ALEC." Some of the existing ALEC activities like its "Issue Alerts" about bills being introduced would be transferred to the new group.
The Jeffersonian Project has not yet been publicly launched but it might be that ALEC staff -- sitting in their ALEC office in Virginia but acting on behalf of the Jeffersonian Project -- are now doing what ALEC has done for decades: tracking where ALEC bills are introduced and urging legislators to pass them.
It will be up to the IRS to determine if the claims ALEC started making in December about not tracking its legislative wish list actually erase decades of ALEC tracking bills and urging that they be introduced and passed.