A longer version of this article was first published by the Charleston Gazette. The water company involved, West Virginia American Water, is a regional subsidiary of American Water Works Company Inc., a company the Center for Media and Democracy (CMD) profiled as part of its "Outsourcing America Exposed" series in recent months. The emergency highlights the links between the coal and chemical industries and highlights the need for industry regulation to protect citizens -- regulation which the American Legislative Exchange Council (ALEC) has opposed, for the coal industry and other industries.
---
-- by Rachel Molenda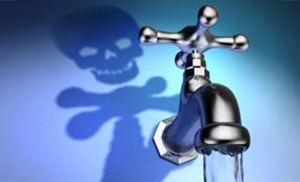 CHARLESTON, W.Va. -- [West Virginia] residents in eight counties and part of a ninth were told Thursday evening not to drink, cook with or wash with water supplied by West Virginia American Water after a leak earlier in the day at a chemical facility along the Elk River.
Any water supplied by West Virginia American Water in Kanawha, Putnam, Boone, Jackson and Lincoln counties was to be used only for flushing toilets and putting out fires, officials said just before 6 p.m. A couple hours later, Roane, Clay and Logan counties were added to the warning. The Culloden area of Cabell County was also affected. Gov. Earl Ray Tomblin declared a state of emergency in all of those counties.
Customers of several public service districts, including Lincoln, Queen Shoals, Reamer, Culloden and Hurricane, were also told not to use their water.
The ban could affect more than 100,000 West Virginia American Water customers, including restaurants, businesses and hospitals. [News sources later reported the ban affecting more than 300,000 residents.] Residents swarmed grocery stores, convenience stores and anywhere else with bottled water Thursday evening, and shelves were quickly depleted.
Hours after water company officials said their treatment facility -- which is near the leak site on the Elk River -- could handle the leak from Freedom Industries on Barlow Drive, Tomblin said: "Nobody really knows how dangerous it could be. However, it is in the system.
"It's just so important, according to the health department, as well as West Virginia American: Please don't drink, don't wash with, don't do anything with the water," the governor said Thursday night at the state Capitol.
Water was being transported into the affected counties, and emergency officials said they planned to set up distribution centers.
Col. Mike Cadle at the state Air National Guard's 130th Airlift Wing said 51 tractor-trailers loaded with water were headed to West Virginia from a Federal Emergency Management Agency facility in Maryland....
Schools had been ordered closed today in Kanawha, Putnam, Boone, Jackson, Clay and Lincoln counties as of 10 p.m. Thursday.
Tomblin said he expected the state of emergency to still be in effect this morning. He said it would stay until the state Department of Health and Human Resources, the Department of Environmental Protection and the water company say the water is safe.
He called the chemical -- 4-methylcyclohexane methanol, according to a DEP spokesman -- a "sudsing agent" and said, "It could take some time, they can't tell us how long it will take, to get the system flushed clean because some of these pipes go out as far as 60 miles."
The chemical is used in the processing of coal. [It is "used in the froth flotation process of coal washing and preparation," according to NBC.]
Places that don't use water from West Virginia American Water are not affected. That includes the cities of Spencer and St. Albans, where Mayor Dick Calloway, whose city gets its water directly from the Coal River, said his town's residents would not fall under the "do not use" order....
West Virginia American Water President Jeff McIntyre said at a news conference that the company was "fairly confident" earlier in the day that its plant could handle the treatment of the chemical.
"It's clear the chemical has infiltrated the water," McIntyre said. "In an abundance of caution, we are taking these steps today."
When asked what might happen if a person consumed the chemical, McIntyre didn't get specific, only saying "it's not particularly lethal in its usage form" and the effects of the chemical would depend on its concentration.
Dr. Rahul Gupta, chief health officer for the Kanawha-Charleston Health Department, said restaurants, bars, day-care centers and other businesses with a health permit in Kanawha and Putnam counties would be sent a message to "cease operations immediately."
Gupta said there are about 1,200 health department permits issued in Kanawha County and about 300 in Putnam County, where the Kanawha department has temporarily taken over health enforcement duties.
Kanawha County Commission President Kent Carper said the county emergency operations center was open and emergency crews were assessing their response.
"Earlier [Thursday], we were assured there was no harm to the public," Carper said. "We'll do blame-assignment later. Now we have to deal with it."
Carper said the do-not-use order would effectively shut down restaurants, nursing homes and any other establishment that relies on water.
"I have been promised by the governor himself that we'll have any resources we need," he said. "I predict it's going to be a long night."
Mike Dorsey, director of emergency response and homeland security for the state Department of Environmental Protection, said his division learned of the incident around noon from Department of Environmental Protection air-quality officials -- who had received odor complaints about the facility as early as 7:30 a.m.
The DEP's air-quality officials discovered the spill -- which the company had not self-reported to regulatory agencies -- and called Dorsey's unit, which handles such matters for the DEP.
State investigators discovered the material was leaking from the bottom of a storage tank, and had overwhelmed a concrete dike meant to serve as "secondary containment" around the tank, Dorsey said.
"That was going over the hill into the river," Dorsey said. "Apparently, it had been leaking for some time. We just don't know how long."
The state Department of Homeland Security has contacted the Federal Emergency Management Agency to try to have more bottled water brought into the area, Tomblin said. Later Thursday, the governor said he'd spoken with FEMA's director, Craig Fugate.
Freedom Industries produces "freeze conditioning agents, dust control palliatives, flotation reagents [and] water treatment polymers," among other chemicals, according to its website.
Freedom Industries officials, including the company's president, Dennis Farrell, did not return repeated phone calls Thursday.
Earlier in the day, some emergency officials were saying they had found little information about potential toxic effects of the substance.
One material-safety data sheet, or MSDS, said, "no specific information is available ... regarding the toxic effects of this material for humans.
"However, exposure to any chemical should be kept to a minimum," the MSDS said. "Skin and eye contact may result in irritation. May be harmful if inhaled or ingested."
Less than three hours before the state of emergency was declared, an official statement from West Virginia American Water was issued assuring the public and news media that the spill "does not present a health risk to customers."
The water company announced an emergency news conference regarding the spill at 5:09 p.m. and Tomblin officially announced the state of emergency around 6 p.m.
"This is not a chemical that we deal with every day. It's not the type of thing we would see in dealing with a water treatment plant," McIntyre said. "We took some time to understand even what we were dealing with at the time."
McIntyre said the company will have to do "extensive flushing" to make sure the contaminant is out of its system. He couldn't say how long the process will take....
---
Charleston Gazette staff writers Ken Ward Jr., Caitlin Cook, Rusty Marks, Lori Kersey and David Gutman contributed to this report.
Reach Rachel Molenda at rachel.mole...@wvgazette.com or 304-348-5102.