Pennsylvania is the latest front in the national, corporate-backed effort to block local efforts to guarantee workers have access to paid sick days. Earlier this year, the Philadelphia City Council passed a paid sick days bill, but fell one vote short of overriding the mayor's veto. In October, Rep. Seth Grove, an outspoken member of the American Legislative Exchange Council (ALEC) and frequent sponsor of ALEC bills, introduced H.B. 1807 to preempt Philadelphia or any other city from ever trying again.
Rep. Grove's paid sick days preemption bill is scheduled for a vote in the General Assembly's Labor and Industry Committee on November 18, and could be on the floor for a vote in the General Assembly as early as the following week.
Corporate Interests Colluding to Block Paid Sick Days Across the Country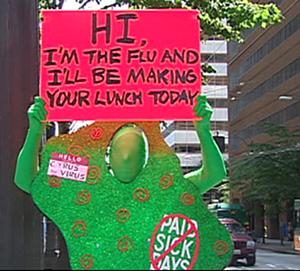 Workers who do not have access to paid sick days are one-and-a-half times more likely to go to work sick with a contagious illness, putting their co-workers and customers at risk, and nationally, costing an estimated $160 billion each year in lost productivity. Seventy-nine percent of food industry workers -- who are especially likely to spread illness if they go to work sick -- don't get paid sick days, according to a Food Chain Workers Alliance study. Children are more likely to go to school sick when their parents can't get off work to care for them, causing illness to spread.
Thanks to the tireless work of mothers and worker's advocates, six cities (New York, San Francisco, Washington D.C., Seattle, Jersey City and Portland) and the state of Connecticut have enacted paid sick days laws. As momentum grows around paid sick days and more local governments take up the issue, corporate interests aligned with ALEC have been pushing back.
The Usual Suspects: Yum! Brands, NRA, NFIB, and ALEC
Across the country, when paid sick days have popped as an issue, the state and local branches of the National Restaurant Association, the National Federation of Independent Business (NFIB) (which presents itself as "the voice of small business" but lobbies primarily for big corporate interests) and the Chamber have actively opposed it. In Denver, a well-funded campaign by the National Restaurant Association helped kill a ballot initiative at the polls, with help from a "study" funded by the NFIB. In Orange County, Florida, the state Chamber of Commerce and other corporate interests have spearheaded a campaign to try keeping a paid sick days referendum off the ballot. In Massachusetts, the NFIB published one of its studies purporting to show the impact of a proposed statewide paid sick days law on business.
In 2008 in Milwaukee, voters passed a paid sick days referendum with over 70 percent of the vote. But thanks to a lobbying effort by the state affiliate of the National Restaurant Association and the local Chamber, when Scott Walker became Wisconsin's governor in 2011, he backed a bill to overturn this expression of local democratic will and preempt any local paid sick day ordinance.
That bill was promptly brought to the Labor and Business Regulation Subcommittee at ALEC's August 2011 meeting in New Orleans and shared with other state's legislators as a model for state override. Legislators attending the subcommittee were also handed a target list and map of state and local paid sick leave policies prepared by the National Restaurant Association.
At the time, the Labor and Business Regulation Subcommittee was chaired by Yum! Brands (parent company of Taco Bell, Kentucky Fried Chicken, and Pizza Hut).
This year in Pennsylvania, Yum! has emerged as a major backer of Rep. Grove's preemption bill. Yum! hired its first Pennsylvania lobbyist in three years on October 2, just as Rep. Grove was circulating his legislation.
The state branch of the National Restaurant Association has reportedly hired a new lobbyist to push the paid sick days preemption legislation.
It was the same story earlier this year when the Philadelphia City Council took up a paid sick days bill: the National Restaurant Association, the Chamber of Commerce, and the NFIB lined up against it. Each of those groups is involved with ALEC.
Pennsylvania Rep. Seth Grove and ALEC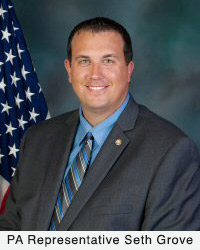 Since that 2011 ALEC meeting, legislation similar to Wisconsin's has spread across the country, with sick day preemption bills introduced in 13 other states (including Pennsylvania), and becoming law in eight. In most cases the bills have been introduced by an ALEC member legislator.
Pennsylvania is no exception. Rep. Grove is an outspoken ALEC member and has backed several pieces of ALEC-connected legislation.
In 2011, Keystone Progress uncovered that Rep. Grove introduced a word-for-word version of the ALEC "Council on Efficient Government Act" to promote privatization of public services. The legislator didn't deny that he copied the bill from ALEC, but tried to downplay the organization's influence:
"ALEC isn't some shadow organization that's manipulating state government and federal government," he told the York Daily Record. "It's just an organization that's there to help you if you want."
That same year, Grove was a sponsor of Pennsylvania's voter ID legislation, which very closely tracked the ALEC "model" Voter ID Act. In the most recent session, Rep. Grove sponsored a version of the ALEC Regulatory Flexibility Act, introduced as HB 211; ALEC itself testified in favor that bill, which is a very rare occurrence. Grove was also a sponsor of the "Open Workforce Initiative," a package of bills implementing multiple ALEC anti-union initiatives.
Pennsylvania has long had a troubled relationship with ALEC. In anticipation of ALEC's 2007 conference in Philadelphia, legislators made a $50,000 budget appropriation to provide food for the corporate lobbyists and state legislators attending the ALEC meeting. Pennsylvania taxpayers paid $30,450 for roasted chicken breast and $3,000 for cheesecake lollipops, among other expenses.
But some in Pennsylvania are preparing to fight back.
"The push to take away local control over important issues like earned sick days is part of a national, coordinated effort by big business throughout the country," said Marianne Bellasorte the policy director for Pathways PA, a nonprofit group serving women and children in Pennsylvania. "It goes against the core democratic and conservative values this country and our Commonwealth were built on. We cannot allow the voice of Pennsylvanians and the needs of working families in our state to be drowned out by outside special interests."
Pathways PA has a petition up and is asking citizens to contact their legislators and leadership to educate them about the need for paid sick leave.
This article has been updated.