-- By Katie Lorenze
With immigration reform advancing through Congress, an anti-immigrant network funded by a small group of right-wing foundations is trying to kill reform by pressuring moderate Republicans and appealing to the party's xenophobic wing. The groups could stymie efforts by some Republicans to appeal to the country's growing Latino population by moving to the center on immigration.
The anti-immigration Federation for American Immigration Reform (FAIR) and others are using shoddy research methods to claim that immigration is at fault for a whole host of problems in America, from crime to income inequality. ProEnglish, a lobbying organization that advocates for "official English," has released a video attacking Senator Lindsey Graham (R-SC) for his work on the immigration bill. The Center for Immigration Studies has testified in Congress against reform, claiming "virtually all illegal aliens are guilty of multiple felonies." All of these organizations are connected to John Tanton, a nativist who has formed a network of radical anti-immigration groups, all of which receive a significant portion of their funding from foundations tied to the Scaife family.
John Tanton's Anti-Immigration Network, Bankrolled by the Scaifes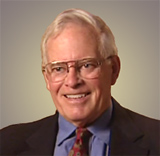 Tanton was initially a population control advocate connected with the environmental movement -- which now largely supports immigration reform -- but has since dabbled in eugenics, openly professed his preference for white people, and been tied to white supremacists. Tanton has constructed a powerful array of anti-immigrant groups that for the past three decades has had significant influence over the immigration debate, with the help of millions of dollars from the Scaife family foundations.
Tanton was a close friend of the late Cordelia Scaife May, an heir to the Mellon family's banking and oil fortune, and who until her death in 2005 was one of the richest women in America. Like Tanton, May was an environmentalist committed to population control -- and believed limiting immigration was the best way to do it -- and founded the Colcom Foundation to advance this goal, providing tens of millions to anti-immigrant groups as well as funding legitimate environmental organizations. Colcom's Vice President of Philanthropy, John Rohe, worked for Tanton for many years and wrote a fawning biography. Since 2001, Colcom has been the primary funder for many groups in the Tanton network, giving over $17 million to NumbersUSA and almost $15 million to the Federation for American Immigration Reform, and more than $6 million to the Center for Immigration Studies.
Scaife May's billionaire brother, Richard Mellon Scaife, is a major supporter of right-wing causes perhaps best known for bankrolling the effort to try ousting President Bill Clinton after "troopergate" and more recently for funding the climate change deniers at the American Enterprise Institute. Scaife manages the Carthage Foundation and the Sarah Scaife Foundation, which together with the Scaife Family Foundation (controlled by Richard Scaife's children since 2001) have donated more than $4 million to FAIR and more than $3 million to CIS since the early 1990s; additionally, since 2001, the foundations have given ProEnglish $285,000 and NumbersUSA $987,500. The Scaife Family Foundation is also the sole funder of ProEnglish.
Richard Mellon Scaife is also a major funder and Vice-Chairman of the Heritage Foundation, which recently generated controversy for issuing an anti-immigration report written by an author who previously argued that immigrants have lower IQs than the "white native population."
Congress Debates Immigration Reform and Anti-Immigrant Groups Weigh in
A bipartisan group of senators announced a broad framework for immigration reform in January 2013. The main points of their proposal include a pathway to citizenship through provisional status (without access to public benefits), enhanced border security, increased employment verification, and easier access to residency for foreigners with advanced "STEM" (Science, Technology, Engineering, and Mathematics) degrees. The so-called "gang of eight," comprised of four Democrats and four Republicans -- Sens. Chuck Schumer (D-NY), Dick Durbin (D-IL), Bob Menendez (D-NJ), Michael Bennet (D-CO), John McCain (R-AZ), Lindsey Graham (R-SC), Marco Rubio (R-FL) and Jeff Flake (R-AZ) -- introduced the immigration reform bill in April. S.744 (the "Border Security, Economic Opportunity, and Immigration Modernization Act") has been approved by the Senate Judiciary Committee and is now awaiting action in the Senate.
Tanton's "immigration-reduction organizations" have wasted no time in fighting the bill with a variety of racially charged claims regarding immigration: reform "has the potential to change everything that makes America a great place to be," low-skill immigration is "another government redistribution program," foreign workers will worsen unemployment, and so on.
The ad from ProEnglish -- a group that fights to end bilingual education and repeal laws providing for official documents in multiple languages -- attacks Sen. Graham for allegedly not requiring English language proficiency to apply for "amnesty." Tanton founded and is still a director of Pro English. But the ad's claims are questionable: under the Senate bill, an applicant will only be granted registered provisional status if they take courses in English and U.S. civics, and can only gain permanent residency if they learn English. (Under current law, there is no English language requisite for gaining permanent residency; only when one applies for U.S. citizenship does he or she have to pass an English test).
Other groups in the Tanton network are also campaigning to kill the bill. The executive director of CIS, Mark Krikorian, was one of few who testified against S.744 at the Senate Judiciary Committee hearing back in April, calling the bill the "No Illegal Alien Left Behind" act. CIS, which Tanton helped found and began as a project of FAIR and shares board members and funders, has tried to portray itself as an independent, mainstream think tank, but is closely tied to the other groups in Tanton's anti-immigrant network.
Another group founded by Tanton, NumbersUSA, has issued reports blaming immigration for "sprawl, congestion, overcrowded schools, lost open spaces and increasing restrictions on ... individual liberty caused by the new population explosion." Their executive director, Roy Beck, said he hopes to tap 1.8 million activists to help thwart the immigration reform bill. In reference to the authorization of foreign workers, Beck added, "The way this bill's written is perfect for our plan to defeat it."
And FAIR (a designated hate group founded and initially led by Tanton) set up a campaign to defeat the bill after its release in April, complete with a Washington talk show blitz of "roughly 40 radio hosts interviewing politicians, law-enforcement officials and others" opposed to the bill. The president of FAIR, Dan Stein, wrote an op-ed in Politico urging Republican lawmakers to denounce the immigration plan. He gave five reasons for doing so, each of which turned out to be wrong. For example, Stein falsely claimed that "Senate Judiciary Committee Chairman Patrick Leahy will not even allow hearings on a bill" and that Democrats will not agree to border security.
Regardless of their fringe viewpoints, in the past, Dr. Tanton's groups have played a successful role in crusading against immigration. Four years ago, NumbersUSA was key in organizing protest calls to Congress and supplying talking points to legislators to help defeat President George W. Bush's legalization plan. FAIR helped draft the contentious Arizona law, SB 1070, that grants law enforcement the right to question and detain anyone they suspect of lacking proper documentation for lawful presence in the United States. (The law was also adopted as a model bill by the American Legislative Exchange Council). In addition, in 2010 CIS aimed to defeat the Dream Act, which offers a pathway to citizenship and higher education for minors who were brought to the United States illegally as young children.
Study From Scaife-Funded Heritage Foundation Enflames the Debate
Despite past successes in the war against reform, the controversial anti-immigrant lobby might not have the same luck this time around, with many Republicans recognizing that they could lose the growing Latino population for generations if they stand in the way of a roadmap to citizenship.
One example is the speed with which many Republicans fled from a flawed Heritage Foundation report written by an author who has argued that immigrants have lower IQs than the "white native population."
That report claimed that a path to citizenship would create a "lifetime fiscal deficit" of $6.3 trillion but the methodology behind these results is questionable (such as not accounting for wage increases of undocumented workers after legalization and classifying children only as receivers of government benefits, instead of eventual contributors to government tax revenue).
Rather than being embraced by Republicans to justify their opposition to reform, it was harshly criticized -- and became radioactive after it was revealed co-author Jason Richwine had argued in his Harvard doctoral thesis that "The average IQ of immigrants in the United States is substantially lower than that of the white native population, and the difference is likely to persist over several generations." Richwine also previously wrote articles for a White nationalist website, AlternativeRight.com, under titles such as "Model Minority?" and "More on Hispanics and Crime."
Richard Mellon Scaife is the Vice-Chairman of Heritage's board and helped provide the seed money for the Heritage Foundation when it was founded in 1974. And he has remained a top funder of the organization: the Sarah Scaife Foundation gave over $23.2 million between 1985 and 2011 (and likely more before that), Scaife's Carthage Foundation has given at least an additional $2.6 million, and the Allegheny Foundation gave millions more.
Growing Tension Among GOP About Immigration
Although many Republicans dismissed articles like the ones by Richwine as junk or pseudo-science, the lobby of groups that are blaming immigrants for staggering wealth inequality, crime, and importing poverty, have embraced the Heritage study, with CIS calling its findings "incontrovertible." NumbersUSA draws on the report's numbers in a recently released ad campaign against the immigration bill. But they are not alone: even the editorial board of the venerable conservative journal The National Review came out in support of Richwine's "study."
And this demonstrates a growing tension within the GOP establishment. These organizations still hold clout with some members of the party, despite the xenophobic air surrounding much of their anti-immigration message. But other Republicans, like Sen. Marco Rubio and anti-tax activist Grover Norquist, are seeking to isolate the John Tanton groups. Interestingly, they are doing it by attacking their conservative bona fides, for example, by pointing out that the groups have argued fallaciously that migration harms the environment.
Rubio, Norquist and the rest of the Republican Party do not want to see the Hispanic vote go primarily to Democrats and they have cause for concern. As the former Director of Florida Hispanic Outreach for Republican National Committee Florida, Pablo Pantoja, stated when he recently quit the party and registered as a Democrat: "It doesn't take much to see the culture of intolerance surrounding the Republican Party today ... [and] the seemingly harsh undertones about immigrants and others."
---
Brendan Fischer contributed to this article.