You helped make the world a better place this year. You helped expose corruption and thwart efforts to distort our democracy.
1. You helped force 42 major corporations and 70 legislators to do something they did not want to do, leave the American Legislative Exchange Council.
2. You helped instigate an IRS probe of one of the closest operatives of the billionaire Koch brothers and expose those trying to make it harder for Americans to vote and make it easier for millionaires to use "charities" to influence elections.
3. You helped isolate the biggest front group for deadly weapons in the world, the NRA, and expose the PR campaigns cloaking the greed and disastrous policies of some of the biggest oil, chemical, insurance, and financial companies on the planet.
Our award-winning investigations would not have been possible without your support.
But, our democracy is in real trouble. And we need your help for the battles ahead.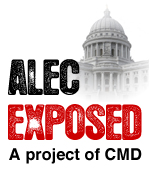 We need your help today to fund our break-through investigations and earth-shaking campaigns in the new year! We have major ground-breaking investigations underway -- on the Kochs and other billionaires trying to undermine our economy, on national security surveillance, and on major threats to our food, water, and air.
Every dollar you give helps us hit harder with the facts!
You can help by donating today.
We are smaller than some groups, but we are a mighty force -- smart, fearless, lean, and nimble -- and we know how take on the most powerful corporations and people in the world and get results. We do not accept any grants from for-profit corporations or government agencies, so we need your support.
Will you please make a tax-deductible donation today?
With deepest gratitude,
Lisa Graves, Executive Director of the Center for Media and Democracy, publisher of PRWatch.org, ALECexposed.org, SourceWatch.org, BanksterUSA.org, and the FoodRightsNetwork.org