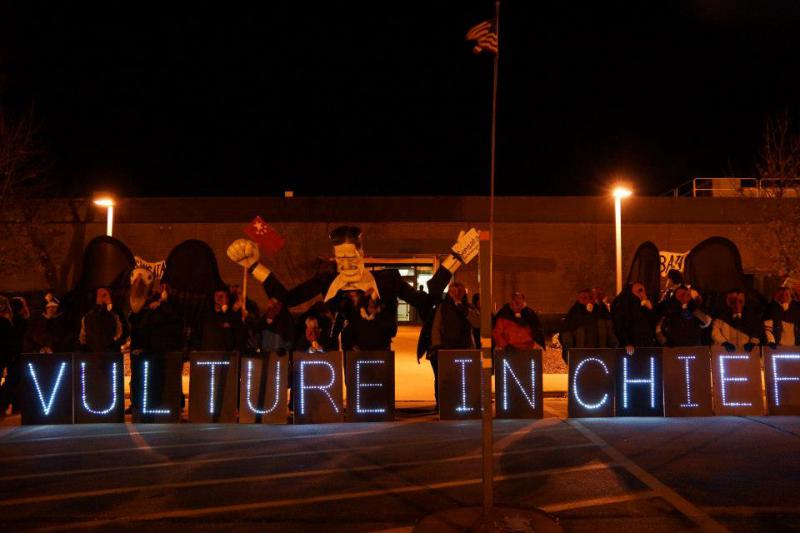 Late in the evening on Halloween about 100 people gather around the campfire in "Bainport," Illinois, marking the 50th day of the encampment. People gather close to warm up as they help each other put on hand-made vulture masks and prepare for an evening rally. Out of the dark comes a procession of Sensata workers, holding letters from the Wisconsin "Overpass Light Brigade" that spell out "Vulture in Chief." Leading the procession is a puppet of Mitt Romney flanked by two huge vultures. They walk past the campfire as their families and supporters join the march in their vulture masks, slowly crossing the road to the parking lot of the Sensata plant, to take a picture of their message in front of their soon-to-be-former place of employment.
Bainport, the tent-city that has been erected in protest of the Bain Capital-owned Sensata operations being shipped to China, celebrated day 50 of their vigil on Halloween, with plenty of candy and spooky costumes. More than a dozen tents are spread in the field along the road, where Sensata workers and their supporters sleep. They gather for food and discussion around the fire or in the huge tent where they keep their supplies. Many of the workers are losing their jobs on November 5, although a few jobs will continue until December.
"Vulture in Chief?" Critiquing Vulture Capitalism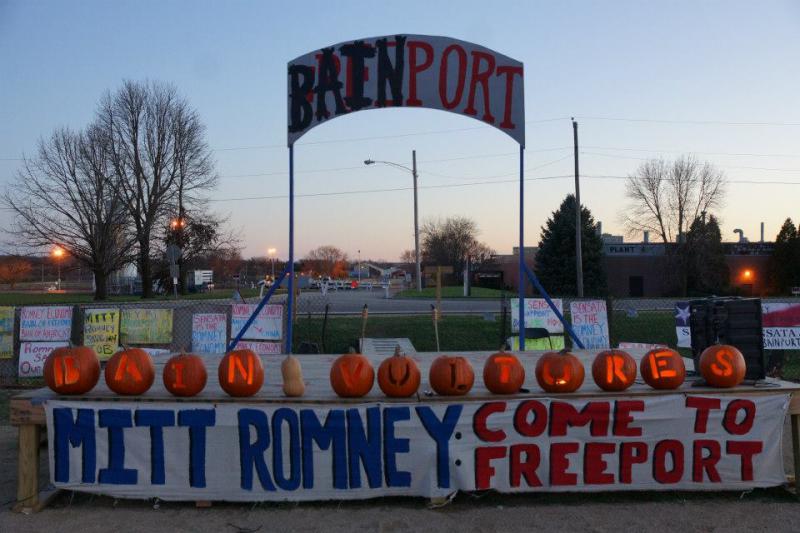 As CMD's Mary Bottari has previously reported: "In 1984, Romney co-founded Bain Capital, a spin-off from Bain & Company, a global management consulting firm. A new accounting details Bain Capital's history in shipping some 15,865 manufacturing jobs overseas. Using a conservative multiplier, which takes into account other jobs in the supply chain or community dependent on those manufacturing jobs, Bain is responsible for some 31,730 lost jobs."
Bain Capital bought Sensata in 2006, acquiring the plant in Freeport, Illinois, which has employed some 170 workers. The plant is high-tech, highly profitable, and efficient. It makes sophisticated sensors needed for vehicles, such as US-made General Motors and Ford cars. In 2011, the company had a net revenue of $1.8 billion and adjusted net income of $355 million. This represents "record levels for the company," Sensata said in a financial report. But, despite this profitability, Bain Capital decided to move the plant to China. Piece by piece, Sensata's equipment is being dismantled, crated, and shipped to Jiangsu Province, where the Chinese government has built a new plant.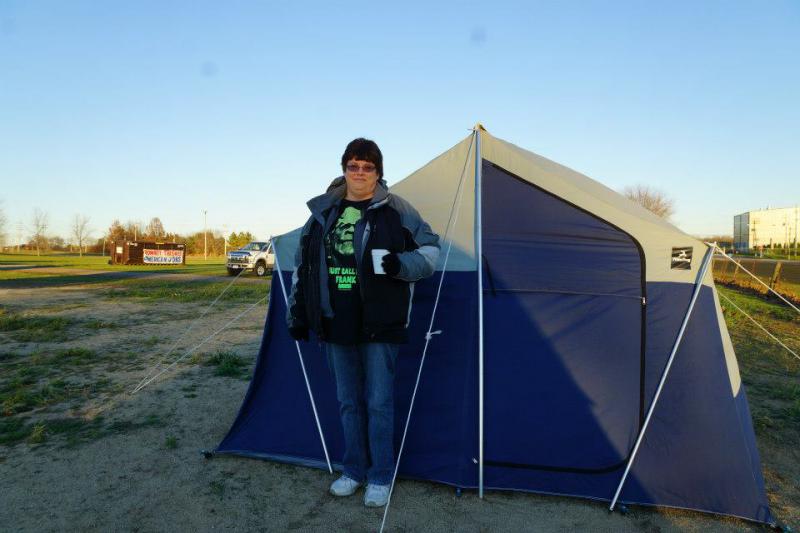 Sensata workers who are living in tents in Bainport are very aware of how their predicament is linked to the presidential election. All around the campgrounds are signs that say things like "Sensata is the Romney Economy" and "Welcome to Bainport: A Taste of the Romney Economy."
Bonnie Borman, a Sensata worker who is losing her job on November 5, told CMD: "We tried to reach out to Mitt Romney, because of his ties with Bain Capital, and because he created the model that they still use today. Being a presidential candidate, he's got the power to do so much. I think this would have been a big help to him if he would have stepped in and said, 'hey, I don't want these jobs shipped to China', but he didn't. He didn't even say he was sorry that we were losing our jobs."
Sensata Workers in High Spirits Despite Bleak Outlook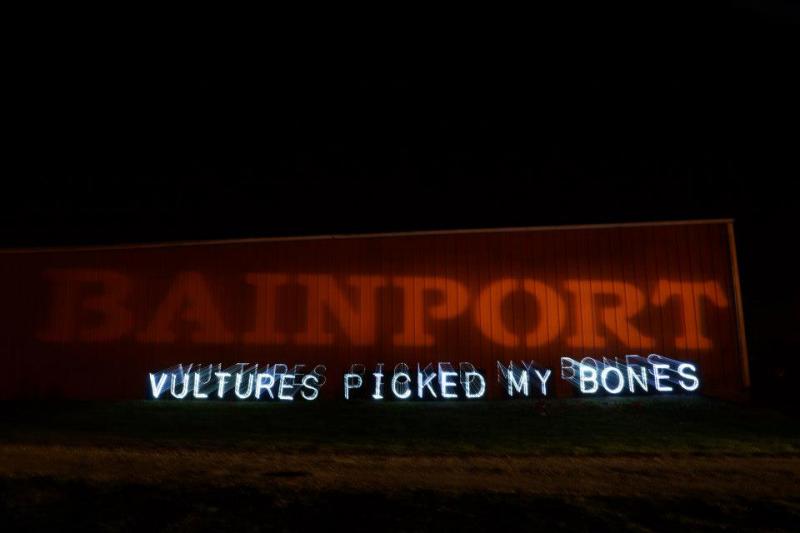 Bonnie, who will be 53-years old in December, isn't sure what she's going to do next. She could go back to school, but she has no confidence that she'll find a good job afterward. As part of the "Trade Adjustment Act," the Sensata workers could go back to junior college for two years with some government assistance. But as Tom Gaulrapp, another Sensata worker who is losing his job on November 5 pointed out: "this area like many areas in the Midwest, doesn't have well-paying jobs anymore. The jobs that do exist are these minimum wage, part-time, no-benefit jobs, and you can't live off that. ... It's pretty bleak for most of us here, because the future is not only uncertain, it's a dark future."
Despite the dark outlook, Tom and his co-workers, turned co-habitants, have found a new sense of community that is keeping them going. Tom said he's been trying to get more of his fellow Sensata workers to join him at Bainport, but that many of them are too scared. Tom said he told his co-workers: "Just come over here and be with us, feel what we feel with the sense of community that we have here. This is what community used to feel like. When we're sitting over by the bonfire in the middle of the night, we talk about everything, not just politics, it's about people's families, their hopes, their dreams, their aspirations."
After working for 33 years at the Sensata plant, Tom has found himself a new passion under the difficult circumstances. "People have been intimidated for so many years to believe that they can't stand up for themselves, that you're just supposed to go through life and take whatever comes to you and not say anything. Those of us who have stood up have discovered how wonderful it feels to do that, and how wonderful it feels to be trying to make a difference, not only for yourself, but for other people that you don't even know. I firmly believe that if everyone experienced that, then everybody would want more of it."
USW's Leo Gerard Calls Bainport Workers "Heroes"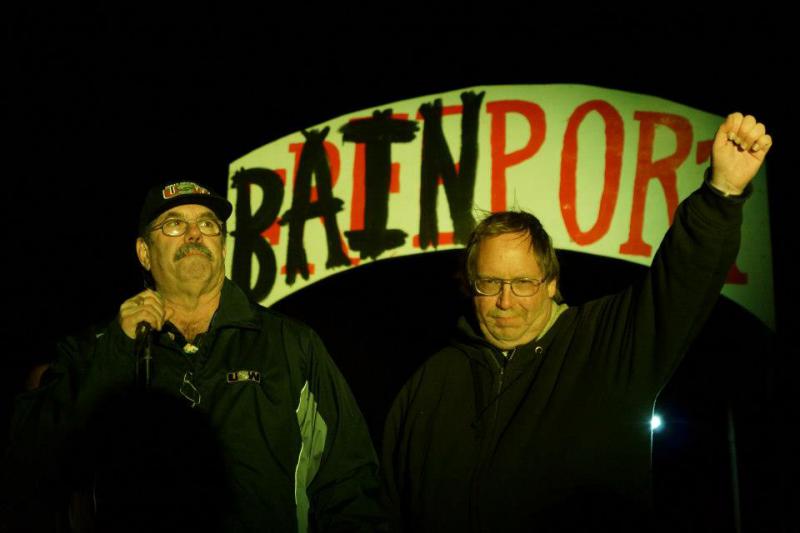 Tom introduced Leo Gerard, the president of the United Steel Workers (USW), who addressed the crowd after the vultures' march, with Tom by his side. Gerard said:
"You're America's heroes. There's been far too many of these plants that have been closed and moved. There's been far too many people that have had their jobs and their lives destroyed by vulture capitalists. And what you've done, the courage you've shown, the message you've sent has hopefully given a wake up call to the rest of America. We've lost 50,000 factories in the last 10 years. Almost all of those factories were lost as the result of rotten trade deals, as a result of people like Mitt Romney and Bain Capital who don't give a damn about people's lives. And you guys have stood up, you've made a message, and you've said to America in your own way 'wake up!'"
Gerard also thanked Bainport for their role in drawing the public's attention to the questionable future of American manufacturing under policies and practices advanced by Romney. "Because of what you've done we've been able to not only expose him and Bain, but we've been able to expose that kind of model that doesn't give a damn about people's lives, that cares only about lining their own pockets."
The Best Defense Is a Good Offense? Romney Tries to Deflect Attention from Bainport
Despite Mitt Romney's role in outsourcing American jobs, and his controversial statements about the American auto industry at the start of the Wall Street meltdown in 2008, this week his campaign unleashed a massive ad buy which asks: "who will do more for the auto industry?" The narrator of the ad asserts "Obama took GM and Chrysler into bankruptcy, and sold Chrysler to Italians who are going to build Jeeps in China." Romney's implication that Jeep will be moving jobs to China has been widely condemned as false and misleading and has sparked a strong and highly unusual push back from the U.S. auto industry in the final week of the election.
Greg Martin, a spokesman for General Motors told the New York Times "the ad is cynical campaign politics at its worst." Martin continued by saying that the Romney campaign's statement was "absolutely bereft of any fundamental understanding of the global automotive industry." Chrysler also refuted and rejected Romney's claims about the company's plan for U.S.-made Jeeps in the strongest terms.
Meanwhile, back in Bainport, workers point out that Romney could help square his rhetoric about shipping jobs overseas with reality if he would object to the Sensata plant closing. After all, Romney and his wife own $7.8 million worth of various Bain funds, which combined have a controlling stake in Sensata stock worth about $2.6 billion. Although right-wing apologists are attempting to minimize that nearly $8 million investment, the fact remains that numerous Sensata workers are losing their jobs to China next week, to increase the profits and enrich the dividends of shareholders like the Romneys at the cost of hard-working Americans.