Lost in the constant news about the recall of Governor Scott Walker is the fact that four Wisconsin Senators are facing recall as well. Today, political neophyte Lori Compas will declare her candidacy against Wisconsin's Senate Majority Leader, rounding out a slate of candidates who are attempting to wrest control of the Wisconsin State Senate away from Republicans.
On January 17, 2012 the recall petitions for four Wisconsin state senators were delivered to the Government Accountability Board (GAB) along with recall petitions for Wisconsin Governor Scott Walker and his Lt. Governor Rebecca Kleefisch. The Senate recalls are targeting four Republicans; Senator Pam Galloway (R-Wausau), Senator Van Wanggaard (R-Racine), Senator Terry Moulton (R-Chippewa Falls), and Senate Majority Leader Scott Fitzgerald (R-Juneau).
The support by Senate Republicans for Governor Walker's collective bargaining bill prompted two rounds of recalls. The first round occurred over the summer of 2011 and resulted in the recall of two Republican Senators, an unprecedented feat in the state. The newly elected Senate Democrats succeeded in narrowing the Republican majority from 19-14 to 17-16, putting moderate Republican Senator Dale Schultz (R-Richland Center), who voted against Walker's collective bargaining bill, in a powerful swing position.
Now, four new Senators are eligible for recall, because as of January they have been in office for over a year. Wisconsin law requires incumbents to have held office for a year before they are eligible to be recalled.
The targets of the latest recall efforts were given 20 days to file challenges to their recall petitions. Three did not challenge enough signatures to invalidate the petitions, and Democrats have already lined up for the chance to unseat these incumbents. In the fourth instance, the Democratic Party was reluctant to attempt a recall against the Senate Majority leader given his highly Republican district, but a grassroots effort led by Lori Compas and a team of like-minded residents, succeeded in collecting 123 percent of the signatures needed to trigger a recall. As CMD has previously reported, Fitzgerald is challenging over 3,000 signatures in an attempt to invalidate this recall effort.
In the latest developments, Compas herself has decided to stand for election against Fitzgerald in a true "David and Goliath" match up.
Seidel vs. Galloway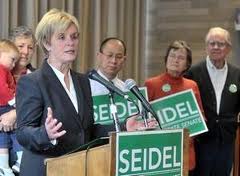 Rep. Donna Seidel (D-Wausau) has decided to run against Senator Pam Galloway in Senate District 29. Seidel was first elected in 2004 and has served in the Assembly since then. She is from Neenah, Wisconsin and graduated from UW-Stevens Point with a degree is sociology. She became a police officer, then an investigator in the Marathon County District Attorney's office, and was first elected to office as Clerk of Courts in Marathon County. She served in the position for 16 years before running for the Assembly. She serves as the Assembly's Assistant Minority Leader and currently serves on the Committee on Health, the Committee on Assembly Organization, the Committee on Rules, and the Committee on Children and Families. When announcing her candidacy, she explained "the leaders who are in charge in Madison have lost sight of the fact that they are accountable to the people who elected them, and that is why we are seeing such public outcry and passion."
Jeff Johnson has also announced that he is running for Senate in District 29 as a Democrat. He is currently the Marathon County Democratic Chair, but was active in the Republican Party until 2000. He is running on a platform of compromise and bipartisanship. If both candidates gather enough signatures to be on the ballot in the yet-to-be-scheduled recall election, there will be a Democratic primary.
Lehman vs. Wanggaard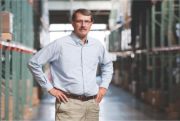 John Lehman, the former Senator from the 21st Senate District, has announced that he is running against Sen. Van Wanggaard, recreating the matchup from the previous two elections. John Lehman served in the Assembly between 1996 and 2004. He later served in the Senate from 2007 until 2011 when Van Wanggaard defeated him in the 2010 election, an election the Republicans swept, gaining a majority in the both the Assembly and the Senate and taking the Governor's office. Before entering politics Lehman was a public school teacher. In his announcement, Lehman describes Wanggaard as one of Governor Walker's staunchest allies, and appeals to voters who feel that Wanggaard has been unresponsive to his constituents. "We need leaders who will talk with their constituents, not at them," says Lehman.
Dexter vs. Moulton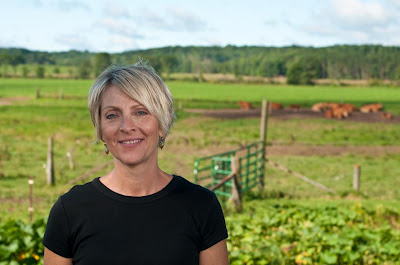 Former State Representative Kristen Dexter has announced that she is running against Sen. Terry Moulton in Senate District 23. She is looking to recreate her 2008 election in which she defeated Moulton, who was the incumbent for the Assembly's 68th District. Dexter graduated from UW-Eau Claire. She has previously served on the Altoona Board of Education and she is a metalsmith by trade. Dexter called out Moulton in her announcement. "We've lost faith in you, You've changed. Now, it's time for you to go," she said.
Compas vs. Fitzgerald
The recall of Senate Majority Leader Scott Fitzgerald first garnered attention when the Democratic Party of Wisconsin decided that his district was too Republican to attempt a recall. Enter Lori Compas. Compas talked to her neighbors and decided that there was a deep reservoir of dissatisfaction with politics-as-usual in her community. A photographer, writer and a mom, Compas decided to spearhead a grassroots effort to "Recall Fitz." Many were skeptical about the possibility of collecting a sufficient number of signatures, but the "Committee to Recall Scott Fitzgerald" went door to door in the depths of winter and collected an estimated 20,600 signatures, giving them 123 percent of what was required to trigger an election.
After being encouraged to enter the race by neighbors and friends, Compas is set to officially announce her candidacy today in Fort Atkinson. She had no intention of ever running for Senate, but she also had no intention of filing recall papers against Fitzgerald. "I had no idea at the time that no one else would file the recall papers," she said. Compas is one of many new faces in Wisconsin politics inspired by the winter protests of 2011. She will also be announcing a listening session tour of the Senate district to hear from residents about their concerns.
The state elections board has until March 19, to verify signatures and set the election dates for the Senate races. Many anticipate that the Senate recall elections will take place in the Spring.
---
The Center for Media and Democracy does not endorse or oppose any candidate for office. Since 1993, CMD has been reporting on corporate spin and government propaganda, exposing public relations tactics, and debunking PR campaigns.