An unexpectedly strong primary challenge from the left is forcing New York Gov. Andrew Cuomo to reckon with public opposition to fracking.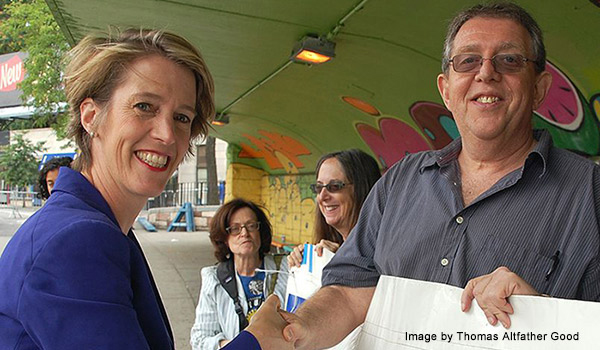 Zephyr Teachout won over 34% of the Democratic primary vote, or 182,000 of the 330,000 votes cast in the New York gubernatorial primary. Teachout is a Fordham Law School professor and author of the new book Corruption in America: From Benjamin Franklin's Snuffbox to Citizens United. Teachout ran on an anti-corruption, pro-democracy platform that also included a strong stand on fracking. Her running mate, Tim Wu, a professor at Columbia Law School, won a full 40%. The low-budget grassroots challenge to a well-financed incumbent was only expected to win around 20% of the vote.
Teachout gained the support of half of New York's counties, doing especially well in rural counties. Alex Beauchamp, Northeast Region Director for Food & Water Watch and New Yorkers Against Fracking (NYAF), called the result "a stunning showing" underscoring the importance of fracking in these outstate areas.
Concerns about public health and air and water contamination have driven many New York residents to call for a complete fracking ban. New York has implemented a temporary moratorium on fracking while environmental and health studies are completed. At least three bills have been considered in the legislature to make the moratorium permanent, but they have failed. Fracking activists worry that after the 2014 election the Cuomo administration will again be issuing permits for fracking.
In the meantime, dozens of towns across New York have considered banning fracking through zoning ordinances, a move the New York Supreme Court ruled legal in late July. Bans have passed in some 79 municipalities in New York state, concentrated in upstate counties like Otsego and Tompkins, both of which gave over 70% of their vote to Teachout.
Under increasing pressure on the issue, Cuomo offered some concessions to anti-fracking activists from NYAF when they showed up at the governor's polling place on election day. Cuomo agreed to visit fracking sites around the state and promised the activists, "I will protect the health of New Yorkers."
"Our hope is that he responds not only to New Yorkers' disapproval of fracking, but that he also respects the overwhelming body of science that says fracking is inherently dangerous and cannot be done safely," said Eric Weltman, Senior Organizer for Food & Water Watch in New York.
As results were being tabulated, Cuomo campaign staffer Matt Wing tweeted that one of the "big takeaways" was "anti-fracking."
Teachout and Wu embraced a wealth of progressive idead in their insurgent grassroots campaign, including taking stands against "too big to fail" banks, school privatization, big money in politics and advocating for a path to state citizenship for undocumented immigrants. The message resonated with voters tired of politics as usual in Albany, and the corruption scandal that rocked the Cuomo administration shortly before the election. According to news reports, Cuomo was found to have meddled with his own anti-corruption commission, steering them away from groups tied to his administration, before eventually disbanding them.
While Teachout and Wu ran their campaign on a shoestring budget, Cuomo spent liberally from his $40 million campaign war chest fighting them off. "There was a team of five of us that was fighting a multi-million dollar machine, and I think we gave a pretty damn good show," Wu said of his campaign for Lt. Governor.
They won endorsements from the Public Employees Federation, the Sierra Club, the National Organization for Women, Progressives United, ACT NOW, and a rare candidate endorsement from The Nation magazine. While The New York Times declined to endorse a candidate for governor, a victory in itself for Teachout, it supported Wu for lieutenant governor. After her concession speech, Teachout old the press she often felt like an "invisible woman" running against Cuomo in part because he steadfastly refused to debate her; any debate would have pumped her numbers and name recognition substantially.
Teachout's strong showing is no guarantee that Cuomo will permanently block fracking in New York, but it has given a boost to the anti-fracking movement.
"I don't know if I expect a reaction [from Cuomo], but there should be," said Weltman. "From the perspective of Food and Water Watch, we're going to continue to maintain pressure on him."