FRIDAY, JUNE 17TH NEWS ROUNDUP
Reuters: Wisconsin Senate passes budget, sends to governor
The bill now goes to Walker for his signature. The Senate vote was 19-to-14 and along party lines, like the 60-to-38 vote in the Assembly that came 3 a.m. local time early in the day. "I am proud of the work done by the Legislature, which passed a budget today that isn't built on accounting gimmicks, use of one time money for ongoing expenses, or tax increases," Walker said in a statement after the Senate vote. "The budget approved by the Legislature is an honest document that balances Wisconsin's $3.6 billion budget deficit so that our children and grandchildren aren't saddled with mountains of debt in the future," he said, adding that he would sign the bill before June 30 after a final review. READ THE FULL ARTICLE HERE.
Wisconsin State Journal: Senate sends budget to Walker for signature, but effects already being felt
Gov. Scott Walker's aggressively austere budget is one step from becoming law, but state officials say its effects are already being felt across Wisconsin. The state Senate on Thursday night passed the $66 billion plan, which uses a combination of budget cuts and corporate tax breaks in an attempt to close an estimated $3 billion budget hole while trying to spur the economy and promote business growth. The measure passed at about 10 p.m. on Thursday on a 19-14 party line vote, and Walker said he will sign it before June 30. "I remain confident that the Senate and Assembly passed a budget that met and exceeded the goal of balancing the budget by cutting spending and not increasing taxes," Walker said. READ THE FULL ARTICLE HERE.
Green Bay Press Gazette: Wisconsin school choice foes worry that Gov. Scott Walker will expand program via veto
A local educator fears language added to the state budget early Thursday opens the door for school voucher programs to eventually come to Green Bay and other school districts that meet requirements added in last-minute provisions. Opponents of school vouchers also fear Gov. Scott Walker could use his veto powers to expand the program statewide under language added to the state budget at 2 a.m. Thursday by Assembly Republicans. As it's written, the legislation outlines criteria that only would apply to Racine. A lobbyist for School Choice Wisconsin, a voucher advocate group, says the intention is to allow vouchers only in Racine and expand the program in Milwaukee County. READ THE FULL ARTICLE HERE.
Milwaukee Journal Sentinel: Next job creator? Bail bondsmen
The budget that the Legislature handed Gov. Scott Walker on Thursday night includes a provision that would set up a system of bail bondsmen in Wisconsin. Wisconsin hasn't had a bail bondsmen system since 1979. The provision was included in the budget legislation over the objections of law enforcement and some judges, who felt the current system was better. Dennis Bartlett, the executive director of the American Bail Coalition, a group advocating in favor of bail bondsmen in Wisconsin, says he was told Gov. Scott Walker is supporting the legislation. He also said that the industry is a job creator. He said that, once the system is in place in Wisconsin, it would create 1,500 jobs around the state. The state will also get revenue in the form of licensing fees, which Bartlett said would be $1,000 a person. READ THE FULL ARTICLE HERE.
CMD REPORTS: WISCONSIN STATE SENATE PASSES BUDGET IN PARTY-LINE VOTE
3:40 a.m. - Eric Carlson reports for CMD:
The Wisconsin State Senate passed the Assembly's version of the budget late Thursday night after nine hours of spirited debate, sending the $66 billion spending plan to Governor Walker for his signature. The Republican-controlled Senate approved the measure 19-14 along strictly partisan lines. Lawmakers debated late into the evening amid audible reactions from gallery spectators and a boisterous rally on the front steps of the Capitol. Several audience members in the Senate chamber were removed during the course of the debate for disrupting the legislative session.
THURSDAY, JUNE 16TH NEWS ROUNDUP
Wisconsin State Journal: Assembly passes budget after 13 hours of blistering debate; Senate next
The state Assembly passed Gov. Scott Walker's state budget about 3 a.m. Thursday, sending it to the state Senate, which planned to take it up about 10 a.m. After 13 hours of contentious debate, the Assembly passed the plan 60-38 with all Republicans and one independent for it and all 38 Democrats against. The 99-member Assembly has one vacant seat. "We're doing the job we were elected to do," Republican Assembly Majority Leader Scott Suder said. "We balanced the books and we did it without a $5 billion federal government bailout." READ THE FULL ARTICLE HERE.
Wisconsin State Journal: Collective bargaining law to take effect June 29
Gov. Scott Walker's controversial collective bargaining bill will officially be law by the end of the month, but it will likely be late August before state employees see a difference in their paychecks. Secretary of State Doug LaFollette said Wednesday that he would publish the bill June 28, meaning it will be effective June 29. The act will bring to an end the long, tortured process of enacting the measure, which survived a more than 60-hour Assembly session, the largest continued protest in state history and a legal challenge that went all the way to the state Supreme Court. READ THE FULL ARTICLE HERE.
Wisconsin State Journal: Labor groups file suit to block parts of collective bargaining law
One day after the state Supreme Court cleared the way for Gov. Scott Walker's controversial bill limiting collective bargaining to become law, several labor organizations filed a federal lawsuit Wednesday in an effort to prevent some of its provisions from taking effect in federal court. The groups are challenging the constitutionality of the bill they say would destroy collective bargaining rights for all but a select group of public sector workers deemed "public safety" employees, including certain firefighters and law enforcement officers. "Scott Walker has created two classes of public sector workers, and that is unconstitutional," Wisconsin AFL-CIO President Phil Neuenfeldt said in a statement. "When a legislature discriminates among classes of workers, especially when doing so has more to do with political payback than with any legitimate reasoning, the law has been violated." READ THE FULL ARTICLE HERE.
Milwaukee Journal Sentinel: Democrats challenge recalls in court
The Democratic Party took state election officials to court Wednesday over the legitimacy of recall elections against three Democratic state senators. The Democrats' action comes after six Republican state senators also challenged in court the decision of the Government Accountability Board to set elections in their recalls. The board has scheduled recall election in the nine senatorial districts -- July 12 for the six Republicans and July 19 for the three Democrats. In a news release Wednesday, the Democrats repeated charges they made in challenging recall petitions against Sens. Dave Hansen of Green Bay, Jim Holperin of Conover and Robert Wirch of Pleasant Prairie, arguing that some of the people who circulated the petitions committed election fraud. READ THE FULL ARTICLE HERE.
The Cap Times: John Nichols: No checks, no balances -- kangaroo court upsets rule of law in Fitzwalkerstan
The founders of the American experiment separated the powers of the federal government they established, and encouraged a similar separation in the states. Ever conscious of the abuses committed against them by the British monarchy -- which employed the false premise of a "divine right of kings" to place the whole of government at the service of a sovereign -- they outlined a system of checks and balances that was supposed to counter the corruptions of empire and royalty. Their great fear was that a political party could arise and use the power vested in it by a temporary electoral victory to grab complete control of the executive, legislative and judicial branches of government -- and use this combined authority not to guard against corruption but to facilitate it. READ THE FULL ARTICLE HERE.
SCHEDULE FOR THURSDAY, JUNE 16, 2011
CMD REPORTS: PROTESTORS PEACEFULLY GATHER IN DOA SECRETARY MIKE HUEBSCH'S OFFICE
3:40 a.m. - Eric Carlson reports for CMD:
Dozens of Walkerville activists marched from the Wisconsin state Capitol to DOA Secretary Mike Huebsch's offices at noon on Wednesday, June 15, to protest the former GOP state rep's archaic Capitol security measures.

CMD learned while examining the drafting files at the Legislative Reference Bureau that Huebsch's DOA gave the drafting orders for the collective bargaining section of the budget bill. Huebsch's top political appointee, Cynthia Archer, served as a top aide to Scott Walker when he was Milwaukee County Executive.
CMD REPORTS: WISCONSIN SUPREME COURT UPHOLDS UNION-BUSTING, BETRAYS JUDICIAL PRINCIPLES
1:50 a.m. - Brendan Fischer reports for CMD:
In the Wisconsin Supreme Court's decision reinstating Governor Scott Walker's controversial collective bargaining plan, the Court's conservative majority not only neutered the Open Meetings Law, but in its rush to make a decision before legislative Republicans acted on threats, the Court overreached and potentially eviscerated the meaning of Article IV, Section 10 of the Wisconsin Constitution.

Even if conservatives cheer the outcome, persons of all political stripes should be concerned about the implications of this decision. The big issue here is not "separation of powers" vs. "checks and balances," but judicial activists making rushed Constitutional interpretations under political pressure.
SCHEDULE FOR WEDNESDAY, JUNE 15, 2011
CMD REPORTS: THOUSANDS PROTEST AT CAPITOL AGAINST WALKER BUDGET, SUPREME COURT RULING
9:00 a.m. - Eric Carlson reports for CMD:
Crowds of protestors who flocked to the Capitol Tuesday anticipating Assembly action on the divisive collective bargaining bill, which essentially eliminates collective bargaining for public workers, were shocked to learn the Supreme Court had reinstated the law in a hotly contested 4-3 decision. Speakers at a planned 5:00 rally were quick to lift the faltering spirits of the Wisconsin Democracy Movement. Mahlon Mitchell, president of the Professional Fire Fighters of Wisconsin, told the crowd of thousands, "We're going to be here every day. We didn't pick this fight, but if it's a fight they want, it's a fight they're going to get."
The Ed Show: Ed to people of Wisconsin: 'Keep hope alive' - Ed Schultz gives a motivational message to the working class people of Wisconsin after Gov. Scott Walker's legal victory.
WEDNESDAY, JUNE 15TH NEWS ROUNDUP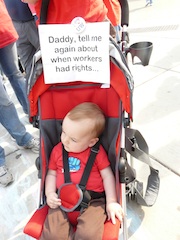 Milwaukee Journal Sentinel: Wisconsin Senate passes concealed-carry bill
Madison - The state Senate passed a measure Tuesday allowing people to carry concealed weapons by a 25-8 margin, getting votes from all 19 Republicans and six Democrats, including Sen. Lena Taylor (D-Milwaukee). Taylor, who said she "understands the challenges of urban Wisconsin," claimed the bill wasn't perfect but it "creates a balance" with the right of people to bear arms. "It's a constitutional right," Taylor said. "I respect the fact that people have that right." The measure now goes to the Assembly, where it is expected to pass. It would then go to Gov. Scott Walker, who supports the bill. READ THE FULL ARTICLE HERE.
Wisconsin State Journal: Boot beer brouhaha from budget
It's too complicated and hasty to stay in the state budget -- especially when it has so little to do with spending state money. The Legislature this week should remove from its state budget sweeping changes to how breweries may operate in Wisconsin. And if this last-minute addition to the budget reaches Gov. Scott Walker's desk, he should veto its provisions. That way, the public, Wisconsin's beer industry and state lawmakers will have ample time to analyze and weigh the implications as a stand-alone bill. READ THE FULL ARTICLE HERE.
The Cap Times: John Nichols: GOP should be shamed for primary plot
One of the great contributions that the progressive reformers of a century ago made to the politics of Wisconsin and the nation was the open primary. Before Robert M. La Follette and the Wisconsin progressive movement placed the issue of how candidates were nominated for partisan offices at the forefront of the national agenda, the designation process was controlled by political bosses who took money from the robber barons of the Gilded Age and then nominated Republican and Democratic candidates who owed their allegiance to the bosses and the political paymasters rather than the people. La Follette decried "the menace of the political machine" and detailed the corruption of the American political system by corporations, wealthy individuals and their stooges. READ THE FULL ARTICLE HERE.
The Nation: Thousands Protest Budget at Wisconsin Capitol
Among those in attendance were leaders such as former state Democratic Party Chairman Joe Wineke, who said the governor's radical plans had managed to bring together divergent groups that might not have otherwise found solidarity in a unified cause. "They've ticked off the environmental community, senior citizens, the disabled, reproductive-rights proponents, the University of Wisconsin." Wisconsin Republicans are now in full-blown panic mode following the announcement that there will be nine Senate recall elections (six Republican, three Democratic) in July. READ THE FULL ARTICLE HERE.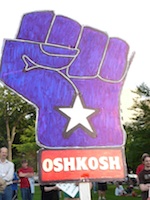 Milwaukee Journal Sentinel: Supreme Court reinstates collective bargaining law
Madison - Acting with unusual speed, the state Supreme Court on Tuesday ordered the reinstatement of Gov. Scott Walker's controversial plan to end most collective bargaining for tens of thousands of public workers. The court found that a committee of lawmakers was not subject to the state's open meetings law, and so did not violate that law when it hastily approved the collective bargaining measure in March and made it possible for the Senate to take it up. In doing so, the Supreme Court overruled a Dane County judge who had halted the legislation, ending one challenge to the law even as new challenges are likely to emerge. The changes on collective bargaining will take effect once Secretary of State Doug La Follette arranges for official publication of the stalled bill, and the high court said there was now nothing to preclude him from doing that. La Follette did not return a call Tuesday to say when the law would be published. READ THE FULL ARTICLE HERE.
The Ed Show: What Wisc. Supreme Court ruling means to regular Joe - Elementary school teacher Susan Stern and the president of the International Association of Firefighters Local 311 Joe Conway talk to Ed Schultz about what the ruling means to them.
CMD REPORTS: FALSE FLAG OPERATION IN WISCONSIN'S OPEN PRIMARY
9:00 a.m. - Jessica Opoien reports for CMD:
When Robert "Fighting Bob" LaFollette pushed for the creation of an open-primary system in Wisconsin, his intent was to weaken the power of political party bosses beholden to special interests, like the railroad barrons. A central tenet of the progressive movement, opening up the primaries allowed independent, progressive activists to advance their political causes.

In its purest form, an open-primary system means that anyone can vote in any primary, and anyone can run in any primary.
CMD REPORTS: MASSIVE PROTESTS EXPECTED AS GOP LEGISLATORS PROMISE TO ADD COLLECTIVE BARGAINING TO BUDGET
8:00 a.m. - Eric Carlson reports for CMD:
Republican state lawmakers announced on Monday their decision to introduce Governor Scott Walker's controversial collective bargaining measure as a budget amendment during Tuesday's extraordinary session, despite unfinished Wisconsin Supreme Court deliberations on the proposal.

Tuesday's legislative activity promises to rouse the residents of Walkerville, the new tent city surrounding the capitol. State Capitol Police Chief Charles Tubbs said authorities are planning for increased crowds, and the Wisconsin Education Association Council has urged its 98,000 members to descend on Madison's Capitol Square, to protest a budget that guts public schools, strips workers of their rights and erodes our state's quality of life."
TUESDAY, JUNE 14TH NEWS ROUNDUP
Milwaukee Journal Sentinel: Property rights limited in budget bill
Owners of land that sits in the way of a highway or power line project would have a harder time challenging a government takeover of their property if a proposal inserted into the state budget becomes law, property rights advocates say. The measure, adopted on a 12-4 party-line vote by the Legislature's Republican-dominated budget-writing committee, pits the state Department of Transportation and power-line builder American Transmission Co. against property rights advocates and lawyers. It would raise the threshold for which landowners could obtain legal fees if they go to court to challenge the amount being offered for land that's seized by eminent domain to widen highways or build new power lines. READ THE FULL ARTICLE HERE.
Milwaukee Journal Sentinel: Collective bargaining limits may rejoin state budget bill
Madison - The Legislature will write Gov. Scott Walker's frozen limits on collective bargaining into the state budget Tuesday if the state Supreme Court hasn't restored them by then, the leader of the state Assembly said Monday. As time was running out for the high court to act and the budget showdown loomed, Assembly Speaker Jeff Fitzgerald (R-Horicon) and other Republicans said they also would seek to pass the budget bill under so-called extraordinary rules that allow it to be advanced more quickly from one house to the next. Meanwhile, the marble hallways of the Capitol were patrolled by dozens of State Patrol troopers and Capitol police as the Assembly prepared to take up the budget bill, which would balance a $3 billion hole using deep cuts to schools and local governments in place of new taxes. The state's teachers union and the Wisconsin AFL-CIO called on members to protest in Madison ahead of Tuesday's vote, raising the specter of renewed large-scale protests at the Statehouse. "If need be, we are going to have to pass collective bargaining again," Fitzgerald said at a Capitol news conference. "My caucus is more solid on that collective bargaining vote than they ever have been." READ THE FULL ARTICLE HERE.
The Cap Times: Republican legislators should stand with Wisconsin, not Walker
Until now, Gov. Scott Walker's attempt to remake Wisconsin as a brutish state where schools are underfunded, local services are starved, local democracy is rendered dysfunctional and working people can't get a break was just that -- an "attempt." Now, as the state Assembly and Senate move toward definitive votes on a budget plan that would implement Walker's agenda, theory gives way to reality. All the fighting up to this point has been prologue. Legislators who have backed Walker have done damage to the state. But it has not been lo long-term or deep damage. READ THE FULL ARTICLE HERE.
The Cap Times: GOP set to roll back child labor laws
If you're a 16- or 17-year-old looking to make some good money this summer, you could be in luck. Just in time for the long summer break, the Republican-controlled Legislature is expected to vote this week on a proposal that would roll back the state's child labor laws, making them the same as federal child labor laws that govern 16- and 17-year-old workers. The move would expand the number of hours 16- and 17-year-olds could work in any given week and on any given day, essentially treating them no differently than adults in the eyes of the law. READ THE FULL ARTICLE HERE.
SCHEDULE FOR TUESDAY, JUNE 14, 2011
SCHEDULE FOR MONDAY, JUNE 13, 2011
MONDAY, JUNE 13TH NEWS ROUNDUP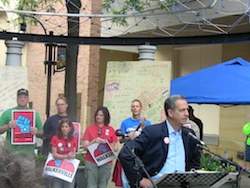 Milwaukee Journal Sentinel: Democrats will not run fake GOP Candidates
The state Democratic Party said Saturday that it would not run fake GOP candidates in the state Senate recall elections this summer. Republicans admitted last week that they will run fake Democrats in an effort to force primary runoffs in the six recalls targeting Republican senators. The primaries would be July 12. Michael Tate, chairman of the state Democratic Party, said in a statement that his party won't match the GOP's strategy. But he said his party intends to force primaries in the six recalls of Republicans by running two Democrats in each of them -- one legitimate and the other a "placeholder" who will not actively campaign. "We cannot and will not stoop to the Republicans' level by encouraging candidates to lie about their party affiliation, or recommending that people try to deceive voters," Tate said in his statement. "We never have done that, and won't start now." READ THE FULL ARTICLE HERE.
Wisconsin State Journal: Feingold in Walkerville: "We will not stop until we win"
Republicans "went right for the jugular" when they chose this state as the place to demonize public employees, destroy the right to vote and abuse the budget process that will continue this week, former U.S. Sen. Russ Feingold told supporters Sunday evening near the Capitol Square. "Why are we in a place called Walkerville today?" he asked the energized crowd at the corner of State and West Mifflin streets, amid the tent village that sprang up earlier this month to protest the state budget bill and will remain through June 20 while lawmakers debate the bill. READ THE FULL ARTICLE HERE.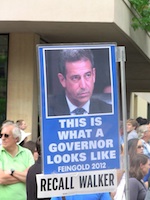 Milwaukee Journal Sentinel: GOP Leaders agree on basics of budget bill
Republicans' plan to balance the state's budget by slicing aid for schools and local governments is largely written and set to come before the Assembly Tuesday, but compelling questions about it remain. Top GOP lawmakers and Gov. Scott Walker agree on the broad outlines of the bill to close a $3 billion deficit in the state's main account over the next two years by holding the line on spending and cutting some taxes for corporations and investors to spur economic growth. The wild card remains Walker's legislation to eliminate most collective bargaining for most public employees, which was passed in March but struck down by a Dane County judge. Republicans expect the state Supreme Court to weigh in any day on the judge's decision. But if the high court doesn't restore the law, GOP lawmakers would likely be forced to pass the measure again as part of the budget. READ THE FULL ARTICLE HERE.
Progressive: Rep. Mark Pocan Warns About Wis. Repubiclans' Haste on Budget
Mark Pocan, Wisconsin state assemblyman from Madison, just issued a warning about how rapidly Republicans may move on the budget in the coming week. He also warned that they may decide to tuck into the budget the anti-collective bargaining bill that sparked such controversy over the past five months. Pocan noted that the Fitzgerald brothers, who run the assembly and the state senate, decided to call the current legislative session an "extraordinary" one, even though there was no basis for doing so. But by labeling it as such, they are now able to fast-track the budget, and limit Democratic and popular input. "What an extraordinary session means is that the rules that we normally have are no longer in place, says Pocan in this two-minute YouTube video. READ THE FULL ARTICLE HERE.
Green Bay Press Gazette: Wisconsin craft beermakers fight possible brewing changes
Mark Pocan, Wisconsin state assemblyman from Madison, just issued a warning about how rapidly RepublicanA group of craft brewers say a proposal being supported by MillerCoors, the Wisconsin Beer Distributors Association, Tavern League of Wisconsin, the Wisconsin Grocers Association and others would limit smaller brewers' ability to expand and could limit them from getting beer to consumers in the future. "This is all about money and restricting competition. This isn't idle child's play," said Jeff Hamilton, president of the Wisconsin Brewers Guild and Sprecher Brewing Co. in Milwaukee. READ THE FULL ARTICLE HERE.
The Cap Times: GOP's ransom note: 'Give us Medicare or we crash economy'
Paul Ryan was a man with a dream. Or perhaps a scheme. He would convince everyone that the country was broke and then play on fears about a "debt crisis" to talk members of Congress into backing his plan to restructure Medicare so that federal money would be steered away from providing health care for seniors and toward bailing out for-profit insurance companies. The House Budget Committee chairman sold House Republicans on his plan. And it looked as if he might force the hand of the compromise-prone Obama administration. But then the American people caught wind of Ryan's "entitlement reform" scheme and quickly recognized that it would end Medicare, along with retirement security, for most Americans. READ THE FULL ARTICLE HERE.
Wisconsin State Journal: Walker, GOP put conservative stamp on Wisconsin
The Wisconsin Legislature will take up Gov. Scott Walker's first budget this week, a two-year spending plan that furthers the conservative governor's agenda to scale back the size of government through massive cuts to public education and with caps on entitlement programs that only fuels anger Democrats hope will lead to successful recall elections this summer. In the lead up to the recalls that could give Democrats control of the state Senate and the ability to block Walker's agenda, one thing remains clear: Republicans and Walker will have already made an indelible mark on the state that will be hard to unwind. READ THE FULL ARTICLE HERE.
La Cross Tribune: Walker, GOP roll back environment standards
MADISON — Wisconsin Gov. Scott Walker and Republican legislators are using their new majorities to rush through aggressive reversals of environmental safeguards their predecessors championed as a continuation of the state's outdoors heritage. Walker and his fellow Republicans have proposed about a dozen plans conservationists say amount to an attack on the environment. Among the most contentious are plans to end a mandate on local recycling, delay tough new limits on water pollution and speeding up mining permits. READ THE FULL ARTICLE HERE.
The Northwestern: Partisan turnout will be key in recall elections
With the battle lines for the upcoming State Senate recall elections largely pre-drawn, making the need to inform voters could be next to moot. All that remains is for candidates to motivate enough people to actually go to polling places on election day. READ THE FULL ARTICLE HERE.
Post Crescent: Wisconsin banks lag behind nation on repaying federal money
Only one of the 21 Wisconsin banks that received more than $2.5 billion in taxpayer funds under a federal program to rescue the nation's financial system has repaid the federal government. In addition, four of the banks are delinquent on their interest payments, and two have U.S. Treasury Department officials looking over their shoulders. One of the financial institutions, Legacy Bank in Milwaukee, has gone under since receiving $5.5 million in January 2009. READ THE FULL ARTICLE HERE.
---
Wisconsin Protests photo gallery