FEINGOLD VISITS WALKERVILLE TENT CITY SUNDAY NIGHT
While everyone wonders, will he run?
SCHEDULE FOR FRIDAY, JUNE 10, 2011
SCHEDULE FOR SATURDAY, JUNE 11, 2011
FRIDAY, JUNE 10TH NEWS ROUNDUP
Wisconsin State Journal: As protesters pound on walls, Walker tells housing conferees, 'That's opportunity knocking'
"That's opportunity knocking for all of us now." Gov. Scott Walker got his biggest applause line for that off-hand remark, made midway through his keynote address Thursday at an annual housing conference at UW-Madison. It came right after four hard, booming knocks -- clearly audible over Walker's words in the packed Fluno Center auditorium -- as protesters opposed to the governor's budget-cutting policies pounded their disdain on the outside walls of the building. READ THE FULL ARTICLE HERE.
Post Crescent: Wisconsin budget committee approves changes to state's concealed carry bill including training, licenses
MADISON — People looking to carry concealed guns in Wisconsin would need a license and proof they can handle a firearm under revisions made Thursday to a bill to lift the state's ban on hidden weapons. The changes the Legislature's budget committee approved would require applicants to pay the state Department of Justice as much as $37 plus another $13 for a background check to obtain a permit. They also would have to provide proof of firearms training, such as completing a safety course or participating in a shooting contest. None of the Democrats on the committee supported the bill. READ THE FULL ARTICLE HERE.
Milwaukee Journal Sentinel: State preparing for big budget protests next week
Administration Secretary Michael Huebsch said Thursday that the state is preparing for large crowds next week as the Legislature begins the process of approving Gov. Scott Walker's budget. "We are anticipating, we are preparing for the height of what we saw in the early part of March. A mass crowd that actually rushed the Capitol," Huebsch told Journal Sentinel reporters and members of the newspaper's Editorial Board. On March 9, the Senate voted, 18-1, with no Democrats present, to eliminate most collective bargaining for most public employees. At the time, protesters swept past security and converged on the inside and outside of the Capitol. "I am preparing for that. I hope we never get to that again," Huebsch said. Huebsch said he was at the Capitol that night and saw people crawling through open windows at the Capitol. "They just flooded in," he said. "We didn't have control of it." READ THE FULL ARTICLE HERE.
The Cap Times: Ryan waxes progressive in Medicare pitch at Fluno Center
With drumbeating protestors outside the Fluno Center providing background noise throughout, Rep. Paul Ryan delivered his Medicare reform pitch to a UW-Madison real estate conference Thursday and came off sounding almost like a progressive. During a panel discussion on budget and policy reforms, Ryan called for directing public health care spending toward "those who need it the most, the poor and sick." Ryan, R-Janesville, has been roundly criticized by Democrats for his plan to make Medicare solvent by requiring seniors to shop annually for a private insurance provider. The Republican's proposal was used as campaign fodder in a recent Congressional race in New York State where Democrats grabbed control of a traditional GOP seat by playing the "Mediscare" card. READ THE FULL ARTICLE HERE.
The Nation: Is the GOP Planning to Run 'Fake Democrats' in Wisconsin?
The GOP plans to run "fake Democrats" in the upcoming Wisconsin recall election. On The Ed Show, The Nation's John Nichols argues that this tactic will fail. Governor Scott Walker and the GOP are trying to pass a very unpopular budget that the majority of Wisconsinites oppose because it makes cuts to education, local services and escalates an ongoing attack on unions. These "fake Democrats" may help them because this would force the state to hold a primary, which would delay the recall election. READ THE FULL ARTICLE HERE.
THURSDAY, JUNE 9TH NEWS ROUNDUP
The Cap Times: Walker privatization plan scaled way back
An attempt by Gov. Scott Walker to privatize the state's food and medical assistance programs has been largely scuttled, causing Dane County officials to hail the recent move by the Legislature's finance committee as a victory for the state's neediest residents. "It is a hands-down victory for our consumers," says Lynn Green, Dane County human services director. "I see the compromise that was reached as a high point coming out of the state budget." The gutting of Walker's proposal to use private rather than public workers to run public assistance programs, including FoodShare and Medicaid, comes after weeks of back-and-forth negotiating among numerous county officials, the Wisconsin Counties Association, the Wisconsin County Human Service Administration, and key Republican members of the Legislature's Joint Finance Committee. READ THE FULL ARTICLE HERE.
Sheboygan Press: Editorial: GOP trying to pull off another kind of election fraud
Republican lawmakers have cried for years now that there is rampant voter fraud in Wisconsin elections. So much so that they have been pushing for a law to require people to show an ID card with their photo on it before they can vote. And, now that they are in power, have passed just such a bill to give people confidence in the election process. But Republicans appear willing to carry out a little election chicanery of their own by putting up fraudulent candidates in the recall elections against six Republican senators. READ THE FULL ARTICLE HERE.
Wisconsin State Journal: Elections board certifies recalls against 3 Dem senators
All three Democratic state senators targeted for recalls will have to fight for their seats this summer after election officials on Wednesday refused to throw out petitions circulated against them, despite finding evidence of fraud. That means nine Wisconsin senators could face recall elections in the coming months, although all six Republican senators targeted are fighting their recalls in circuit court. The Government Accountability Board expressed concern about fraud and forgery committed by some signature gatherers, and voted to reject hundreds of signatures it determined were collected by people who misrepresented the petitions. READ THE FULL ARTICLE HERE.
Wisconsin State Journal: Silent 'zombie' protesters arrested at Capitol
A dozen silent demonstrators wearing zombie makeup and protest T-shirts were arrested early Wednesday afternoon after lying down on the floor of a legislator's Capitol offices and refusing to leave. Police carried out the demonstrators "one by one" after the group spent about half an hour in the offices of Rep. Robin Vos, R-Rochester, said Vos' communications director, Kit Beyer. Ten received disorderly conduct citations, one was booked and released, and one was required to post $263.50 because he was from out of state, said Capitol Police spokeswoman Lori Getter. READ THE FULL ARTICLE HERE.
CMD REPORTS: ZOMBIE HORDE RAGES AGAINST THE DEATH OF STUDENT RIGHTS
Eric Carlson reports for CMD:
Visitors to the front steps of the Capitol on Wednesday afternoon were forced to march through an impromptu graveyard, as students staged a zombie die-in to protest sharp budget cuts to the UW System and "anti-student" Voter ID legislation.

The event, planned by the United Council of University of Wisconsin Students, featured the "death" of several dozen students, followed by their resurrection and procession -- or slow, lazy limp -- across the Capitol Lawn. United Council member CJ Perrell, flanked by a host of grieving mourners, delivered the eulogy, asking students and onlookers to "Rejoice, for if history has taught us anything, it is that with our help, voter rights can be resurrected, to rise from the ashes and overcome those with malicious intent."

According a news release from United Council, Governor Walker's proposed budget costs each UW System student $2000 in reduced funding, and new voter residency requirements adversely affect students by making voter registration more difficult. In his eulogy, Perrell lamented that it is "With heavy hearts, that [my fellow students and I] bear witness to the birth of a truly rotten and heinous bill."

Update: State Capitol Police arrested a dozen "zombie" protestors who had attempted to silently occupy the office of Republican Representative Robin Vos. Police led protestors out of the office one by one after they had spent nearly an hour inside. Of the 12, ten received disorderly conduct citations, one was released after booking, and one was required to post $263.50 because he was from out of state.
WEDNESDAY, JUNE 8TH NEWS ROUNDUP
NY Times: In Wisconsin, Legislative Urgency as Recall Threat Looms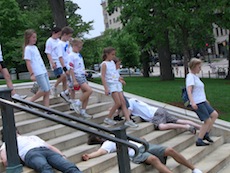 MADISON, Wis. — The gears of government tend to grind slowly. But in Wisconsin lately they are racing at turbocharged speed. In just the last few weeks, Gov. Scott Walker, a Republican, has signed legislation to require voters to show photo identification cards at the polls and to deregulate elements of the telecommunications industry. And the Republican-dominated Legislature is now in the midst of advancing provisions to expand school vouchers, to allow people to carry concealed weapons, to cut financing for Planned Parenthood and to bar illegal immigrants from paying in-state tuition at Wisconsin's universities. READ THE FULL ARTICLE HERE.
Milwaukee Journal Sentinel: Nonpartisan Government Accountability Board faces partisan charges
Republicans are leveling charges of bias and partisanship against a state elections and ethics agency they helped set up just four years ago with the idea of making it completely nonpartisan. And the pressure on the Government Accountability Board could get even more intense Wednesday, as the election and ethics board decides whether to schedule recall elections for three Democratic state senators, to go along with the six it's already set for Republicans. Whichever way the six-member board's decision goes, it's likely to draw ire, and perhaps legal action, from whoever loses out. The board, made up of former judges, and its staff have been busier this year than at any time in its existence, dealing with state Senate recalls, the statewide recount of a Supreme Court race, the implementation of a new voter ID law and complaints about elected officials' conduct on both sides of the budget debate. READ THE FULL ARTICLE HERE.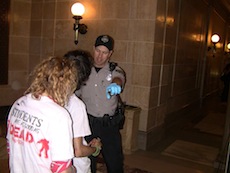 The Northwestern: Complaints filed against state senators Randy Hopper, Dan Kapanke, Dave Hansen alleging illegal campaign finance reports
State Sen. Randy Hopper's campaign manager said there's no validity to a complaint filed Tuesday accusing the Fond du Lac Republican of improper campaign finance reporting. The Wisconsin Democracy Campaign made complaints against Hopper and two other Senators targeted by recalls alleging they failed to disclose required information about donors' occupations and employers. The donations total more than $50,000 collectively. The Democracy Campaign says Hopper had the most problems, with nearly $43,000 worth of donations missing the required information, followed by Dan Kapanke, R-La Crosse, with about $6,100 and Dave Hansen, D-Green Bay, with nearly $3,000. READ THE FULL ARTICLE HERE.
The Cap Times: Craft brewers vent anger over budget provision
The number of craft brewers is growing across the state, with beer-brand names like New Glarus, Capital Brewery and Sprecher as recognizable to many Wisconsin beer drinkers as Bud and Miller Lite. In all, the state's 60 craft brewers now account for 5 percent -- a rising but still slim percentage -- of the state's annual beer sales, according to the Colorado-based Brewers Association, a nonprofit trade group dedicated to promoting the country's small brewers. Yet even though sales from the state's largest craft brewer, New Glarus Brewing Co., trail one of the state's largest brewers, MillerCoors, by millions of barrels of beer annually -- 92,000 compared to more than 5 million -- a motion slipped into Gov. Scott Walker's budget would treat brewers of all sizes equally by preventing them from owning or operating a wholesale distributor. READ THE FULL ARTICLE HERE.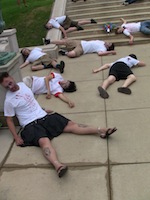 Milwaukee Journal Sentinel: Recall primaries could be costly to taxpayers
Madison - A Republican effort to stall recall elections by forcing Democratic primaries to be held will cost taxpayers at least tens of thousands of dollars, a check of local election clerks shows. Meanwhile, the top Senate Republican said Tuesday that all GOP recall targets were familiar with the plan to delay the recall elections by fielding fake Democrats in primaries. Earlier, some of those recall targets claimed they didn't know about the plan. Recall elections for six Republican senators are scheduled for July 12. If there are multiple candidates from the same party in any of those elections, the July 12 election becomes a primary election, and a general recall election will be scheduled for Aug. 9. Republicans are being recruited to run as Democrats in all six races so the general elections would be pushed back a month. That will give Republicans a crucial extra month to campaign, said Senate Majority Leader Scott Fitzgerald (R-Juneau). READ THE FULL ARTICLE HERE.
CMD REPORTS: RUSS FEINGOLD LEADS THOUSANDS IN BUDGET PROTEST AT WISCONSIN CAPITOL
Eric Carlson reports:
Inside the Wisconsin State Capitol Monday, Supreme Court Justices began hearings on the controversial collective bargaining measure proposed by Governor Scott Walker. Outside the Capitol, thousands of community members and employees from across the state rallied against the Walker-sponsored budget, chanting "Recall Walker" and "Walker, we won't back down! This is a union town!"

Former U.S. Russ Feingold led the march from Madison Fire Station 1 toward the Capitol. Feingold was born in Janesville, WI and marched up to the Capitol with Rock County AFSCME member past the standing "Walkerville" tent encampment, whose friendly inhabitants set up refreshment tables to help crowds battle the crushing heat. Feingold refused to address speculation that he might oppose Scott Walker in the next election, but signs, T-shirts and chants of "Russ for Governor" indicated mounting support for his candidacy.

The mood was defiant, when not musical. Union cabs and pedestrian vehicles sounded their "this is what democracy looks like" horn rhythms, while a team of bagpipers and steel drummers lifted the crowds' spirits with booming, triumphant melodies.

Of course, opposition to the budget prevailed as the main reason for attendance, although different provisions in the bill provoked different protester reactions.
TUESDAY, JUNE 7TH NEWS ROUNDUP
The Capital Times: John Nichols: Russ Feingold marches with Wisconsin worker and stirs talk of a political comeback
Russ Feingold leapt into the center of the fight for worker rights and people-first budgeting in Wisconsin this week, stirring excitement about the prospect that the popular former U.S. senator might soon be re-entering the political fray -- as a candidate for an open Senate seat in 2012 or perhaps as the champion of the forces seeking to remove right-wing Gov. Scott Walker in a recall election. Feingold marched at the front of a crowd of 5,000 public- and private-sector workers, farmers and community activists who packed the streets of Madison Monday for a hastily organized march to protest moves by Walker and his allies to enact a state budget that attacks collective bargaining rights, undermines local democracy and cuts funding for schools and public services. READ THE FULL ARTICLE HERE.
The Milwaukee Journal Sentinel: Wisconsin budget includes big policy issues
Madison - As the budget committee wrapped up work last week, Republicans largely avoided putting earmarks in the state budget bill but injected new and far-reaching policies into it. Late Friday night, the Joint Finance Committee approved allowing bail bondsmen in Wisconsin, sales tax exemptions for snow-making equipment and direct mail promotions, changing child labor laws and blocking local regulations on bird hunting preserves. The committee last week also amended the 2011-'13 budget bill to make it harder to get financial interest statements for public officials and limit the work that county highway crews can do, leaving more work for private contractors. READ THE FULL ARTICLE HERE.
The Milwaukee Journal Sentinel: Business production tax break added to state budget
Aiming to make Wisconsin more attractive to business, Republican lawmakers have proposed reducing the state tax on the production earnings of manufacturers and agricultural businesses to almost nothing by 2016. The tax reductions -- slashing the rate in annual steps from the current 7.9% to 0.4% -- would apply to the production income of the businesses, not to income such as royalties and investments. The Legislative Fiscal Bureau estimates the measure would cost the state $359.7 million over its first five years, and $128.7 million a year once it is fully phased in starting in 2016. READ THE FULL ARTICLE HERE.
The Wisconsin State Journal: Justices split politically as court takes up collective bargaining law
As the state Supreme Court heard arguments Monday on a Dane County judge's order blocking a law that curtails collective bargaining by public employee unions, questions from the justices appeared to fall mostly along the court's political divide. Chief Justice Shirley Abrahamson and Justice Ann Walsh Bradley, on the court's liberal wing, grilled Assistant Attorney General Kevin St. John as he told justices that they should throw out actions taken by Dane County Circuit Judge Maryann Sumi that voided the law over violations of the state's open meetings law. READ THE FULL ARTICLE HERE.
SCHEDULE FOR MONDAY, JUNE 6, 2011
MONDAY, JUNE 6TH NEWS ROUNDUP
Milwaukee Journal Sentinel: Speculation persists over Walker plan's origin
Republican Gov. Scott Walker's collective-bargaining proposal was a bombshell that set off weeks of protests and drew national attention. But key questions remain about its genesis. Did Walker develop the idea himself, after years of clashing with organized labor as Milwaukee County executive? Or did he get help from conservative think tanks or advocacy groups? Union leaders, Democrats and liberals see a conspiracy in which right-wing groups saw an opening and pushed the changes here and elsewhere across the country. Senate Majority Leader Scott Fitzgerald (R-Juneau) said last week that it was Indiana Gov. Mitch Daniels who may have provided the template for Walker's proposal. On his second day in office in 2005, Daniels rescinded collective bargaining for state workers. READ THE FULL ARTICLE HERE.
Wisconsin State Journal: Joint Finance Committee finishes work on budget
The Legislature's powerful budget committee has finished its work on Gov. Scott Walker's two-year spending plan. The budget now heads to the full Legislature, where debates in the state Assembly and Senate are expected to begin in about a week. The GOP-controlled Joint Finance Committee finished soon after midnight Saturday morning. The budget balances a projected $3 billion budget hole. It does not raise taxes overall, but makes sharp cuts to public schools and the University of Wisconsin. READ THE FULL ARTICLE HERE.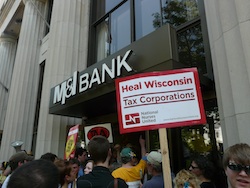 Milwaukee Journal Sentinel: Wisconsin GOP leaders encouraging colleagues to place fake Democrats on recall ballots
The season of dirty political tricks is now officially under way. In letters obtained by No Quarter, local Republican Party officials are encouraging their GOP colleagues to collect enough signatures to get a fake Democratic candidate on the ballot in each of two upcoming recall elections. The spoiler Democrats, who are identified by name in the letters, would run in the Democratic primaries for the seats now held by Republican Sens. Randy Hopper of Fond du Lac and Luther Olsen of Ripon. Both of the fake Democrats have a history of giving almost exclusively to major Republicans. "We need to make sure Democrat challengers face primaries to allow our Republicans time to mount a campaign," Dan Feyen, chairman of the 6th Congressional District Republican Party, wrote in the letter to "fellow conservatives" on Friday. READ THE FULL ARTICLE HERE.
The Cap Times: Voucher schools to expand amid questions about their performance
If Gov. Scott Walker's budget is passed with recommendations approved Thursday by the Joint Committee on Finance, there will be more students in more voucher schools in more Wisconsin communities. But critics of school voucher programs are hoping legislators will look long and hard at actual student achievement benefits before they vote to use tax dollars to send students to private schools. They also suggest that studies that have touted benefits of voucher programs should be viewed with a careful eye, and that claims that graduation rates for voucher schools exceed 90 percent are not just overly optimistic, but misleading. "The policy decisions we are making today should not be guided by false statistics being propagated by people with a financial interest in the continuation and expansion of vouchers nationwide," wrote state Rep. Sondy Pope-Roberts, D-Middleton, in a news release Friday. READ THE FULL ARTICLE HERE.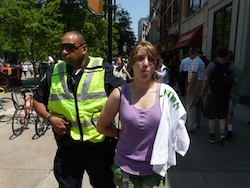 Wisconsin State Journal: Supreme Court set to hearing arguments in collective bargaining bill lawsuit
The state Supreme Court is scheduled to hear arguments Monday morning on whether it should decide if Republicans violated Wisconsin's open meetings law as they passed Gov. Scott Walker's contentious collective bargaining law. Dane County District Attorney Ismael Ozanne, a Democrat, filed a lawsuit in March alleging GOP legislators convened a committee meeting without the proper public notice moments before the state Senate passed the measure. Judge Maryann Sumi blocked the law from taking effect while she considered the case and last week declared the law void. READ THE FULL ARTICLE HERE.
Milwaukee Journal Sentinel: Loved by Republicans, loathed by Democrats, Scott Walker remains in a political class by himself
In a Wisconsin poll taken two weeks ago, Gov. Walker's approval rating among Republican voters was 87%. His approval rating among Democratic voters was 9%. Those aren't normal numbers, even in polarized times. Few if any governors are as popular in their own party as Walker is today. Few if any are as unpopular in the other party. Wisconsin is more divided on partisan lines over its governor than anywhere else in America. That's the picture that emerges from a big body of survey data in dozens of states over the past year. Because these numbers all come from one firm using the same survey methods in different states (Public Policy Polling), they allow us to compare Walker directly to his peers. READ THE FULL ARTICLE HERE.
---
Wisconsin Protests photo gallery