Protesters formed a picket line on Thursday morning in front of University of Wisconsin-Madison's Fluno Center for Executive Education chanting, "Housing for the needy, not profits for the greedy!"
About 100 people gathered with signs and noisemakers to protest the Wisconsin Real Estate and Economic Outlook conference, headlined by Gov. Scott Walker and Rep. Paul Ryan. The event was sponsored by several groups, including the Wisconsin Realtors Association (WRA). Walker received not only an endorsement from the WRA, but also more than $150,000 in WRA-related campaign contributions in the 2010 election cycle, according to the Wisconsin State Journal.
The University of Wisconsin-Madison James A. Graaskamp Center for Real Estate also lent its sponsorship to the event. One of Graaskamp's former students was at the event because she said it was an insult to his name.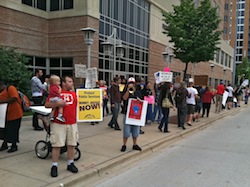 "This administration is doing everything to eliminate support for the people Graaskamp spoke for," said Judy Karofsky. She explained that Graaskamp taught his students the importance of affordable housing, senior housing and economic development that benefited all groups.
Alisha Muhammad joined the picket line to send a message to her fellow Wisconsinites: "We're still fighting for you."
Alisha, a homeless woman, said a "disproportionate amount of people of color" in Wisconsin are homeless, and the real estate conference exemplifies the plans Walker and Ryan have to take money away from people instead of giving it to the community.
Kristine, a fellow protester, echoed that sentiment.
"The fact that Walker and Ryan are here shows that they care more about corporations than they do people," she said, adding that it seems everything Walker does is taking away from necessary public services and giving back to corporations in what she feels is a "concerted effort to privatize the state."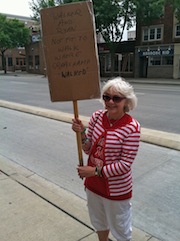 Katherine, another protester, believes Walker's agenda is part of a larger movement that has been in the works for decades, recalling union-busting in Colorado when she lived there 10 years ago.
She came out to protest Thursday's event because "even if you have nothing, you should still take care of other people."
This protest, which also included the familiar chant, "Banks got bailed out, we got sold out," comes on the heels of amendments introduced in the U.S. Senate that would repeal the Dodd-Frank Wall Street Reform and Consumer Protection Act and gut the new Consumer Financial Protection Bureau. You can lean more about this threat to consumers, and how to take action, at Bankster USA.