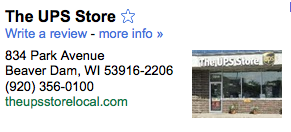 MADISON--A new special interest group has purchased an expensive TV ad campaign in the Wisconsin Supreme Court race but operates out of a UPS store. The self-named "Citizens for a Strong America" (CSA) advertises its address as "834 Park Avenue #306" in Beaver Dam, Wisconsin, but this address is nothing more than a box at a UPS Store. The TV ad campaign attacks Supreme Court candidate JoAnne Kloppenburg for an ad that was not created by her campaign. The ad CSA is complaining about argues that Supreme Court candidate Justice David Prosser failed to prosecute a priest who young boys said had molested them. (CMD does not endorse or oppose either candidate; CMD reports on front groups, PR campaigns, and spin, with a particular focus on corporate-funded spin.)
Who Are the "Citizens for a Strong America," Besides a Well-Funded Postal Box?
This mysterious group lists no information about its leaders, employees, or funders on its website, citizensforastrongamerica.net. Its website is basically just a brochure. Its contact information is not the kind typically used by a public interest organization; it is just gmail: citizensforastrongamerica@gmail.com. Its phone number, 608-831-2974, rings to a voicemail box, which is full.
The group has filed for an IRS number (27-1204594) for its non-profit status under Section 501(c)(4) of the tax code, but no filings are publicly posted on Guidestar; almost all non-profit groups in existence since 2009 have filed with the IRS and those filings are reprinted by Guidestar. If the group was founded more recently it may be months before records of its overall income and expenditures become available.
Updated! CSA Linked to Office and Staff of David Koch's "Americans for Prosperity," Tea Party Backers
In a review of internet filings, the Center has learned that even though Citizens for a Strong America lists no staff on its website, its website name was purchased by John W. Connors of Milwaukee, who has been a leader of "Americans for Prosperity," a right-wing group chaired by oil billionaire David Koch. On the domain registration through "Go Daddy!," the holder of the web address listed is for Connors and the business address is listed as 1126 S 70th Street, Suite S420, in Milwaukee, along with a gmail address. (After this story broke, the contact information was changed from johnwconnors@gmail.com, along with the street address and his home number, to a proxy registration service. Despite the effort to destroy this history, the Center and other groups have screenshots of how Go Daddy! and other evidence in this story looked before the changes were made; these links were also noted in a TV news story for the local CNS affiliate before they were removed. The Center exercised editorial discretion to not post Connors' home telephone number associated with the domain registration as part of the initial story.)
This address is the same street address as Americans for Prosperity (AFP) in Wisconsin. AFP is listed as holding offices on the second floor of that building. It is not clear how many suites in the building are leased by AFP. Although the address listed is in the same building, the phone number listed on the domain registration is for a home number, not AFP.
As one researcher discovered after this story broke, that street address was also used by a group called "Campaign Now." That group's web address is also registered to John Connors. As noted in the Cognitive Dissidence blog, Campaign Now uses the same phone number AFP used to register riders on the buses used to get people to the capitol hearing of the "Joint Finance Committee," a committee meeting other citizens did not learn about until the morning of the meeting. And yet another group, Watchdog.org, which is associated with the "Franklin Center for Government and Public Integrity" -- another group connected to Koch-is also registered to John W. Connors. It seems he has been very busy.
In other documents on the web about him, Connors' work email address is listed as at afphq.org and he is described as involved in grassroots campaigns and marketing for AFP. He has been with AFP for a couple of years.
During college, Connors interned for Walker and worked on his campaign. As of 2008, Connors was also listed as AFP's "Students for Prosperity Director." He is a recent graduate of Marquette University who was president of the university's College Republicans chapter, and in that role suggested that TV ads would not be an effective way to reach voters in the future. He has also been tweeting AFP events in recent months.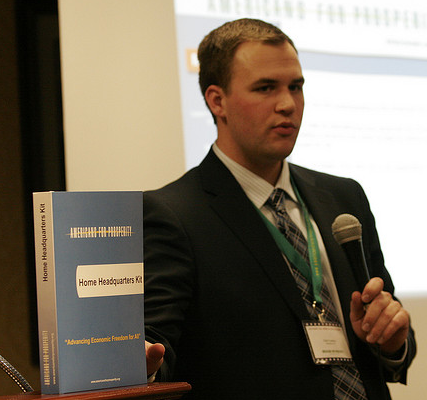 Connors has been a featured speaker at the national AFP "Defending the Dream" Summit. (The Center has recently published a guide to the elected officials, right-wing ideologues, and business leaders headlining the Wisconsin-area summit for Tea Party activists, funded by AFP which is chaired by David Koch. The Center also recently published an in-depth analysis of the connections between Jockey's CEO and Koch, in a piece called "Is Your Underwear Undermining Your Values?") At the 2010 AFP Summit in Wisconsin, at which candidate Prosser and other candidates for public office were listed as headliners, Connors served as the "On-Site Production Coordinator." At recent AFP events, Connors has helped AFP's Mark Block launch AFP's new "home headquarters kit," an update on the "pyramid-type campaign" that Block and then-candidate George W. Bush initially used in Wisconsin to identify voters and get them out to vote for his run for president.
All this raises questions of whether a recent college graduate is somehow bankrolling the CSA's ads, or whether others who fund Connors' work at AFP are involved in any way. (AFP Wisconsin was led until recently by Mark Block, who paid a fine in a settlement of a case a few years back after the state alleged that Block had coordinated a campaign worth $200,000 with an outside group when he was serving as Supreme Court Justice Jon Wilcox's campaign manager.)
AFP's funders are not well known, aside from David Koch. Additionally, as the Center has previously reported, Koch wrote a million dollar check to the Republican Governors Association last summer, along with Rupert Murdoch and other billionaires, and RGA spent millions "investing" in getting controversial governor Scott Walker elected along with other new extremist governors attempting to destroy the rights of public employees and slash spending for public education. AFP spent millions of dollars across the country during the 2010 election season, including an untold sum in Wisconsin running ads about government spending (without disclosing the sources of its own spending). AFP also featured Walker at its summits in the state when he was a candidate.
However, there is literally zero information about who is actually giving Connors or others associated with CSA the money to create or make the expensive ad buys in this election. What is clear is that CSA is most definitely linked to people backing and leading the extreme agenda of the Tea Party.
CSA's Funding Is Quite a Mystery!
Accordingly, a virtually anonymous group is running ads on the eve of a major election with no public disclosure of who runs the group or who funds the group. Voters have no idea who paid for the video editing for the ad or who underwrote the purchase of the ads. There is no indication whether the group's funders are one person or a handful of people, or a company or business group or CEO. There is no indication, besides its postal box and its link to Connors, that it is funded by anybody in Wisconsin, or where its donors actually live in the United States or elsewhere.
And, there is no accountability for the group, which has already been determined to have run at least one misleading ad in this election cycle.
Citizens for "Ridiculously False" Advertising?
Just last month, a CSA ad asserting that judicial candidate Kloppenburg "jailed an 80-year-old farmer for refusing to plant native vegetation on his farm" was determined to be "ridiculously false." The landowner had a slope with a "severe erosion problem" that was believed to be discharging pollutants into Marsh Lake, part of the Rock Lake watershed. The owner ripped up seeding from the Department of Natural Resources that was planted to help protect the lake, and the court found him in contempt. After the third judicial finding of contempt, the court ordered the landowner to a short jail term. Tom Kercher of the Journal Sentinel investigated the CSA ad, and found that the presiding judge, Judge Ullsvik, said that Kloppenburg had not wanted the owner to go to jail and instead had asked that he comply with the court's order to address the pollution problem. Faced with the owner's recalcitrance, the court ordered the landowner to go to jail -- not Kloppenburg.
CSA's Ad about the Awful Case of the Molesting Priest--What Are the Facts and What's Opinion?
The determination that CSA's ad was ridiculously false did not stop the entity from creating another ad, or deter TV stations from accepting money from CSA for ad buys. In its newest ad, CSA features Troy Merrifield, one of dozens of sexual abuse victims of a predator priest, Father Feeney. His complaint that a priest abused him was not prosecuted by Prosser back in 1979. In the misleading CSA ad, Merrifield states that Prosser helped bring his abuser to justice, even though Prosser declined to pursue charges against the priest, which kept the case out of court and out of the public's eye for over a decade. After the Merrifield boys were abused by the priest and Prosser chose not to prosecute, the priest went on to abuse other boys at other parishes. The priest was ultimately convicted in 2004, but that was long after Prosser had left the prosecutor's office to become Republican leader of the state Senate and was appointed to the Wisconsin Supreme Court.
Back in 2008, Troy Merrifield said Prosser should recuse himself in cases involving sexual abuse because "He knows damn well what happened and what was said.... He dropped the ball and he should recuse himself." According to press accounts from before this election, Merrifield said "I was ready to take the stand ... He (Prosser) said it would be too embarrassing for a kid my age and said what jury would believe a kid testifying against a priest? Then he said, what really makes it bad is that Feeney's brother, Joe, sang on the Lawrence Welk show and everybody watched that back then."
It is not clear how to fully square these statements with the election eve utterances by Merrifield in saying Prosser helped bring his abuser to justice. It appears that Merrifield has been told that the special prosecutor in the 2004 case spoke with Prosser about the case, and he was helpful. The ad created by CSA implies that Prosser was always helpful in bringing the priest to justice, even though he failed to do so when he had the power to do so as the local prosecutor handling the boys' claims of molestation. The ad also does not account for the feelings of all the boys sexually abused in the 15 years between the time Prosser failed to prosecute and the actions of the special prosecutor in 2004 to bring the priest to trial.
Merrifield has been critical of the ad being run about Prosser, and he has asked Kloppenburg to take it down, even though it is not her ad and it is run by an independent group, the Greater Wisconsin Committee. (Kercher criticized that ad for implying, in his view, that Prosser knew the priest had been abusing kids for thirty years, even though the ad does not say that he knew that; thirty years is the period between the priest's first assault and his last.  Almost 15 years elapsed between Prosser's decision not to prosecute and the priest's arrest in 2004.) Merrifield noted previously that "It wasn't as if sexual abuse of a child wasn't a felony back then.... The laws were on the books, and he should have prosecuted." Prosser has expressed regret about the case and has complained about the ads referencing the case.
An All Points Bulletin for the CSA's Veronica Johnson?
So, the voters of Wisconsin are now being bombarded by a virtually anonymous group being bankrolled to the tune of perhaps a million dollars or more to run ads which are demonstrably misleading. There is no physical office a voter can go to in order to complain or demand the group's tax filings. And even if those filings were available, they would not disclose who CSA's major financial backers are. CSA is exploiting the fact that Justice Prosser and a narrow majority of the Wisconsin Supreme Court enjoined the state from enforcing rules to require key disclosures by groups like CSA running so-called "issue" ads to influence elections. (The Center for Media and Democracy has filed a brief in that case in support of disclosure rules.)
The only known name of a person associated with "Citizens for a Strong America," aside from AFP's John Connors, is "Veronica Johnson," whose name was on the TV ad buy. The Center -- whose mission is to fight PR spin and front groups -- challenges readers to help identify Johnson. The Center is putting out the watchdog group equivalent of an "all points bulletin" for Veronica Johnson, with bonus points for her photo and information on who actually underwrote the ad buys by donating to CSA. Does she even live in Wisconsin or some other state? Does she even work "at" CSA or is she just hired by CSA to purchase ads? What other ads has she purchased and for whom? Let's give "credit" where credit is due. If CSA wants to influence elections it ought to have the guts to come clean about who is bankrolling its bills, so that voters can understand more about its agenda than its deliberately vague feel-good name. Any group spending six or seven figures on TV ads at election time ought to disclose more than its name, just as voters can easily find information about the other groups running issue ads this election, like the Greater Wisconsin Committee. The Center believes voters have a right to know more about an influential group than just its P.O. Box.
Lisa Graves is Executive Director of the Center for Media and Democracy, the publisher of PRWatch.org, SourceWatch.org, and BanksterUSA.org. She formerly served as Deputy Assistant Attorney General in the Office of Legal Policy at the U.S. Department of Justice, as Chief Counsel for Nominations for the U.S. Senate Judiciary Committee, and as Deputy Chief of the Article III Judges Division of the U.S. Courts. Her latest expose is "Is Your Underwear Undermining Your Values" about Jockey's CEO and her Koch connections.