WISCONSIN SUPREME COURT DEBATE BETWEEN INCUMBENT DAVID PROSSER AND CHALLENGER JOANNE KLOPPENBURG
10:00 p.m. - Brendan Fischer reports:
With recently-released emails suggesting Prosser has contributed to discord on the state's highest court, Prosser recommended that greater civility could be achieved with "outside studies," and Kloppenburg questioned whether animosity between justices could cloud the decisionmaking process. She asked, "are judges making decisions based on law, or based on personal animosity?" Throughout the debate, Prosser circled back to ads being run against him by the group Greater Milwaukee Committee pointing out he did not prosecute a pedophiliac priest when Prosser was a District Attorney. "This is the worst ad ever run in a judicial campaign," he said. Both sides brought up ads run against former Supreme Court Justice Louis Butler by current Justice Michael Gableman that made the ludicrous suggestion Butler found a "loophole" to free a rapist so he could rape again (Butler was appointed the case as a public defender, got a new trial but lost at the Supreme Court, and the man served his entire sentence). While Prosser joined the half of the court that refused to censure Gableman for the ad, Prosser subtly compared it to the "pedophiliac priest" ad to turn the tables. Kloppenburg pointed out that the ads against Prosser were run by a third-party group, whereas the Gableman ads were produced by his own campaign. Nonetheless, Kloppenburg declined to ask the Greater Milwaukee Committee to take down their ads when challenged to do so by Prosser. The debate flowed into a discussion of campaign disclosure rules, an issue especially relevant in light of challenges to the state elections board expanding disclosure regulations. A case on this matter is currently pending before the Wisconsin Supreme Court and the Center for Media and Democracy has submitted an amicus brief in favor of increased disclosure. Even though the U.S. Supreme Court favored disclosure in its Citizens United decision, right-leaning groups making expenditures in the 2010 midterm elections benefitted from secrecy, suggesting that disclosure considerations would be a right-left issue. However, when asked about disclosure, Prosser suggested he would favor it, stating "I want to know who is smearing me in that third-party ad!"
CMD REPORTS: DID THE UNION-BUSTING BILL JUST BECOME LAW?
8:00 p.m. - Brendan Fischer reports for CMD:
News outlets are reporting that the Legislative Reference Bureau has published Governor Walker's union-busting bill, despite a court order preventing publication on grounds that the bill's passage likely violated Open Meetings laws. A quick review of the statutes suggests the bill may have become law, but also suggests the entire court battle may have been focused on the wrong characters, and that the state has arguably violated the court order.

Judge MaryAnn Sumi's order from one week ago enjoins Secretary of State Douglas LaFollette from publishing the bill, with publication being a necessary step before it can become law. Sumi states "The next step in implementation of that law would be the publication of that law by the Secretary of State. He is restrained and enjoined from such publication until further order of this court." The Legislative Reference Bureau, though, is not subject to the order and is arguably not prohibited from publishing the bill. However, Judge Sumi's order may have been stated broadly enough that the state could still be found in contempt.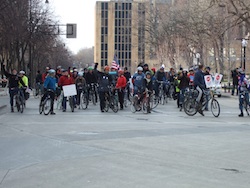 BIKERS RALLY AGAINST BUDGET CUTS
7:30 p.m. - Rebekah Wilce reports:
It's a cold evening in Madison, but that hasn't deterred the group of people who've been protesting around the Capitol Square every evening from 5 to 7pm--on bicycles, with a sound system and cowbells. This evening they were joined by more cyclists, for the first in a series of Critical Mass rides planned via the Facebook group "Bikers Against Walker's Budget." They were of all ages and rode all shapes and sizes of pedal-powered vehicles, but they were united against Walker's Budget Reform Bill, particularly the elimination of $2.5 million annually that had been earmarked for bike and pedestrian projects in Wisconsin. One rider, a theatrical technician named Jenn who's lived in Madison for 10 years, came because she's worried that money going to more roads instead of more bike paths will make riding more dangerous for cyclists. She didn't own a car until a year and a half ago, and biked everywhere. She's participated in Critical Mass rides in the past, but this is the first time she's ridden to protest the Budget Reform Bill, and she plans on being there each time this rally is held. The plan is to keep the rides going on a regular basis, according to an organizer's statement to The Capitol Times earlier today. Another rider brought his kids, who led the pack as it moved out onto the streets around the Capitol, flags fluttering behind them.
| | |
| --- | --- |
| | |
WEEKEND SCHEDULE
SATURDAY, MARCH 26, 2011
SUNDAY, MARCH 27, 2011
CMD REPORTS: INDIANA PROSECUTOR'S EMAIL TO WALKER ENCOURAGED WISCONSIN VIOLENCE
2:15 p.m. - Anne Landman reports for CMD:
Johnson County, Indiana deputy prosecutor and Republican activist Carlos Lam resigned from his job after the Wisconsin Center for Investigative Journalism discovered an email he sent to Wisconsin Governor Scott Walker suggesting the governor have an "associate" make a fake, violent attack to discredit union protesters and influence media coverage of the protests. Lam resigned shortly before the Center published a story containing excerpts of the email sent from Lam's account on February 19 praising Walker for standing up to unions and suggesting a "false flag" attack on Walker.
CMD REPORTS: HAVE YOU NO DECENCY, SCOTT WALKER?
12:20 p.m. - Mary Bottari reports for CMD:
William Cronon is a professor of history, geography and environmental studies at the University of Wisconsin-Madison. He is the prize winning author of many books such as Changes in the Land: Indians, Colonists, and the Ecology of New England, which revolutionized the study of environmental history. He is known as a guy with such a deep and abiding love of the Wisconsin and its traditions that he leads the "get to know us" bus tour of the state offered to new faculty each year. Glaciers, rocks and history are on his agenda; politics and cheese he leaves to fellow-Wisconsinite and Capital Times editor John Nichols.

But this mild-mannered professor kicked a hornet's nest this week with an op-ed in the New York Times this week on Governor Scott Walker, and the push back was immediate. The Wisconsin GOP is now demanding his emails.
TPM EDITORS BLOG: MY WORLDS COLLIDE
Bill Cronon -- or William Cronon, as I think of him -- is a Professor of History at the University of Wisconsin. A few days ago he wrote an oped in the Times critical of Gov. Walker and his push to abolish collective bargaining rights for public employees in Wisconsin. About a week before that, he wrote a blog post -- the first in a new blog called Scholar as Citizen -- examining just who's behind this big anti-union push. He focused on a group called ALEC (The American Legislative Exchange Council).

Now, so far, nothing particularly controversial about any of this. But then it took a dark turn. Or perhaps better to say, then the story got into gear with everything else we've seen out of the Walker administration over the last three months.
CMD REPORTS: WI COURT OF APPEALS ASKS WI SUPREME COURT TO REVIEW DECISION HALTING UNION-BUSTING BILL
8:20 a.m. - Brendan Fischer reports for CMD:
A Wisconsin appellate court is asking the state supreme court to consider Attorney General JB Van Hollen's appeal of last Friday's order halting implementation of Governor Walker's union-busting bill. Because the appeal raises significant issues the Wisconsin Supreme Court would review on appeal, the court believes judicial efficiency warrants fast-tracking the case. This places Justice David Prosser in an awkward position.

As CMD reported earlier this week, the Attorney General filed an appeal of Judge Maryann Sumi's order halting the implementation of Walker's bill on grounds it passed in violation of state Open Meetings laws. The appeal claimed the decision violated the separation of powers between the court and legislature. The Court of Appeals is now offering two parts of that appeal to the state's highest court.
LA FOLLETTE SAYS UNION LAW NOT IN EFFECT, WALKER OFFICIAL DISAGREES
From the Milwaukee Journal Sentinel:
A Dane County judge issued a temporary restraining order preventing La Follette from publishing the measure. But late Friday, the bill was published by the Legislative Reference Bureau, which was not named in the restraining order.

The director of the bureau, Stephen Miller, said Friday that publishing the bill was a "ministerial act" and that it still had to be published in the official state newspaper for it to become effective.

The Department of Administration said Friday that it will carry out the law.

And Saturday, DOA Secretary Mike Huebsch said in a written statement: "Upon the advice of my legal counsel, the Department of Administration will begin the process of implementing (the law) as we are required to do the day after a bill is lawfully published. We are mindful that this Act is continuing to be litigated and we will continue to be responsive to the courts as the law begins to be applied."

An aide to Huebsch said in a text message that the secretary "believes" the budget-repair bill has "been lawfully published."
SCHEDULE FOR FRIDAY, MARCH 25, 2011
BREAKING NEWS: APPEALS COURT SENDS UNION BILL TO SUPREME COURT
From the Cap Times:
Finding that there are too many issues that require clarification, a state appeals court on Thursday sent the state attorney general's appeal of a decision barring implementation of Gov. Scott Walker's bill to restrict public sector unions to the state Supreme Court.

"Plainly, this case has broad statewide implications for the general public and those most directly affected by the challenged Act, in addition to those interested in the manner of its passage," wrote a three-judge panel of the Fourth District Court of Appeals, consisting of Judges Paul Lundsten, Brian Blanchard and Paul Higginbotham.

The court sent two questions to the Supreme Court: Can a circuit court judge strike down a legislative act as a remedy for violation of the state's open meetings law? If so, does the court have the authority to stop the secretary of state from publishing the bill before it becomes a law?
JOHN NICHOLS, THE NATION, INTERVIEWS SUSAN SARANDON IN MADISON, WI
THURSDAY, MARCH 24, 2011 NEWS ROUNDUP
NEW REPORT ON WISCONSIN PENSION SYSTEM
Mary Bottari reporting:
Many outside of Wisconsin don't understand that unlike many states, Wisconsin's pension system is doing quite well and is not a contributor to our state deficit. That does not however mean it is safe from the privatizers and profiteers. Governor Walkers "budget repair" legislation requires a study of pension overhaul. It will be completed by June 30, 2011 and recommendations made to the governor on "reforming" the pension. It looks like the plan is to replace the pension with private savings plans, which means lucrative fees for Banksters on Wall Street and less money for retirees. The Center on Wisconsin Strategy and the Center for Economic and Policy Research just released a report on the safety and soundness of the pension system, which can be found on the COWS website along with their other study on how Wisconsin public-sector workers are under-compensated relative to the private sector.
From the COWS press release: "Wisconsin's pension system is on excellent financial footing and among the healthiest in the nation, according to multiple independent reports and an analysis by COWS and CEPR. These reports show that the WRS has consistently contributed 100 percent of the amount of money that actuaries calculate is needed each year. As a result, while the fund's holdings dipped during 2008 due to stock market losses, it remains one of the most solid in the country and has enough funds to cover the promises made not only to current retirees but to those in the future."
Wisconsin Watch: INDIANA PROSECUTOR DENIES ENCOURAGING WISCONSIN VIOLENCE

The email came to Gov. Scott Walker from the personal account of a deputy prosecutor and Republican activist in Indiana. After praise for Walker, the email — sent Feb. 19, during union demonstrations against Walker's budget repair bill — then took a darker turn. It suggested that the situation in Wisconsin presented "a good opportunity for what's called a 'false flag' operation." "If you could employ an associate who pretends to be sympathetic to the unions' cause to physically attack you (or even use a firearm against you), you could discredit the unions," the email said. "Currently, the media is painting the union protest as a democratic uprising and failing to mention the role of the DNC and umbrella union organizations in the protest. Employing a false flag operation would assist in undercutting any support that the media may be creating in favor of the unions. God bless, Carlos F. Lam."
The Cap Times: MORE ON TURDS AND BITCHES

Supreme Court Justice David Prosser has a point. Somebody was called a turd, and he just wants to know if it was him. "Who's the turd here?" he asked at a Supreme Court candidate forum at the Concourse Hotel Tuesday. The list of possible candidates: him or Gov. Scott Walker. The turd issue emerged on Monday, when the 12-year veteran of the high court debated his challenger, JoAnne Kloppenburg, an assistant attorney general at the state Department of Justice, at Marquette University. On Tuesday, he was still asking the question. Now, nobody likes being called a turd. But if you log onto Prosser's Facebook page, you'll find that someone with the tag Jud Meter Lounsbury wrote to comment that "Kloppenburg is a TOTAL BITCH! I hope somebody DESTROYS HER!." READ MORE HERE.
Milwaukee Journal Sentinel: DANE COUNTY DA AMENDS OPEN MEETINGS COMPLAINT

A Dane County prosecutor has amended his complaint alleging that Gov. Scott Walker's budget-repair bill was passed in violation of the state's open meeting law. Dane County District Attorney Ismael Ozanne filed the complaint Wednesday afternoon and in it added Democratic lawmakers and the entire Legislature to the list of defendants alongside GOP legislative leaders. Ozanne is still only seeking to fine Republicans, however, along with voiding the law, which sharply curtails collective bargaining for public workers.READ MORE HERE.
Milwaukee Journal Sentinel: NEW UNION VOTES MAY NOT MEET DEADLINE: HOLD ON WISCONSIN BUDGET-REPAIR BILL DELAYS CERTIFICATION REQUIREMENT

A state labor commission likely won't be able to meet a May 1 deadline to finish elections deciding the future of unions for some 30,000 state employees. READ MORE HERE.
Milwaukee Journal Sentinel: RECALL SIGNATURES SWIPED, FOR A TIME, IN RIVER FALLS

A third education bill up for discussion in the Senate's Committee on Education Wednesday -- one that would expand opportunities for charter schools -- faced opposition from some committee members and speakers who said it could lead to decreased enrollment, and state aid, for traditional public schools.
SCHEDULE FOR THURSDAY, MARCH 24, 2011
CMD REPORTS: DEBATE OVER SWING VOTE ON HIGH COURT IN LABOR BATTLE SPARKS DISCUSSION OF JUDICIAL AGENDA AND DEMEANOR
11:40 a.m. - Erica Pelzek reports for CMD:
Amidst the ongoing labor struggle in Wisconsin and national efforts to cut programs while giving breaks to business, the race for a swing vote seat on the Wisconsin Supreme Court has heated up.

Justice David Prosser, who is up for reelection, has been the subject of TV ads attempting to tie his views and judicial decisions to controversial Wisconsin Governor Scott Walker. Prosser has rejected these claims and stated that a statement earlier this year by his campaign staff that he should be re-elected to "complement" Walker's efforts was not approved by him in advance.
UW PROFESSOR JOEL ROGERS WRITES TO THE ISTHMUS, EXCERPTS BELOW
UW professor Joel Rogers recently wrote a letter to Madison-based Isthmus magazine correcting the record on his beliefs. His letter has been an inspiration to many and is getting widely distributed. Excerpts below:
I do not believe that electoral action alone, much less simply swapping out a few Republicans for Democrats, will fix Wisconsin politics. Nor do I reject without consideration any proposal for nonviolent action that might. We are in the fight of our lives. Outside violence, we cannot afford to bar any holds.

I have this view because I take Walker, Prosser, Fitzgerald(s) & Co. to be made men of a well‐resourced, well‐organized, and lethal political project that goes well beyond wrecking unions and schools, inflicting pain upon the poor, and otherwise debasing a single state or group of states. As explained by Grover Norquist and Karl Rove, this project aims at national repeal of most of democratic achievements of the
 20th century, a return to business domination of public life not seen since the Gilded Age and McKinley, and whatever constraints on popular action are needed to make that domination permanent. In short, to reverse and then halt the progress of democracy in America.

I find it this project repulsive, and close to treason. I believe it is the duty of each generation of Americans to move the reality of this country closer to, not further from, its radical founding ideal: democracy, a self‐governing community of free equals. That work was declared by Lincoln at Gettysburg as the enduring "task before us." James Baldwin called it the work of "achieving" our country. I know no 
better definition of our jobs as citizens.

Those who disagree are obviously winning, however, until recently with little popular resistance. What can we do about this? First and last, I think, build a mass democratic movement, not just a moment — an organized people force as strong, determined, and savvy as the organized money force that wants to 
kill us.

This movement should be independent, not controlled by politicians. It should be open in its debate and decision making. It should say what it's for as well as against. And it needs a name, one name, so that its diverse organizational and individual members can easily signal their shared conviction and solidarity to each other and the world. That's all, and all that's possible. We just need to get started in earnest...

--Joel Rogers
CMD REPORTS: WILL "BITCHES" AND "TURDS" DECIDE THE FATE OF WISCONSIN?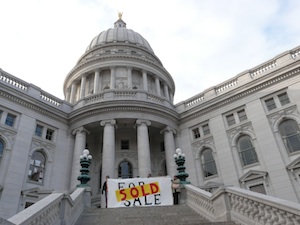 10:30 a.m. - Mary Bottari reports for CMD:
The reign of lawlessness continues in Wisconsin.

Last week, a local court issued a stay temporarily blocking the implementation of Governor Scott Walker's radical proposal to do away with most collective bargaining rights for public workers and cripple labor's ability to collect union dues. The court put a halt to the publication of the bill (an act performed by the Secretary of State), so there could be a hearing on whether or not the Wisconsin Senate violated the state's strong open meetings law in its rush to ram the bill through.
NEWS ROUNDUP: WEDNESDAY, MARCH 23, 2011
Milwaukee Journal Sentinel: DA FILES FOR BUDGET ACT STAY

A judge's hold on Gov. Scott Walker's union bargaining law should be kept in place, Dane County District Attorney Ismael Ozanne argued Tuesday. In a filing with the state Court of Appeals, the Democratic district attorney said that the budget-repair law, which sharply curtails collective bargaining by public workers, is effectively void because a committee violated the state open meetings law in passing it. Without the allegedly improper committee vote, the later passage of the law by the Senate and Assembly "could not and would not have happened," Ozanne argued. READ MORE HERE.
Milwaukee Journal Sentinel: CHANCELLORS ENDORSE PLAN FOR AUTONOMY

Thirteen University of Wisconsin System chancellors have endorsed a plan that would give the state's public universities more autonomy but would not formally split the state's flagship campus from the oversight board that runs the rest of the campuses.READ MORE HERE.
Wisconsin Radio Network: STATE SAYS 19 RECALL EFFORTS UNDERWAY

The Government Accountability Board says the clock is now officially ticking on 19 campaigns against 16 members of the state Senate. Those are evenly split between Republicans and Democrats.GAB officials say initial paperwork had been filed in 22 campaigns, but three failed to meet a deadline to continue collecting petitions from voters in those districts. All of those were filed by the "American Recall Coalition."
The Cap Times: BIZ BEAT: WALKER RAPPED OVER WIND FARM CANCELLATION

The executive director of a statewide renewable energy group is blasting Gov. Walker and the Legislature after a Chicago-based wind developer dropped plans to install up to 100 wind turbines in southern Brown County. Invenergy LLC told the Public Service Commission Monday it was canceling its 150-megawatt Ledge Wind energy center because of the uncertain regulatory climate here. The decision came a month after Walker proposed making it more difficult to site wind turbines in Wisconsin and a legislative committee prevented new statewide wind rules from taking effect. READ MORE HERE.
SCHEDULE FOR WEDNESDAY, MARCH 23, 2011
WISCONSIN'S RADICAL BREAK
New York Times Op-Ed by Bill Cronon, UW Professor of History, Geography and Environmental History:
NOW that a Wisconsin judge has temporarily blocked a state law that would strip public employee unions of most collective bargaining rights, it's worth stepping back to place these events in larger historical context.

Republicans in Wisconsin are seeking to reverse civic traditions that for more than a century have been among the most celebrated achievements not just of their state, but of their own party as well.
CMD REPORTS: WI ATTORNEY GENERAL SEEKS APPEAL OF DECISION HALTING UNION-BUSTING BILL
4:00 p.m. - Brendan Fischer reports for CMD:
Attorney General JB Van Hollen is seeking to appeal last Friday's order halting implementation of Governor Walker's union-busting bill. While the trial court found that the bill's rushed passage likely violated state Open Meetings laws, the Court of Appeals is being asked to consider whether that decision conflicted with separation of powers principles.
CMD REPORTS: WALKER'S COSTLY PERPETUATION OF PREJUDICIAL CORRECTIONS POLICIES
3:45 p.m. - Brendan Fischer reports for CMD:
As CMD has previously reported, Governor Walker's budget bill will have a negative impact on Wisconsin's populations of color, especially in regards to perpetuating Wisconsin's atrocious record of racial disparities in the criminal justice system. Walker's effort to prolong prison sentences will also result in increased costs not reflected in the budget, at the expense of spending on education and health.
CMD REPORTS: CORPORATE INTERESTS TRY TO SPLIT AMERICAN WORKERS
1:30 p.m. - Anne Landman reports for CMD:
On March 18, 2011, the Cleveland Leader reported that Charles and David Koch -- billionaire owners of Koch Industries, an energy conglomerate that also makes a list of familiar household products like Brawny paper towels, Dixie cups, Lycra and StainMaster carpet -- are funneling $5.6 million to the corporate astroturf group FreedomWorks to run a television ad campaign in Ohio that scapegoats public workers. The ad depicts public workers and their unions as enemies and blames them for budget deficits in Wisconsin and Ohio. It features a discredited and deceptive Fox News video clip of protesters taken in a different state to try and depict Ohio's public-sector union workers as being mean and aggressive.
NEWS ROUNDUP, TUESDAY, MARCH 22, 2011
Milwaukee Journal Sentinel: STATE HAS BORROWED $1.56 BILLION FOR UNEMPLOYMENT BENEFITS

Wisconsin has borrowed $1.56 billion from the federal government in order to keep unemployment insurance checks coming, state figures show. The state Department of Workforce Development, which is responsible for the unemployment insurance program in the state, confirmed the figure. Wisconsin is not alone in owing money. As many as 30 states were forced to borrow money to ensure unemployment checks were getting to jobless workers. The money was made available to states as part of the stimulus bill. The year 2010 was a busy one for the agency. More than 1 million initial claims were made in 2010, and an estimated 12 million weekly claims were made, according to agency figures.
COLLECTIVE BARGAINING BATTLE LOOMS OVER RACE FOR WISCONSIN'S HIGH COURT
From the Milwaukee Journal Sentinel:
Shortly after the candidates smiled and posed for photos together, Monday night's debate quickly turned personal and snippy. Kloppenburg reiterated her campaign theme that new blood is needed on the divided court, saying it doesn't help to have justices split into two blocs and she could help move them away from partisan quarrels. Prosser repeated his campaign stance that 12 years on the Supreme Court gives him an advantage in experience. ...

Partisan elements to the race first developed in December when Prosser's campaign manager released a statement saying Prosser would be a complement to the Walker administration. Prosser said he didn't see the statement before it was released and disavowed it. Kloppenburg replied that Prosser did not disavow the comment until recently.

That prompted Prosser to criticize comments made by people on Kloppenburg's Facebook page regarding Walker's budget-repair bill.

Prosser quoted one of the Facebook comments: "Stop the turd, vote Kloppenburg."

"Now, am I the turd?" Prosser said. "That's totally inappropriate."

Kloppenburg said she's not responsible for postings by other people on her campaign's Facebook page.
NO STRIKE VOTE FROM UW-MADISON TEACHING ASSISTANTS
From the Milwaukee Journal Sentinel:
It had been anticipated that the union, which represents about 3,000 teaching assistants and project assistants at UW-Madison, might consider striking in opposition to the proposals in Walker's budget bill.

"Don't hold your breath for that vote," Teaching Assistants' Association Co-President Kevin Gibbons said Monday. He said people have talked about striking, but it's hard to see how a strike would be strategically helpful right now.
STATE DEMOCRATS HOPING TO CASH IN WITH D.C. FUNDRAISER
From the Milwaukee Journal Sentinel:
And now it's the Democrats' turn.

The state Democratic Party is planning a fundraiser on March 31 at the Democratic Headquarters Building in Washington, D.C. ...

It costs $5,000 to host the fundraiser, $2,500 to sponsor it and $1,000 to be a supporter. Special friends may attend for a $150 donation.
VAN HOLLEN AND HIS TEAM ACT AS POLITICIANS IN APPEALING JUDGE'S ORDER
From the The Cap Times:
Usually attorneys talk with their clients before launching major legal actions.

But when Attorney General J.B. Van Hollen's Department of Justice launched an effort to appeal Dane County Judge Maryann Sumi's order blocking publication of Gov. Scott Walker's anti-union law, the state lawyers did not even discuss the matter with the supposed "petitioner" in their action. ...

But the Department of Justice attorneys did not consult La Follette about whether he has any objection to Sumi's order. If they had, they would know that the secretary of state is not complaining about the judge's order. Indeed, La Follette says, he has already acted in accordance with it, in a move that he says allows him to "fulfill the public trust in my office."
REPUBLICAN BILL CALLS FOR A BOARD OF POLITICAL APPOINTEES TO AUTHORIZE CHARTER SCHOOLS
From the The Cap Times:
Under a Republican-sponsored bill, nine political appointees would get to authorize public charter schools while local school districts foot the bill. The creation of this state-wide charter school authorizing board — with members appointed by the governor and the leaders of the state Senate and Assembly — is a key provision of legislation authored by Sen. Alberta Darling of River Hills that will get a hearing on Wednesday at 10 a.m. at the Capitol before the Senate Education Committee. ...

Opponents say the proposed changes would not only eliminate local control in favor of a new, politically motivated bureaucracy but would also siphon general aid away from all of Wisconsin's 424 public school districts in favor of charters. But backers say it will remove current barriers that prevent charter schools from realizing their full potential.
Wisconsin State Journal: COULD A DO-OVER BE ON THE HORIZON FOR COLLECTIVE BARGAINING LAW?

There's another option available to state lawmakers hoping to avoid long, drawn-out legal battles over Gov. Scott Walker's controversial collective bargaining law — a legislative do-over.
SOME GOP LAWMAKERS OPPOSE WALKER'S PLAN TO CUT MANDATED RECYCLING
La Crosse Tribune:
Some Republican lawmakers, including a member of the powerful Joint Finance Committee in the state Legislature, are objecting to Gov. Scott Walker's plan to eliminate mandated recycling along with the $32-million-a-year funding for local programs.

State Rep. John Nygren, R-Marinette, said he questions whether the budget measure would really save money in the long run when balanced with the increased cost of maintaining and building new landfills.
MILWAUKEE CO. SUPERVISOR HARRIS: INFORMATIONAL SESSION TO DETAIL DEVASTATING IMPACT OF VOTER ID BILL
WisPolitics:
Milwaukee County Supervisor Nikiya Harris and the National Coalition of 100 Black Women Milwaukee Chapter are inviting all Milwaukee County residents to attend a special Information Session on the importance of voting and preserving the right.

"The Voter ID bill, currently under consideration by the State Legislature in Madison, attempts to suppress the voices of people in Wisconsin," said Supervisor Harris, who sponsored a resolution passed by the County Board last week opposing the bill. "Our community needs to come together, find logical solutions, and stop this assault on voter rights in our State."
RACHEL MADDOW: DESPITE 'AUSTERITY' PLEA, GOP AFFORDS BIG GIVEAWAYS
LA FOLLETTE SAYS HE WASN'T CONSULTED BEFORE AG PETITIONED ON HIS BEHALF
The Capital Times, John Nichols:
Attorney General J.B. Van Hollen's Department of Justice is attempting to appeal Dane County Circuit Judge Maryann Sumi's order blocking implementation of Governor's Scott Walker's budget-repair bill.

Specifically, according to the paperwork filed Monday, state lawyers say they are representing Secretary of State Doug La Follette, who is identified as the "petitioner" seeking to have the temporary restraining order issued by Judge Sumi lifted so that the law — which eliminates nearly all collective bargaining rights for public workers — can be published and implemented.
SCHEDULE FOR TUESDAY, MARCH 22, 2011
CMD REPORTS: WALKER'S ATTACK ON PEOPLE OF COLOR
2:30 p.m. - Brendan Fischer reports for CMD:
While Wisconsin protest coverage has focused on GOP efforts to limit public sector collective bargaining, less attention has been given to the Republican attack on the poor and people of color. On Saturday, activists gathered at the Exposing Colorlines event at the capitol to focus on the under-reported aspects of Walker's budget and proposed GOP legislation.
CMD REPORTS: KOCHS FUND $5.6 MILLION AD CAMPAIGN IN OHIO
1:30 p.m. - Anne Landman reports for CMD:
Billionaires Charles and David Koch of Koch Industries are funneling $5.6 million through the astroturf group FreedomWorks for an Ohio TV ad campaign starting March 18, 2011 that continues the attack on labor unions that Wisconsin Governor Scott Walker started in February. FreedomWorks, a non-profit group heavily involved with organizing the Tea Party, does not disclose its corporate donors. The 30-second TV ad focuses on Ohio, but features discredited Fox News footage taken of an out-of-state protest, inserted in the ad order to depict Wisconsin union protesters as being aggressive. The ad blames unions for what it claims is a debt "crisis" in Ohio. It says, "We won in Wisconsin, but the fight must go on," and urges viewers to call a phone number to "Thank Governor Kasich for leading the fight against Union corruption in Ohio."The ad doesn't mention that a Wisconsin judge temporarily blocked implementation of Governor Walker's anti-union bill over a potential violation of open meetings laws incurred in the way the highly-contentious bill was pushed through Wisconsin's legislature.
ANALYSIS SHOWS EMAILS TO WALKER FAVORED BUDGET REPAIR BILL
From the Wisconsin State Journal:
The Wisconsin Center for Investigative Journalism analyzed a computer-generated random sample of 1,910 emails from the more than 50,000 that flooded Walker's office in the week after he unveiled his plan on Feb. 11. Nearly all were related to the bill. ...

[A]mong those who emailed the governor, the overwhelming majority who opposed his bill were from Wisconsin, according to the sample reviewed. A significant proportion of Walker's email supporters were from out of state, however, praising Walker for taking on "union thugs" and controlling spending.

The supportive emails came from at least 45 states and the District of Columbia, and four countries.
SENATOR'S GIRLFRIEND HAD HELP GETTING JOB
Daniel Bice, Milwaukee Journal Sentinel:
Even though the state is supposedly broke, top officials in Gov. Scott Walker's team were able to scrape together enough money to give a state job to the woman identified as Sen. Randy Hopper's girlfriend.

Anything for a political ally.

Valerie Cass, a former Republican legislative staffer, was hired Feb. 7 as a communications specialist with the state Department of Regulation and Licensing. She is being paid $20.35 per hour. The job is considered a temporary post.

Cass previously had worked in the state Senate and for the GOP campaign consulting firm Persuasion Partners in Madison. She also was paid for campaign work for the state Republican Party and U.S. Rep. Jim Sensenbrenner before that.

"Ms. Cass' name was among many forwarded to DRL by the Governor's Transition Team as potential candidates for positions with the department," said David Carlson, the agency's spokesman.

But who exactly recommended her for the post?

Cullen Werwie, spokesman for the governor, confirmed that it was Keith Gilkes, Walker's chief of staff. She was then interviewed by the Department of Regulations and Licensing's executive assistant and deputy and hired by Secretary Dave Ross, a Walker cabinet member.

An internal staff directory lists Cass as working in the secretary's office as the assistant to the executive assistant.

Werwie said Gilkes did not recommend her as a favor to the first-term lawmaker, who voted for the governor's controversial budget-repair bill earlier this month.

"That's certainly not the case," Werwie said.

Cass did not return calls last week.

Hopper is expected to face a tough recall battle following his vote on the budget bill, which curbs collective bargaining for public employees. The Fond du Lac Republican won his seat by just 163 votes in 2008.

Since the recall effort was launched, news outlets and bloggers have focused in on Hopper's pending divorce. His estranged wife, Alysia, issued a statement to WTMJ-TV (Channel 4) accusing Hopper, 45, of beginning an affair with Cass, 26, last year. He filed for divorce in August.

"Randy is the love of my life," she said in the statement. "This divorce and the lack of any attempt to save our marriage is solely his decision not mine."
Milwaukee Journal Sentinel: SOUTHEAST COUNTIES TAKE HARD HIT IN WALKER BUDGET

Most municipalities in the four-county area, and all three suburban county governments, would face the maximum reductions in state-shared revenue, local road aid or both, according to calculations by the nonpartisan Legislative Fiscal Bureau. As a group, all area governments together would bear a larger-than-average share of the statewide cut in road aid, and all suburban governments together would be hit with a disproportionately large part of the statewide cut in shared revenue, Walker administration figures show.
WALKER GUTS FARMLAND PRESERVATION EFFORTS
From the Capital Times:
Farmland will be less expensive to develop and harder for farm families to permanently protect under a series of proposals in Gov. Scott Walker's budget.

The governor's plans to eliminate the farmland conversion fee and a farmland preservation program still in its infancy gut key components of the Working Lands Initiative. The moves hand developers a victory and deal conservationists and those who want to keep farmland in the family a blow.
---
Wisconsin Protests photo gallery