General Motors Gets a Free Ride in New York
WPIX-11 Adds Soundtrack, But No Disclosure, To Fake News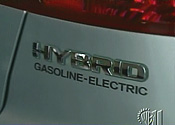 Clients: General Motors
Release Date: August 2006
Aired By: 1 station
Disclosed By: No stations
On August 4, 2006, WPIX-11 anchor Tiffany McElroy asked morning news viewers, "OK, you want a hybrid car, but the Toyota Prius just doesn't do it for you? Well, you're in luck." But the segment wasn't so auspicious for New York City viewers who want honesty in their newscasts.
What followed was a video news release (VNR) from a Toyota competitor, General Motors (GM). The segment was filmed at the first-ever Hybrid Fest, a real event organized by volunteers and held in Madison, WI, in July 2006. The VNR features Wisconsin state representative Joe Parisi and GM engineer Pete Savagian, who extoll the increasing variety of hybrid models available and the fuel savings enjoyed by hybrid owners.
For General Motors, the VNR is a soft sell. Its models aren't mentioned by name, although the camera lingers over a Saturn hybrid and the only auto expert interviewed is from the company.
The VNR is likely part of GM's efforts to establish itself in the hybrid market. In an April 2006 piece titled, "Challenging Toyota's Hybrid Hegemony," the New York Times reported on a new hybrid system jointly developed by BMW, DaimlerChrysler and General Motors, to "finally" give the three auto makers the "technology to counter Toyota, which is developing its third-generation hybrid."
Whatever GM's rationale, the VNR suited WPIX-11 just fine. The station re-voiced the narration, shaved a few seconds off the VNR, and shuffled the order of the scenes and soundbites. Just for kicks, WPIX-11 also added a soundtrack—"Free Ride," performed by the Edgar Winter Group. WPIX-11 didn't add any of its own reporting to the segment, just standard background footage of cars and gas stations (called B-roll). Yet the station failed to tell viewers that this "news" segment came courtesy of GM.
WPIX-11 is used to letting outside interests steer its newscasts. The station was cited in the Center for Media and Democracy's "Fake TV News" report, for airing a VNR from a computer security company. And GM is certainly used to being in the driver's seat. The Hybrid Fest VNR is the seventh of eight from the car company tracked by CMD, all of which were produced by the broadcast PR firm Medialink Worldwide.
| | |
| --- | --- |
| Original General Motors VNR | WPIX-11 5:30 AM newscast |
| Created by Medialink | August 4, 2006 |
| Voiced by publicist | Re-voiced by station reporter |
| | |