More Than Meets the Eye
WYTV-33 Promotes Lens Replacements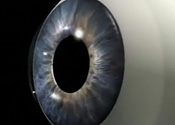 Clients: Advanced Medical Optics
Release Date: October 2006
Aired By: 1 station
Disclosed By: No stations
"When cataracts close in over our eyes, our vision grows worse, and the older we get, the more likely we're going to have this problem," WYTV-33 (Youngstown, OH) health reporter Len Rome said, on October 16, 2006. "Well, surgeons today can permanently replace the cloudy, natural lens of your eye with a polymer plastic lens."
Roughly half of the segment that followed came from a video news release (VNR) produced by the broadcast PR firm MultiVu for Advanced Medical Optics, the makers of the ReZoom brand lens implant.
The VNR—and the WYTV-33 segment—repeatedly mention the ReZoom implant by name. Both feature Beverly Hills eye surgeon Dr. Kerry Assil, who says, "The ReZoom lens is somewhat revolutionary, because it's ... not only getting rid of the dirty windshield in the pathway, which is the cataract, but also getting rid of their glasses at the same time."
WYTV-33 edited and re-voiced the VNR, and added to it what appears to be independently-gathered video of a local opthamologist (who is seen but not heard). The station failed to disclose the source of the sponsored video. And the only quasi-caveat offered by reporter Len Rome is that "the operation remains fairly expensive, but it is another option for aging eyes."
This is not the first time that WYTV-33 has fronted for unseen interests. The station was cited in the "Fake TV News" report, for airing a VNR promoting a prescription skin cream, without disclosure.
| | |
| --- | --- |
| Original Advanced Medical Optics VNR | WYTV-33 6AM newscast |
| Created by MultiVu, Inc. | October 16, 2006 |
| Voiced by publicist | Re-voiced by station reporter |
| | |