I Want a New (Birth Control) Drug
KYW-3 Helps Push Brand-Name Pills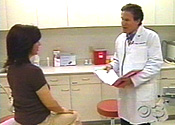 Clients: Barr Pharmaceuticals
Release Date: May 2006
Aired By: 1 station
Disclosed By: 1 station
For pharmaceutical companies, receiving U.S. Food and Drug Administration (FDA) approval for a new drug is always good news. And an expiring patent on an old drug is always bad news.
In 2006, Barr Pharmaceuticals faced both scenarios. The company's exclusive rights to produce its major seller, Seasonale, were set to expire in September and another company was readying a generic version. Seasonale is an "extended-regimen" oral contraceptive for women that reduces the average number of menstrual cycles per year, from 13 to four. In mid-2006, the drug accounted "for about 10% of Barr's total sales and a far higher percentage of profits," according to Crain's New York Business.
Barr placed its hopes in a slightly-reformulated new contraceptive, Seasonique, which received FDA approval in May. While one analyst told United Press International that "there would be little incentive for consumers and providers to choose the more expensive branded option over a cheaper generic," others pointed to the power of marketing. "With promotion focused on Seasonique, uptake will be good enough to keep the franchise from disappearing," said Prudential's David Woodburn.
Promotion, in this case, included a video news release (VNR).
In late May, Medialink Worldwide released a VNR funded by Barr Pharmaceuticals, titled "FDA Approves New Birth Control Pills." The VNR refers to Seasonique as "the wave of the future" and "the latest choice for women."
The VNR features Dr. David Portman, who is identified as "Director / Clinical Instructor, Department of Ob/Gyn." Portman is the founder and principal investigator at the Columbus Center for Women's Health Research in Columbus, Ohio, and a clinical instructor at Ohio State University. He's also quoted in a May 2006 Barr Pharmaceuticals press release about the company's estrogen pills, suggesting a more-than-casual relationship between the drugmaker and the doctor.
On May 26, 2006, Philadelphia's KYW-3 aired a story about Seasonique. In her introduction, anchor Angela Russell called the drug "a new kind of birth control pill that's giving women a dramatic new option."
That segment, from KYW-3 medical reporter Stephanie Stahl, is remarkably similar to the Medialink / Barr VNR. Both show Dr. Portman and a female patient giving glowing testimonials about Seasonique from a clinical-looking setting. Yet only a few seconds of the KYW-3 segment appear to have come directly from the VNR. Through the station's legal advisor, KYW-3 station news director Susan Schiller explained that the Portman and patient interviews came from video footage shot by Columbus, OH, CBS affiliate WBNS-10.
KYW-3 deserves criticism for promoting a brand-name drug during its "Health Alert" segment, and for failing to inform viewers that a generic version of nearly the exact same drug would soon be available. But the station does deserve recognition for clearly indicating, both verbally and with an on-screen label, that some footage did come from the Barr / Medialink VNR.
In her closing remarks, reporter Stahl also tried to do the right thing by alluding to risks associated with the prescription drug, albeit briefly and vaguely. While the original VNR listed such side effects as "blood clots, stroke, and heart attack" (risks presented by birth control pills in general), Stahl merely said: "Some doctors say there are no long-term studies on skipping periods, so some are still questioning the safety of contiguous use of hormones."
Some women's health advocates might agree.
KYW-3 was also cited in the April 2006 "Fake TV News" report, for airing a VNR from a health supplement company. In that case, the station questioned claims made in the original VNR, but failed to disclose the source of the footage.
| | |
| --- | --- |
| Original Barr Pharmaceuticals VNR | KYW-3 4PM news segment |
| Created by Medialink | May 26, 2006 |
| Voiced by publicist | Re-voiced by station health reporter |
| | |