The American Legislative Exchange Council (ALEC) annual meeting in Chicago earlier this month was marked by massive protests outside, but inside the walls of the Palmer House Hotel, the business of this notoriously secretive organization went forward as usual. The few quotes that have trickled out from inside the ALEC meeting are revealing.
Public Resentment and Right to Work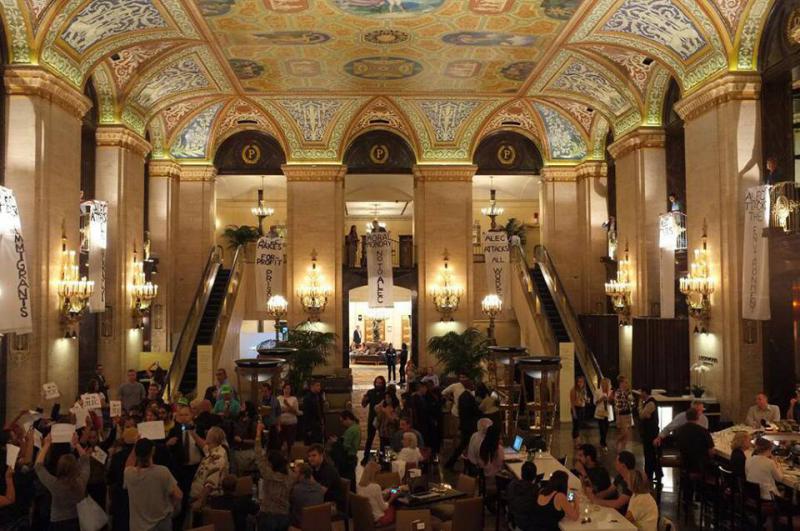 A reporter for The Economist attended some of the workshops (but was barred from the task force meetings where bills are considered), and reported that:
"The most candid [ALEC] members talked of channelling public resentment against those seen as enjoying unfair perks in hard times, such as welfare recipients or public employees with generous pensions. People feel they are paying for a safety net that others enjoy and it makes their 'blood boil,' said a state senator."
Such a strategy is often suspected, but rarely voiced. It was deployed by ALEC alum Scott Walker and legislative Republicans in Wisconsin, for example, when they launched their infamous ALEC-inspired attack on public sector unions.
And ALEC plans to ramp up these attacks next year. At a workshop titled "How Lawmakers Passed Right to Work, Medicaid, and Tax Reform in Their States" -- sponsored by the State Policy Network at a $40,000 price point -- Missouri's Lt. Governor Peter Kinder said:
"I believe we will pass Right to Work next year and bypass [Missouri Governor Jay Nixon] entirely by putting it on the referendum ballot for voters"
Who Needs Voters When We Have Money and the John Birch Society?
At a workshop titled "Calling a Convention of the States: The Constitutional Check on the Abuses of Federal Power," Mark Meckler, founder of the Tea Party Patriots and now head of a group called Citizens for Self Governance -- a top sponsor of the ALEC meeting -- announced the launch of a new project to encourage state legislatures to call an Article V Convention of the States to stop what they call "the runaway train of the federal government." One state representative from Arizona reportedly stood up and asked:
"How do we utilize the John Birch Society for this effort?"
Wisconsin Rep. Chris Taylor, a Democrat who infiltrated the ALEC meeting, recounted a conversation with a private sector ALEC member who also was advocating a constitutional amendment to rein-in the federal government. He told her:
"You really don't need people to do this. You just need control over the legislature and you need money, and we have both."
And, at Wednesday's plenary lunch, the Wall Street Journal's Stephen Moore (an ALEC "scholar") declared:
"What we really need is more rich people."
Push Back on Critics
Some 2,700 people rallied outside the conference on Thursday, shutting down the streets in front of the Palmer House, chanting "ALEC, go home" and waving signs reading "ALEC: 40 Years of Corporate Greed." They were the largest protests in ALEC's four-decade history, and come after two years of unprecedented public scrutiny where 49 corporations have dropped their ALEC membership and the public has grown increasingly suspicious of ALEC's corporate-friendly legislation. The controversies were certainly noticed inside the luxurious Palmer House.
John Tillman of the Illinois Policy Institute spoke at Wednesday's lunch, and asserted:
"Progressives have declared war on ALEC"
Among the enemies, apparently, was the New York Times, whose reporters, columnists, and editorial board have been critical of the way ALEC facilitates special interest influence over state legislatures. Speaking at that same lunch, Stephen Moore -- whose Wall Street Journal editorial board ran a pro-ALEC editorial the same day -- reportedly declared, to thunderous applause from the crowd, that:
"The New York Times is close to bankruptcy!"
Also at the meeting, ALEC collected signatures on a letter to U.S. Sen. Dick Durbin of Illinois complaining that his inquiries to ALEC corporate members about their position on Stand Your Ground was a form of "intimidation." ALEC claimed to have gathered 293 signatures from legislators, but as ProgressNow discovered, at least 55 signatures were invalid: 35 duplicates, 4 signatures from spouses, 7 unidentifiable. And one rant, apparently from Arizona State Sen. Don Shooter, who signed:
"Hey Dick Kiss My Ass! Shooter from Arizona."
The Endangered Species Act "A Matter of Life and Death"
At Thursday's lunch, an official from the Texas Oil and Gas Association spoke about the dangers of the federal Endangered Species Act. According to Rep. Taylor, he discussed how:
"the Endangered Species Act threatens the economy of every single state in the nation. It's leading to high unemployment rates, threatens local economies, it doesn't allow growth ... this is a matter of life and death, to get rid of the Endangered Species Act, because every state's economy is going to topple if it remains in effect."
Give Thanks to the Corporate Funders!
As usual, this year's ALEC meeting was bankrolled by the corporate members that stand to benefit from the adoption of ALEC model legislation. The top sponsor was Reynolds tobacco, followed by fossil fuel companies like Peabody Energy and Exxon Mobil, as well as virtual school provider K12 Inc. After hours, politicians attended corporate-sponsored events, like the annual ALEC "cigar party," where lobbyists and legislators mingled at a spot along the Chicago River, enjoyed an open bar and dessert spread, and were reminded with prominently-displayed signs that the party was funded by Reynolds tobacco and the Cigar Association of America.
And legislators were consistently instructed to be thankful to those footing the bill. At Thursday's lunch, just before an official from the Texas Oil and Gas Association spoke about the dangers of the federal Endangered Species Act, ALEC's private-sector chairman, C. Stevens Seale, of SAP America, reminded legislators in the crowd to be grateful:
"The private-sector members spent a lot of money to get your attention and let you hear their messages during this event."