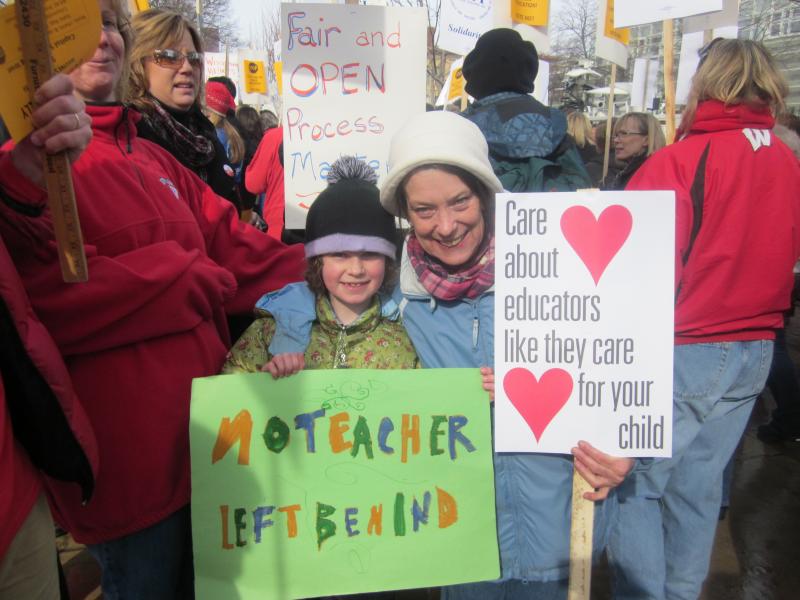 It seems wherever Wisconsin Governor Scott Walker goes, protesters seem to follow. This rule held true earlier this week in Washington D.C., when Walker used his newly burnished credentials as an extremist to address a forum promoting the privatization of public schools.
The American Federation for Children (ACF) promotes school privatization and voucher schemes that take away critically needed funds for public education to fund private schools. Inside the Marriott, The American Federation for Children's "School Choice Now: Empowering America's Children" policy summit attracted voucher boosters like Pennsylvania Governor Tom Corbett and Michelle Rhee, the former controversial head of the Washington D.C. public school system. Outside the Marriott, there were around 200 protesters with signs that read "Public Education Not Privatization," "Save Our Schools," and "Vouchers Aren't the Answer."
AFC has ties to Wisconsin political apparatchiks and the Koch Brothers, making it no surprise why Walker was invitied to speak at their summit. On the board of the American Federation for Children is Scott Jensen, the former Wisconsin Assembly Speaker found guilty of three felonies and one misdemeanor for directing staffers to campaign on official state time. Jensen is also a key player in the right wing spin machine known as the McIver Newservice.
Origins of AFC
The group was started years ago by Betsy DeVos, a right-wing political player from Michigan. She along with her husband Dick, started "All Children Matter" in 2003 with the goal of promoting "school choice." The group later morphed into today's The American Federation for Children after some unscrupulous campaign funding.
Dick DeVos is the son of Amway founder, Richard DeVos, and ran for governor of Michigan in 2005, spending $41 million on his campaign. Betsy is also the sister of Erik Prince, founder of the private military contractor once known as Blackwater USA and now called Xe Services LLC. Together, they became chairs for the Michigan-based Education Freedom Fund in 1993, which also promoted school vouchers and became the leaders in the fight to make, in Dick DeVos' words, "dismantle" our "government schools."
Betsy and Dick DeVos are now some of the most influential people in the fight to create voucher programs and separate schools from the state.
John Nichols of The Nation reported on the activities of DeVos' PAC:
One of her groups, the political action committee "All Children Matter," was fined a record $5.2 million by the Ohio Elections Commission after it was charged with illegally shifting money into the state to support candidates considered friendly to private-school "choice" initiatives.

It was also fined for political misconduct in Wisconsin, where the secretive group's 2006 campaigning violated campaign finance laws by expressly urging voters to cast ballots against legislative candidates who were strong backers of public education.

Those troubles led to the evolution of "All Children Matter" into "American Federation for Children," which has collected money from a who's who of right wing millionaires and billionaires, including the political operations of Charles and David Koch -– top donors to Scott Walker's 2010 campaign and (in the case of David), the subject of a much-publicized prank phone call to Walker during the current dispute in Wisconsin.
AFC in Wisconsin
The Wisconsin Democracy Campaign reported that AFC's Wisconsin PAC, The American Federation for Children Action Fund, was created to influence local elections in Wisconsin. They were also fined by the Government Accountability Board for not registering the PAC properly.
Betsy DeVos and her right-wing contemporaries are huge supporters of Walker, ideologically and financially. The American Federation for Children spent close to $820,000 during the gubernatorial race in Wisconsin, according to the Wisconsin Democracy Campaign. Their investment quickly paid off when Walker introduced legislation to cut over $1 billion from local schools, bust teacher's unions and make it much easier to set up choice schools in Wisconsin, an approach that has a 20 year history in Milwaukee, where Walker was County executive for eight years.
AFC's focus on battleground states like Wisconsin and Pennsylvania are sure to intensify now that both states have governors willing to carry forward AFC's radical agenda.