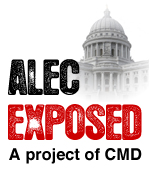 In the 2010 elections, Republicans emerged with seven more governor's mansions. They also won control of 26 state legislatures, up from 14. In many trifecta states, where a new Republican majority won control of both houses and the governorship, an odd thing happened. A steady stream of almost identical bills -- bills to defund unions, require Photo ID's make it harder for democratic constituencies to vote, bills to privatize schools and public assets, bills to enshrine corporate tax loopholes while crippling the government's ability to raise revenue, bills to round up immigrants -- were introduced and passed. An almost identical set of corporations benefited from these measures.
It is almost as if a pipeline in the basement of these state capitols ruptured simultaneously, and a flood of special interest legislation poured out. The blowout preventer -- political power-sharing -- was disabled. The source of the contamination? The American Legislative Exchange Council (ALEC).
This week, the Center for Media and Democracy unveiled its ALEC Exposed website to display an archive of over 800 ALEC "model bills." This archive will allow reporters and citizen journalists to identify the ALEC bills moving in their states. We encourage researchers to search for some of the measures written about below.