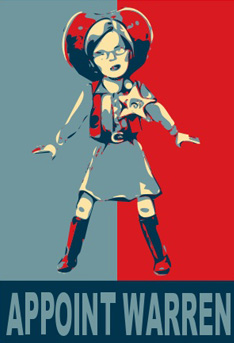 The accolades for Elizabeth Warren keep rolling in on the BanksterUSA.org petition. If you have not had a chance to sign it or leave a comment, click here. While you are at it, check out the amusing video produced by the Main Street Brigade to promote her candidacy for the head of the Consumer Financial Protection Bureau.
The Washington Post reports that Warren has been spotted meeting with bankers. No, I don't believe she has gone to the dark side, however I do believe that this indicates the administration is serious about her nomination and has asked her to build some bridges.
Wouldn't you like to be a fly on the wall when she meets with Goldman Sachs CEO Lloyd Blankfein: "so Lloyd, are you still selling securities that are designed to fail?" Or with Wells Fargo CEO John Stumpf: "have you stopped juggling customer late fees to maximize the pain for consumers?" These are just some of the big bank tricks featured in our last column.