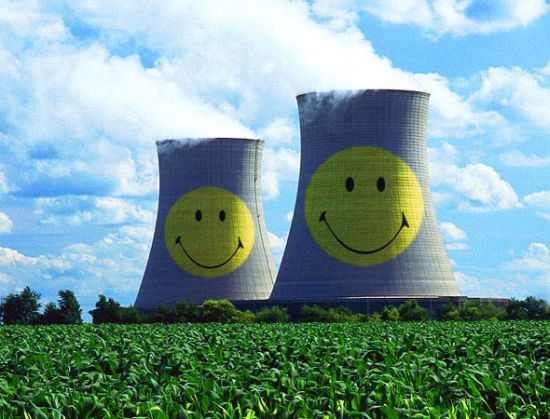 The Obama administration is considering granting as much as $18.5 billion in loan guarantees to the nuclear industry to build new reactors, and Congress is considering adding billions more to expand nuclear power in the U.S., even though the problems of safety and what to do with nuclear waste remain unsolved.
The positive outlook for the industry comes after an intense decade of lobbying, in which the nuclear industry and its allies, in aggregate, have spent over $600 million on lobbying and almost $63 million on campaign contributions, according to the Investigative Reporting Workshop at American University.
A Decade of Astroturfing Pays Off
The nuclear lobby's activities are a case study on how industries influence Washington: In addition to the usual spending of vast sums on lobbying and campaign contributions, they have created a network of allies who give speeches, quote one another approvingly and showcase each other on Web sites, effectively creating a media echo chamber that creates the impression of widespread support for nuclear power. Compared to the big oil and big coal lobbies, though, the nuclear lobby has stayed in the background and used increasingly common astroturfing techniques, like making their case through surrogates, and paying a public relations firm to create a pro-nuclear "grassroots" group -- the Clean and Safe Energy Coalition -- which employs high-profile spokespersons like Patrick Moore and Christine Todd Whitman. The industry has also been busy lobbying all possible constituencies, as well as both sides of the political spectrum. The Nuclear Energy Institute has given presentations to the Congressional Black Caucus, and has taken a pro-union stance for the construction of new nuclear reactors, helping win it support from labor unions. In turn, unions have lobbied and obtained the support for nukes from House Energy and Commerce Committee Chairman Henry Waxman, who is now championing efforts to fund the industry. The nuke industry has managed to do all this while also keeping its traditional base among Senate Republicans. The industry magnified its appeal to politicians by selling the construction of nuclear power plants as a sort of jobs-creation program, at a time when jobs are sorely needed in the U.S. Combine this with steadily increasing energy prices and concern for global warming, and all the stars are lining up for the nuclear energy industry right now.
What About Safer Sources of Renewable Power?
Critics argue that multi-billion dollar federal loan guarantees for nukes would take away financial resources that could be dedicated to other, safer, renewable, low carbon-producing sources of energy, like wind, solar and geothermal power. Even some supporters of nuclear reactors argue that the nuclear industry should stay out of the taxpayers' pocket and obtain private financing, particularly since the Congressional Budget Office concluded in 2003 that the risk of default on a loan to the nuclear power industry would be "very high -- well above 50 percent." Another option is to upgrade existing nuclear plants to produce more energy, which would cost significantly less than building new reactors, and which would require no loan guarantees, according to a spokesman for the power company Exelon.
What Happened to Learning from Past Lessons?
The nuclear industry appears to have lawmakers and other influential parties just where it wants them, and it may indeed succeed this time around in getting billions of dollars in taxpayer funds to build new nuclear reactors. With the hard-learned lessons of the massive Chernobyl disaster and the partial meltdown at Three Mile Island fading quickly into the past, nuclear power may be looking better to lawmakers, but as long as the serious problems it poses have not been sufficiently dealt with, those holding the government's purse strings would be well-advised to proceed with caution.