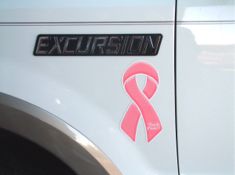 You've heard the term "greenwashing." It refers to corporations that try to appear "green" without reducing their negative impact on the environment.
Since 2002, the group Breast Cancer Action has promoted its "Think Before You Pink" campaign. It's fighting "pinkwashing," which is when corporations try to boost sales by associating their products with the fight against breast cancer. Pinkwashing is a form of slacktivism -- a campaign that makes people feel like they're helping solve a problem, while they're actually doing more to boost corporate profits. Pinkwashing has been around for a while, but is now reaching almost unbelievable levels.
The worst pinkwashers exploit the intense emotions associated with breast cancer while selling products that actually contribute to breast cancer.
So how can the average person recognize pinkwashing? Here are some examples.
BMW's "Ultimate Drive" and Ford's "Warriors in Pink" Campaigns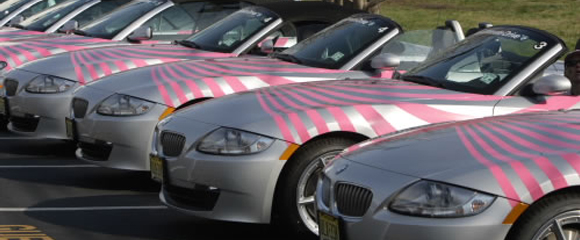 Automaker BMW is in its 12th year of a promotion called "The Ultimate Drive," in which the company encourages people to test drive luxury BMWs to support breast cancer research. For the promotion, BMW sends a pink-striped fleet of BMW luxury cars to various locations around the country and encourages people to test-drive them, promising to donate $1 per mile driven to breast cancer research.
Besides selling more cars, BMW's goal is to rack up one million test-driven miles and donate $1 million to cancer research. A laudable goal, but it ignores the fact that the campaign encourages more and unnecessary driving, not to mention that automobile exhaust contains polycyclic aromatic hydrocarbons, harmful chemicals known to cause cancer. Adding to the purchasing hype, BMW's "Ultimate Drive" website links to a shopping page where visitors are encouraged to buy pink keychain fobs, pens, handbags, polo shirts, lapel pins and tote bags and other trinkets from "BMW's Pink Ribbon Collection."
Ford is also using breast cancer as a marketing tool, promoting a special "Warriors in Pink" Mustang car featuring pink-stitched seats, floor mats with pink breast cancer awareness ribbons, pink pinstriping and a pink ribbon behind the Mustang horse logo. The website for the car states, "Winning the race against breast cancer is going to take a whole lot of horsepower. ... Now, the limited edition 2008 V-6 Mustang with Warriors in Pink Package adds more muscle to the fight." A whopping $250 from the sale of each car will go to Susan G. Komen for the Cure.
Cosmetics sales campaigns
Cosmetic companies also use breast cancer to market their products, especially during October, Breast Cancer Awareness Month. Revlon has a campaign called "Kisses for the Cure" that urges women to buy lipstick to fight breast cancer. Revlon tells women they can "Pucker up and Kiss Breast Cancer Goodbye."
Shiseido promises to "empower" women by donating a portion of sales of its "Bare Pink Hydro Power Eye Shadow" to a program that supports women who work after their breast cancer treatment.
Estee Lauder sells a $45 "Pink Ribbon Compact" that comes with a little pink ribbon charm attached to it. The company also promotes its "Global Landmarks Illumination Initiative," in which it bathes the Mall of America, among other landmarks, in pink floodlights to "raise awareness of breast cancer."
Everyone Is Getting Into the Act
The "Breast Cancer Site" sounds like a website to get information about the disease, but is really a shopping site where visitors can donate towards mammograms by buying products like pink ribbon bamboo socks, goggles for your dog or pink ribbon hologram flip-flops. Ironically, recent research has shown that the ionizing radiation in mammograms may contribute to the onset of breast cancer cancer in women genetically predisposed to the disease.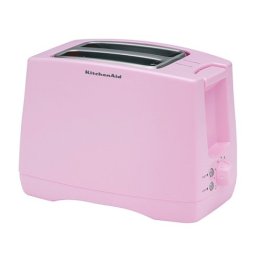 If you visit the Target website and search for "breast cancer awareness," you can purchase everything from pink toasters to pink kitchen mixers to pink bicycles and pink tool kits online. ... The list goes on and on.
The Target product descriptions say that "A portion of the Proceeds of the Sale of this Product will be Donated to Further Breast Cancer Awareness Initiatives." I phoned Target's customer service department to ask exactly how much is donated to breast cancer programs. Twenty minutes and three customer service representatives later, I finally got someone who told me that the portion donated was five percent, and he "thought" it went to the National Breast Cancer Foundation. According to their website, the National Breast Cancer Foundation also partners with Coca Cola, MasterCard, Lexus, Circuit City, Carl's Junior, Hardees and Snap-On-Tools, among many other businesses.
It's All About the Money
How did breast cancer become such big business? Corporations have plunged headlong into re-framing purchasing as a way to fight disease, spurred on by groups like the Susan G. Komen Foundation, which partners with big business to raise money.
Few if any pinkwashers mention ways women can help prevent breast cancer -- for example, by quitting smoking, changing their diet, or avoiding unnecessary exposure to harmful chemicals. Some critics say the almost total lack of focus on prevention is because prevention doesn't make money. It's much more profitable to make people believe that their consumer purchases are contributing to a "cure."
Participate Critically in Philanthropy
Breast Cancer Action, an advocacy group that was one of the earliest and most effective critics of pinkwashing, suggests that people ask themselves the following questions before taking part in pink-ribbon campaigns:
How much money from my purchase will actually go to the cause?
What is the maximum amount that will be donated?
How much money was spent marketing the product I want to buy?
What organization will get my donation, and what types of programs do they support?
What is the product manufacturer doing to assure that its products are not contributing to causing breast cancer?
One thing is absolutely certain: more money will go towards fighting breast cancer if people drop shopping from the equation and send even a minimal contribution directly to a reputable breast cancer research or advocacy organization.