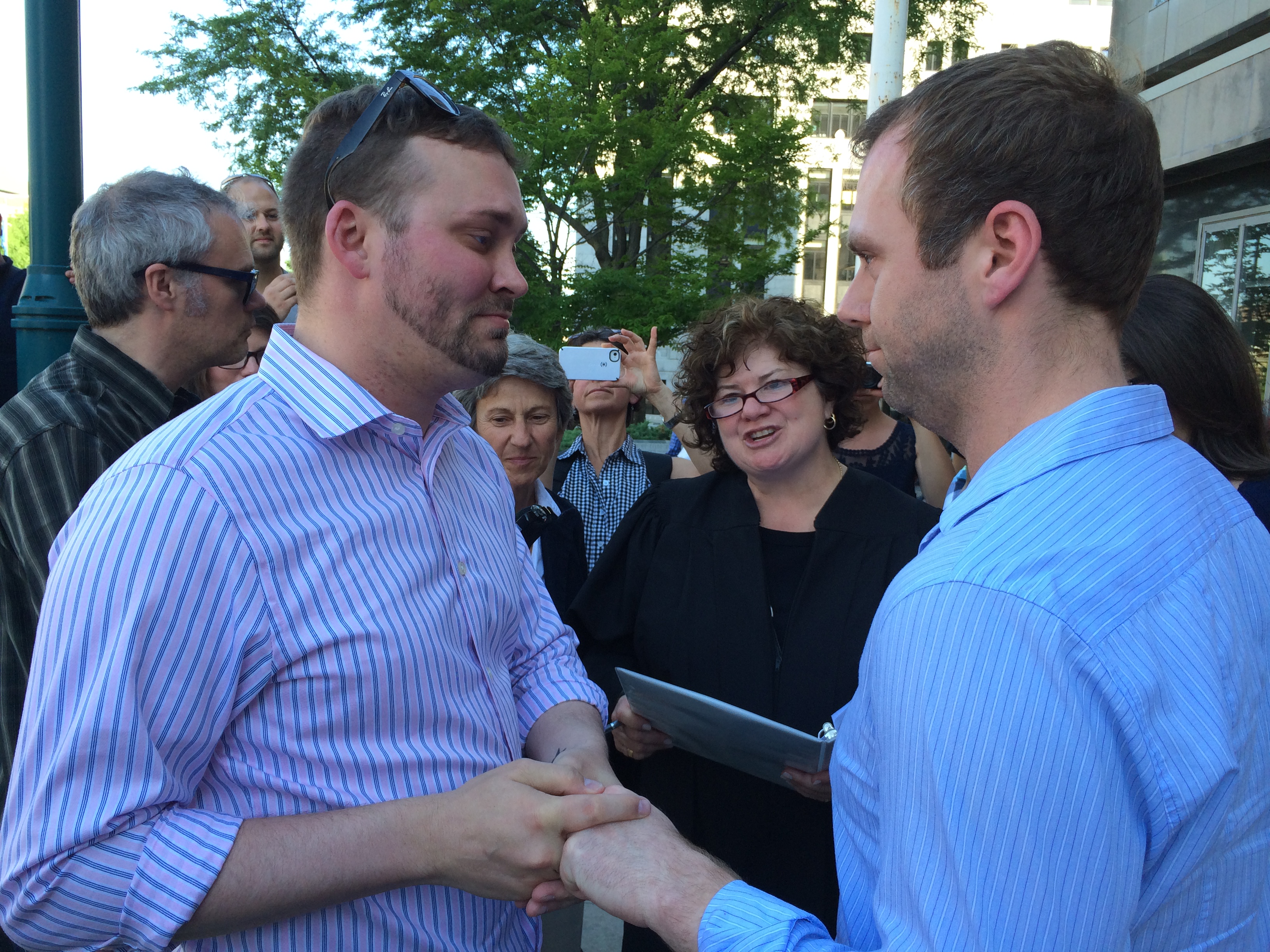 After Wisconsin federal court judge Barbara Crabb struck down the state's gay marriage ban as unconstitutional late on Friday, gay and lesbian couples dug out their birth certificates, called their friends and rushed down to the courthouse in Madison and Milwaukee to take their vows.
At the City-County building in downtown Madison, Renee Currie and Shari Roll were the first couple to get married, but they were soon joined by scores of other couples. Dane County Clerk Scott McDonell announced that his office would be open until 9 p.m. and a team of judges, including one of the first woman judges to run for office as an out lesbian Shelley Gaylord, lined the steps to welcome couples and answer questions.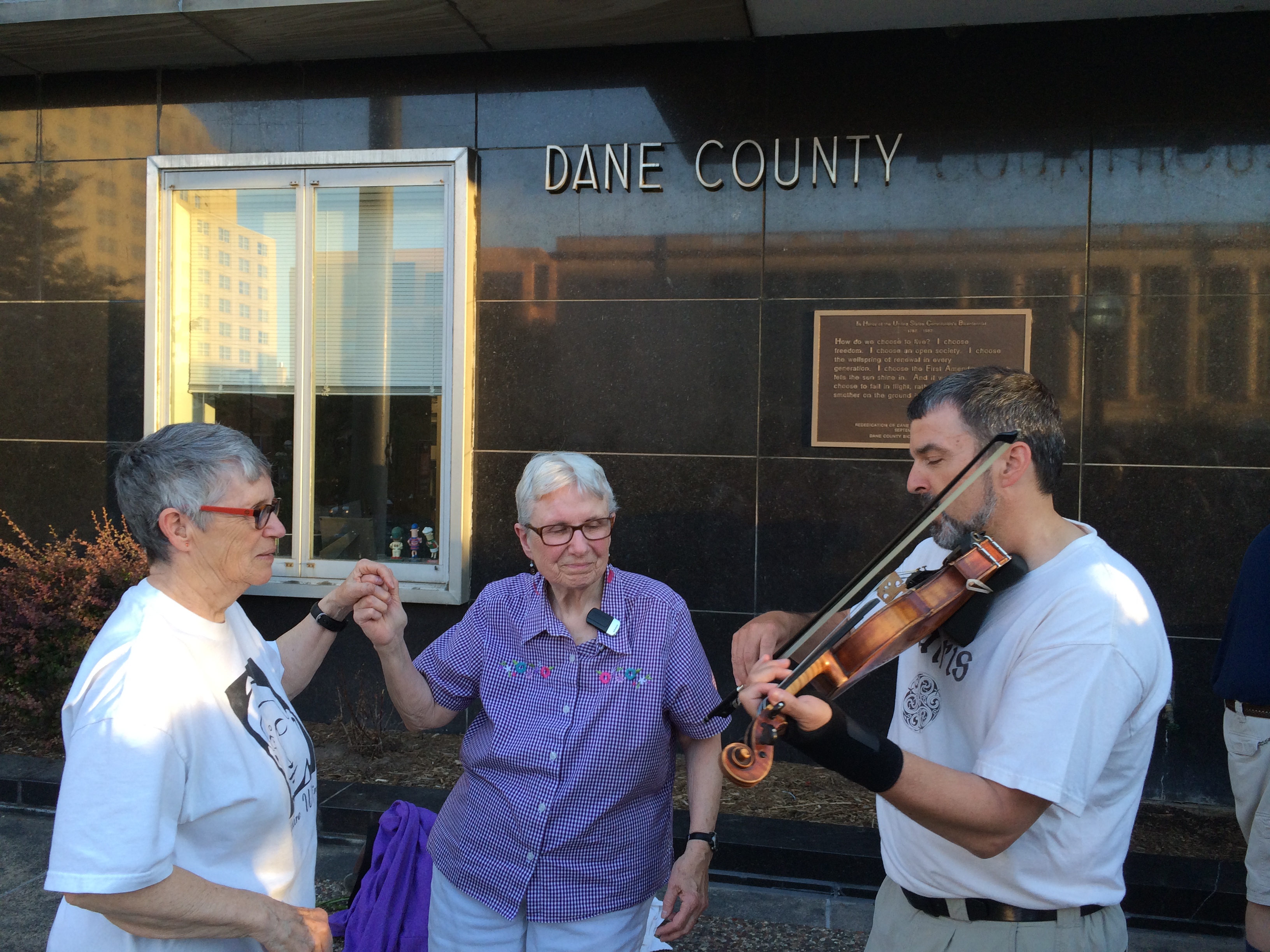 McDonell read the ruling and started issuing licenses at 5:30 p.m. His staff jumped into action to make the process as clear and as smooth as possible to elated couples arriving at the City-County building. Margo Kealey and Sarah Newport have been a couple for over 30 years. They met as many in Madison do, at the university in the 1970s where Margo was studying women's studies and Sarah was at the School of Social Work. When they arrived at the courthouse they were a little short of funds, but volunteers pitched in the necessary extra cash for the license.
They were married on the steps by Gaylord who announced with solemnity "this is the first day in the history of this state that I can say 'by the power invested in me by the State of Wisconsin, I pronounce you lawfully wedded spouses.'" In the background on the wall of the black marble building was a quote from longtime federal judge James Doyle, "How do I chose to live? I chose freedom."
When asked what the day meant to her, Sarah said "It means that Margo and are officially and legally what we feel like we have been for over 30 years. We are citizen's of this state and we pay our taxes and we are law abiding. This means that citizenship is real and applies to us personally, individually and together as a couple."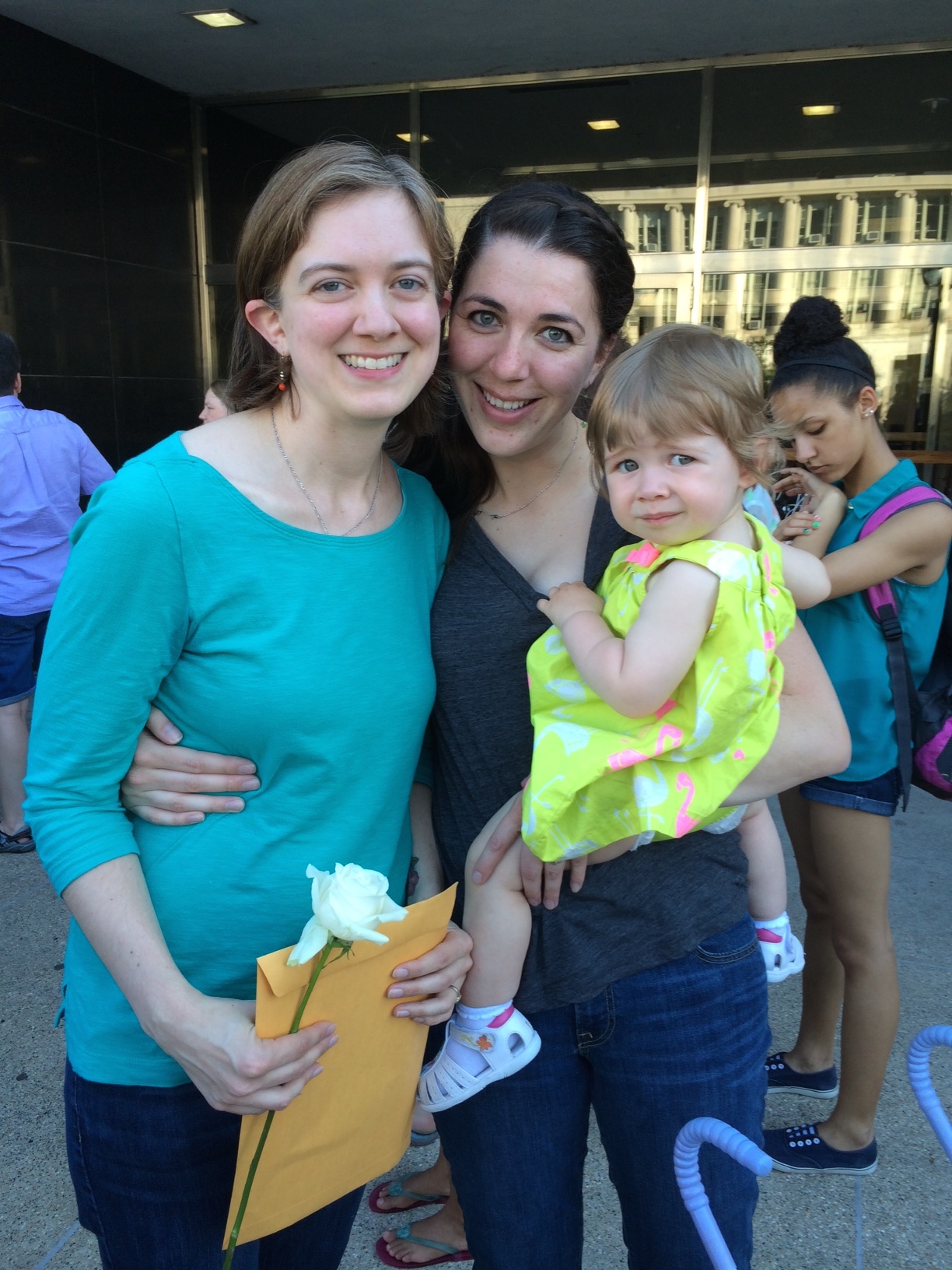 By the time Sarah and Margo got their license, a festive crowd had developed on the steps of the City-County building. Soon children with flowers would arrive, Daithi Wolfe would bring his fiddle to take requests, and three police officers would appear with wedding cake. The festive air was punctuated by passersby tooting out "this is what democracy looks like" on their car horns. In an hour, 49 couples were married. When some arrived without the proper fee, volunteers like Scott Foval of People for the American Way stepped in with cash.
The ban was enacted as a constitutional amendment in 2006. Wisconsin Attorney General JB Van Hollen's office called counties to warn them that the state would appeal and not to issues licenses but Milwaukee and Dane County had their own legal counsel review the ruling and moved forward. In Milwaukee County, Chris Abele the county executive formally witnessed dozens of ceremonies and a jubilant Joe Parisi, Dane County Executive, who fought for the rights of same sex couples to marry when he was county clerk back in the 1990s, was beaming as he witnessed dozens of ceremonies with his family.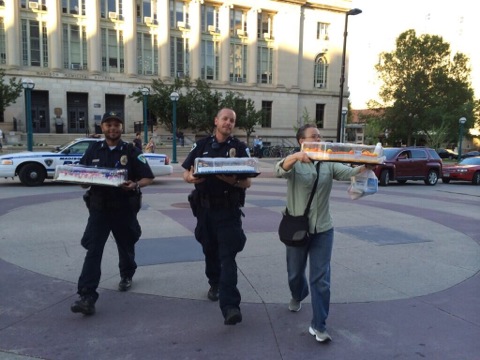 This is the 20th consecutive ruling by a state or federal judge finding same-sex marriage bans unconstitutional. The Walker administration fumed and Van Hollen repeatedly appealed to Crabb to stop the marriages, but as of Saturday morning no such order had been given. 68 couples were married in Milwaukee, 61 in Madison and more marriages were planned for this weekend. On Saturday, the clerks in both cities announced that they would be open for business at 9 a.m.
Photo credits to John Nichols, whose Twitter feed is a must see.