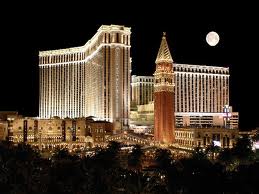 Despite claims to be focused exclusively on this year's gubernatorial election, Wisconsin Governor Scott Walker and other GOP presidential hopefuls are jetting off to Las Vegas for an exclusive gathering with billionaire Republican donor Sheldon Adelson, who is reportedly assessing the field for 2016 after plowing $92 million into the 2012 presidential election cycle.
During Walker's hotly contested 2012 recall elections spurred by Walker's crackdown on collective bargaining, Adelson wrote the Wisconsin governor a $250,000 check.
Walker will join former Florida Governor Jeb Bush, New Jersey Governor Chris Christie, and Ohio Governor John Kasich at Adelson's Venetian hotel, in what one Republican strategist called the "Sheldon Primary."
Officially, the potential 2016 candidates will be attending a meeting of the Republican Jewish Coalition, "But some of the most important events will occur between the poker tournament, Scotch tasting and strategy workshops. That's when Adelson is scheduled to hold casual one-on-one chats -- over coffee, at dinner or in his private office -- with the prospective candidates," the Washington Post reports.
Adelson spent $15 million in 2012 on long-shot candidate Newt Gingrich, extending the GOP primary season and hobbling the eventual nominee, Mitt Romney. For 2016, he is trying to be more careful. "The bar for support is going to be much higher," Andy Abboud, Adelson's top political adviser told the Washington Post. "There's going to be a lot more scrutiny."
An anonymous senior Republican strategist told the Post that the candidates "are just falling at [Adelson's] feet."
"It's a bunch of people out scrounging for the same dollars, and Sheldon represents the largest or second-largest box of money," the strategist said.
Yet Walker, who is in the midst of a November reelection campaign against former Trek Bicycle exec Mary Burke, has to walk a political tightrope as he scrounges for presidential cash.
Just 22 percent of Wisconsin voters want Walker to run for president, according to a Rasmussen Reports poll from earlier this month, even though just under half of voters currently support his reelection as governor. Sixty-one percent of voters don't want him to interrupt a second term to run for president -- which would be necessary if he were to run in 2016.
When asked about why Walker was attending the 'Sheldon Primary', Walker's campaign spokeswoman Alleigh Marre said:
"The governor remains focused on 2014 and sharing his common-sense conservative message with like-minded leaders."