The Koch brothers and their wealthy allies pledged to spend $400 million on the 2012 elections -- and it looks like they did it.
Tax filings from an array of Koch-connected nonprofits show that the Kochs' political coalition raised over $400 million during 2012, an analysis by the Washington Post and Center for Responsive Politics shows. The Koch network alone raised nearly as much as the Romney campaign, and tens of millions more than GOP presidential candidate John McCain raised for his entire 2008 campaign.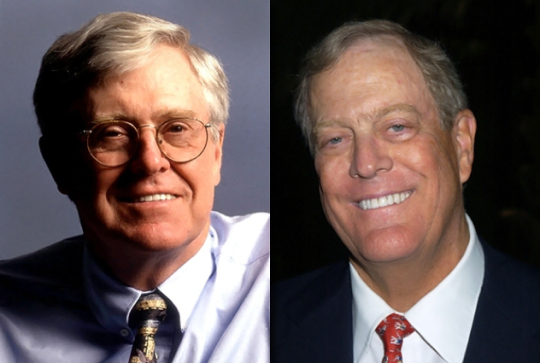 By design, following the Koch money trail is extremely difficult. Despite the groups spending hundreds of millions influencing elections, most of their spending and the sources of their funds are not reported to the Federal Elections Commission, earning them the moniker "dark money" groups.
Money is passed from one organization to the next, both to give donors an extra layer of anonymity and to help groups retain their tax exempt status. Nonprofits are not supposed to have electoral intervention as a primary activity, and the Koch groups apparently claim that transferring funds to other politically-active nonprofits should be counted as advancing "social welfare" rather than electoral activity. (Proposed IRS rules would more accurately classify such transfers as non-exempt electoral activity).
"It is a very sophisticated and complicated structure," Lloyd Hitoshi Mayer, a University of Notre Dame Law School professor who studies the intersection of tax and election law, told the Washington Post. "It's designed to make it opaque as to where the money is coming from and where the money is going. No layperson thought this up. It would only be worth it if you were spending the kind of dollars the Koch brothers are, because this was not cheap."
The majority of funding passed through Freedom Partners (formerly known as the Association for American Innovation), a group organized as a 501(c)(6) business league that appears to exist primarily to serve as a conduit for Koch money. Of the $407 million raised by the Koch network in 2012, $302 million can be traced to Freedom Partners or its predecessor TC4 Trust, the Washington Post/Center for Responsive Politics found.
Freedom Partners to groups like Americans for Prosperity (which spent $122 million in 2012, and $10 million on Wisconsin's recall elections), Generation Opportunity (the group behind the cynical "creepy Uncle Sam" ads encouraging young people to forego health insurance), and the National Federation of Independent Business (which purports to represent small business but gets big corporate cash). It then passed a large chunk of its funds through another nonprofit, the Center to Protect Patient Rights (CPPR), run by Koch affiliate Sean Noble, which in turn made additional contributions to other politically active nonprofits.
Even the contributions to CPPR were convoluted, with Freedom Partners and its predecessor passing $129 million in funds through limited-liability corporations known as "disregarded entities," groups legally connected to a nonprofit, but whose use makes it much harder to track the movement of funds between groups.
CPPR was engaged in its own sleight-of-hand in California last year, where $15 million intended to influence a ballot initiative was shuffled between four nonprofit groups in an effort to evade the state's campaign finance disclosure laws, netting a $1 million fine from California's elections board (which called the scheme "campaign money laundering"). In 2011, CPPR also gave funding to Wisconsin Club for Growth, which was engaged in a similar dark money shell game during Wisconsin's recall elections.
Not all of the funding came from the Kochs themselves, although David and Charles had pledged tens of millions individually. The Kochs raise additional funds for their network of nonprofits from other wealthy donors, with assurances that their identities will remain secret. Much of the funding is raised at the Kochs' twice-annual donor summits, attended by major political donors like North Carolina's Art Pope and Wisconsin's Diane Hendricks.
The network shows no signs of letting up. Since July, Americans for Prosperity and other groups in the Koch network have spent over $25 million on ads opposing the Affordable Care Act -- and last week, AFP announced a seven figure ad campaign targeting three Democratic senators perceived to be vulnerable.