A Wisconsin worker was fired Thursday for reminding fellow workers that photo IDs required for voting are free under Wisconsin law.
A man identifying himself as Chris Larson called into "Sly in the Morning," a popular Madison radio program on WTDY-AM, and said he had been fired and escorted out of his workplace earlier in the day for sending out an email to remind employees to tell the public that they can obtain a state license for free. Larson said he worked for the Department of Safety and Professional Services, which is under Secretary Dave Ross.
The man was reacting to recent news stories that the Wisconsin Department of Motor Vehicles may be hiding the fact that the IDs, which are newly required for voting in Wisconsin, are free. Hours after his dismissal, a small crowd gathered in front of his place of employment to protest his firing.
Don't Ask Don't Tell = Poll Tax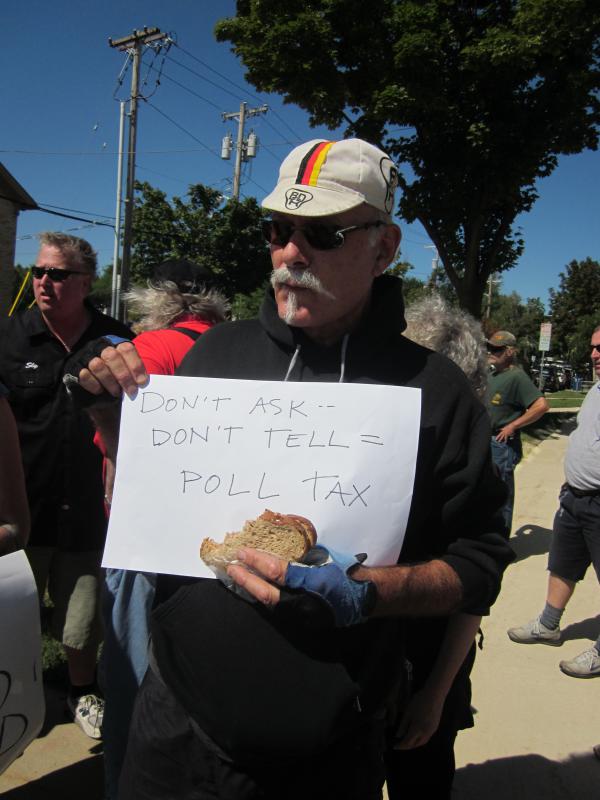 When a draconian "Voter ID" law passed in Wisconsin back in May, Democrats charged that requiring citizens to obtain a special photo ID was an unconstitutional and illegal infringement on voting, much like the "poll taxes" of the Jim Crow era. To withstand a likely constitutional challenge, the Wisconsin GOP agreed the IDs should be free of charge.
Problem solved? Maybe not.
This week an internal memo was leaked from a top Department of Transportation official that instructed Division of Motor Vehicles service center workers to "refrain from offering the free version to customers who do not ask for it."
In other words if you did not specifically ask for the "free" ID, you would be charged $28 bucks for the privilege of voting.
Numerous voters have already had problems obtaining the ID. 
Walker Voter ID Bill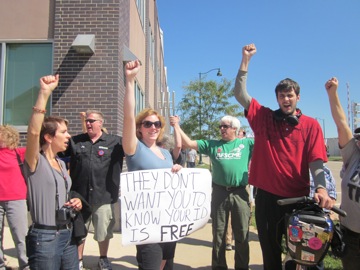 Wisconsin had one of the most open and transparent voting systems in the United States until this year. No photo ID was required and students and families who recently moved to the state were allowed same day voter registration. At the same time, voter fraud was nonexistent. Republican Attorney General JB Van Hollen undertook an investigation after the 2008 presidential race and found only 20 problems in an election of 2,983,417 -- these were mostly former felons who did not know they could not vote.
The new Wisconsin Voter ID law changes voting requirements to require ID and allow only a narrow list of acceptable IDs -- including a driver's license and state-issued ID cards. While this change may sound benign to some, the truth is that many Wisconsin residents don't have these forms of identification, and for many, it may not be easy to obtain.
A 2005 Univeristy of Wisconsin-Milwaukee study found that about 177,000 of Wisconsin residents over the age of 65 do not have state-issued IDs. The overall percent of Wisconsinites with a valid drivers license is only 80 percent for males and 81 percent for females. Among African-Americans, only 45 percent of males and 51 percent of females have a valid drivers license. Fifty-nine percent of the state's Latina women lack the required identification.
The new law also targets a demographic that voted overwhelming in support of President Barack Obama in 2008 -- college students. The law states that student IDs need to be issued from an accredited public or private college, and have both a signature and a two-year expiration date. ID cards for the 182,000 students in the University of Wisconsin system and 300,000 in state technical colleges do not meet this standard.
To make it more challenging, you can only obtain the photo IDs at DMV stations, which keep irregular hours and do not exist in every county. Wisconsin Governor Scott Walker proposed closing 16 of those offices, but backed down after an outcry.
Voter Suppression, an ALEC Special
The Wisconsin law comes as part of a larger wave of voter suppression legislation that has swept the nation in the past year. This influx of bills after the Obama election was not a coincidence. The American Legislative Exchange Council (ALEC) provides "model" Voter ID bills to member legislators to replicate in their own state, yet disclaims any responsibility for the bills when they get draconian. According to Campus Progress which has campaigned against the bills, if every state in the nation passed these laws, 20 million citizens would be disenfranchised -- more than one out of every ten voters.
ALEC Co-founder Paul Weyrich was not fond of majority rule either. He once told a crowd, "I don't want everyone to vote. ... [O]ur leverage in the elections quite candidly goes up as the voting populace goes down."
It looks like Scott Walker, a proud ALEC supporter since 1993, and key members of his administration continue to follow Weyrich's lead.
---
Sara Jerving contributed to this report.