AFTER WISCONSIN LEGISLATURE VOTES TO STRIP WORKERS OF THEIR COLLECTIVE BARGAINING RIGHTS, THURSDAY EVENING RALLY MAPS NEXT STEPS IN "PEOPLE'S FIGHT"
7:30 p.m. -- Erica Pelzek reports:
Hundreds of saddened—and livid—protesters gathered at a stage on State and Mifflin Streets outside the Wisconsin State Capitol Thursday evening after the state Assembly passed the budget repair bill eliminating collective bargaining rights for many of the state's unionized workers.
"They [state Republicans] came in like the Grim Reaper to drive a knife into the heart of labor," yelled Jim Geraghty, a unionized Jefferson County Highway Department worker. "But we are going to stay and we are not going to bleed. Walker is coming in and wants to give it all to the Koch Brothers, they'll take it to Wall Street, they'll fix everything. But where we are here now, 74% of the people oppose the Governor's plans. They want to take back our money from Wall Street and put Main Street to work!"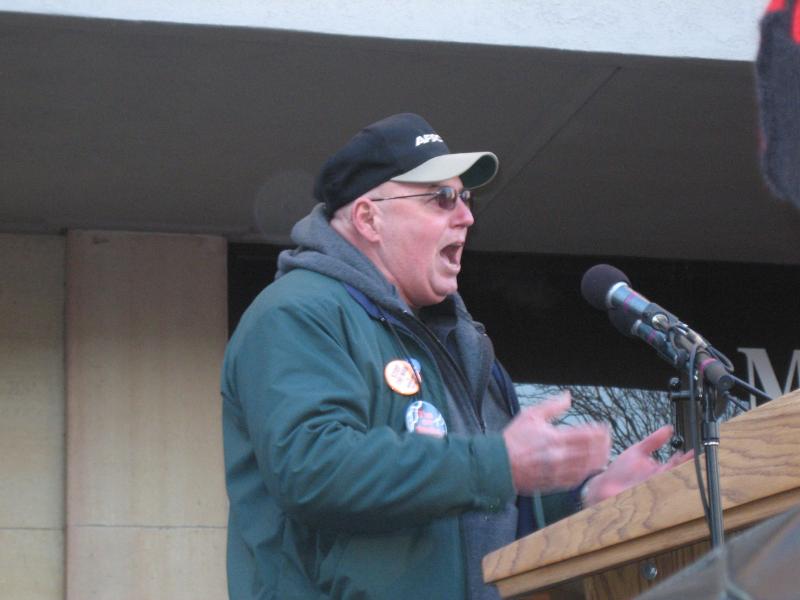 Geraghty's rip-roaring speech continued: "Heaven forbid you ask the top 5% to pay their fair share. Well, I'll pay my fair share as soon as they pay theirs!."
A group of Wisconsin leaders encouraged the crowd to keep fighting, both by attempting to recall Republican state legislators who voted for the bill, and by choosing, in the 2011 Spring Election April 5, to vote out Walker's ally on the Wisconsin Supreme Court, David Prosser, for a more impartial candidate, JoAnne Kloppenburg.
"We took the moral high ground, and that high ground will always trump the low ground!" emphasized state Rep. Peter Barca, D-Kenosha, telling the crowd to take their enthusiasm to the ballot boxes April 5. "We will not quit fighting until we reverse this assault on the working people of Wisconsin!"
Other speakers included Wisconsin AFL-CIO President Phil Neuenfeldt, Mary Bell of the Wisconsin Education Association Council, esteemed activist Rev. Jesse Jackson, outspoken Democratic state Reps. Kelda Helen Roys, Tamara Grigsby and more. Jackson had to leave rapidly after the rally to attend another rally in Milwaukee this evening. "Madison and Milwaukee must connect for the vote on April 5," Jackson said. "In the end, we will win!"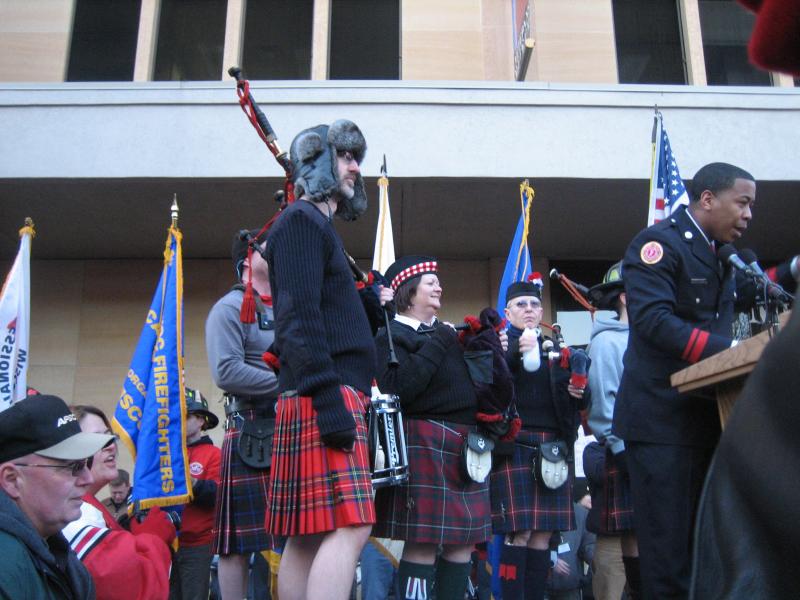 Mahlon Mitchell, president of the Professional Fire Fighters Association of Wisconsin, compared the protesters' fight to a football game, with himself volunteering as running back, Neuenfeldt playing quarterback and Wisconsin union firefighters backing up as a strong defensive line.
"When people realize how this budget gives more tax breaks to the wealthy, even more people will be joining us here—from all across Wisconsin," Neuenfeldt yelled, calling the Republicans' sneak-attack Senate vote on the bill Wednesday night as "beyond reprehensible and now even possibly criminal."
The rally leaders also emphasized the need for Walker and his administration to respect Wisconsin workers, especially teachers. Bell lambasted the bill for sending public money via vouchers to private schools that have "zero accountability."
Collective bargaining for teachers, Madison Metropolitan School District teacher Erin Proctor said, limits class sizes, ensures there are enough resources and staff for special needs students and guarantees a safe working environment for teachers in her district.
She implored:
"Governor Walker, how can we expect our children to pull themselves up by their bootstraps if we take all of the tools out of their toolbox?"
The rally ended on a lighter note than the outpouring of disgust following the 53-42 vote late this afternoon. John Lennon's "Power to the People" rang out over the speakers as protesters smiled, sang and marched down State Street away from the Capitol.
VIDEO FROM ASSEMBLY VOTE, MARCH 10, 2011
Four Republican "No" votes: Dean Kaufer, Lee Nerison, Richard Spanbauer, Travis Tranel. Navigate to find this information on the WI State Legislature website: "January 2011 Special Session 3/10/2011" -- under #5 "Committee Reports and Vetos" -- click on "Links" -- "Ayes 53, Noes 42"
3:53 p.m. - Lynn Welch reports: Jackson and his large group of marchers went across the street at one point at the corner of East Washington Ave. for Jackson to do an interview with MSNBC.
3:47 p.m. - Lynn Welch reports: If a legislator is not allowed to enter the Capitol building, is he still paid for a day's work? It's a question Democratic Assembly Rep. Joe Parisi of Madison faced this morning, as he tried to enter the facility with the Rev. Jesse Jackson for hours.
Jackson and Parisi were locked outside the Capitol building with thousands of Wisconsin citizens who convened to protest the shady move by Senate Republicans last night to strip state unions of most of their collective bargaining rights.
The pair shuffled from door to door with a growing number of protesters who shouted, "Let Him In!" Jackson was invited to address the Assembly, which was scheduled to convene at 11 a.m. Officers, acting on a Department of Administration order, would allow no one to enter the building during the morning.
Parisi was eventually let inside, but Jackson had to wait with the crowds until the building was cleared of protesters who had taken over the Assembly chamber to delay debate on the bill to strip public employee unions of their rights.
MEDIA MEMBERS DENIED ACCESS TO WISCONSIN STATE ASSEMBLY CHAMBER
3:48 p.m. Milwaukee Journal Sentinel -- All Politics Blog reports: "Madison - Assembly Minority Leader Peter Barca (D-Kenosha) has just whipped out a megaphone and is addressing the news media inside the Assembly Thursday. Several hundred people are in the galleries listening. 'We think this vote will not stand," Barca said. "We believe it violates the law.'"
3:32 p.m. - Mary Bottari reports: Bill passed 53-46. Word is starting to spread amongst the crowd.
3:32 p.m. - Steve Horn reports: More cops guarding halls leading to floor too. Literally dozens. 4-5 rows deep in each hallway. Loud chants of KILL THE BILL!
FOLLOW STEVE HORN'S TWEETS FROM THE CAPITOL http://twitter.com/Steve_Horn1022
COMPLAINT FILED FOR SENATE VOTE OVER OPEN MEETINGS
3:00 p.m. - Brendan Fischer reports: Rep. Peter Barca (D-64) has filed a complaint against Assembly leader Jeff Fitzgerald and Senate leader Scott Fitzgerald for violations of state Open Records laws and legislative rules. On March 9, a Joint Conference Committee meeting was called to amend the "budget repair bill" to allow Republican Senators to eliminate collective bargaining by avoiding quorum requirements that accompany budget bills. The amended bill was then passed in an unannounced Senate floor vote.
According to legislative rules, Conference Committee meetings are supposed to have three members of each house, are to be called when the House and Senate disagree on provisions of a certain law, and those disagreements are to be announced at the meeting. The complaint alleges that the meeting violated these rules, with only 2 members of each house present, and that no disagreement between the houses was expressed. Additionally, the Senate had not previously voted on the bill, so a "disagreement" could hardly have arisen.
Next, the complaint alleges violations of the state's open meetings laws. According to those laws, public notice of meetings must be issued 24 hours in advance, where the notice for the Conference Committee meeting was issued only one hour and forty minutes in advance. While there is an exception when "for good cause such notice is impossible or impractical," notice still must be provided two hours in advance. The complaint states that not only did good cause not exist, the notice was issued less than two hours before the meeting took place.
Finally, open records laws were further violated when the just-announced Conference Committee meeting flowed into a Senate floor vote, which had not been announced at all. The complaint stated that the public notice was misleading and did not describe the "time, date, place and subject matter of the meeting" to inform the public and news media that the majority of Senate would be voting on the bill.
A hearing date is TBA. Barca is represented by Madison attorneys Cullen, Weston, Pines & Bach.
FITZGERALD TELLS FOX WHAT IT IS ALL ABOUT
In an interview with Fox News' Megyn Kelly moments ago, State Senate Majority Leader Scott Fitzgerald (R-WI), one of Walker's closest allies in the legislature, confirmed the true political motive of Walker's anti-union push. Fitzgerald explained that "this battle" is about eliminating unions so that "the money is not there" for the labor movement. Specifically, he said that the destruction of unions will make it "much more difficult" for President Obama to win reelection in Wisconsin: READ MORE
The Nation: The Nation Magazine Coverstory: The Spirit of Wisconsin, John Nichols
Late on a frigid Wisconsin afternoon, an hour before another of the evening demonstrations that brought thousands, then tens of thousands, then more than 100,000 public employees, teachers, students and their allies to the great square that surrounds the Capitol in Madison, Sarah Roberts was sitting in the Ancora coffee shop warming up. With her blunt-cut blond hair and hip retro glasses, the library sciences grad student looked the picture of urban cool, except perhaps for the decades-old factory ID badge bearing the image of a young man. "A few weeks ago I asked my mom, 'What made my grandfather such a civic-minded man? Why was he always there to help someone who had lost their job? Take food to someone who couldn't make ends meet? Serve on the City Council? What made him so incredibly engaged with his community and his state?' Mom looked at me and she said, 'Labor.'" READ MORE
The Nation: 'Shame!' Legislators Approve Wisconsin Governor's Anti-Worker Agenda, John Nichols
Wisconsin State Representative Mark Pocan, the former co-chair of the legislature's powerful Joint Finance Committee, says he is starting to feel as if he lives in a "third world junta." Wisconsin State Senator Bob Jauch, a senior Democrat, says that what he is witnessing feels like "a coup." Marty Beil, the head of the AFSCME Council 24, the state's largest public employee union, said Wisconsin had been turned into "a banana republic." READ MORE
LEGAL CASES FILED TODAY
12:15 p.m. - Mary Bottari reports:
A contempt of court case was filed in Dane County Court this morning in an attempt to get the Capitol building opened per the requirements of the standing court order. Bauer and Bach firm taking the lead. Rep. Peter Barca filed a complaint today alleging that last night's rushed committee meeting and Senate vote violated the WI open meetings law. Attorneys are Cullen Weston Pines & Bach. Stay tuned.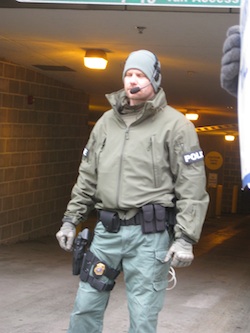 MORNING RALLY, MARCH 10, 2011
11:40 a.m. - Assembly taking to the floor, watch on Wisconsin Eye. Capitol now slowly letting in people because the legislature is now in formal session. Reports from inside the Capitol is that it is very quiet, many police and media very few citizens.
POLICE IN RIOT GEAR
10:45 a.m. - Mary Bottari: Many hundreds of protestors have gone to the Risser Justice Building parking lot, where the "Rat Hole" entrance to the Capitol is located. Guarding the rat hole are a half-dozen police in riot gear with Tazers. They identify themselves as Department of Justice police and have been friendly to the crowds, but keeping the parking lot open to drivers, so this appears to be the avenue by which certain legislators are accessing the Capitol while others are locked out.  There are many thousands of protesters around the Capitol building most at the King Street entrance. Many are starting to walk around the building with signs getting ready for a long day.
10:30 a.m. - Steve Horn is reporting from the Capitol that Republican legislators are being let in, but Democrats are being locked out. He is at the door with Rev. Jesse Jackson and State Senator Jon Erpenbach who cannot get in. Rumor is Capitol Police are no longer in charge, that the Department of Administration is in charge. Reports from inside indicate that the remaining protesters are being physically removed from the Assembly Chambers.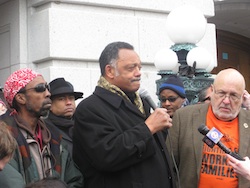 10:21 a.m. - Lynn Welch reports: Rev. Jackson at Wisconsin Avenue door with Rep. Joe Parisi. Still trying to gain entrance. Still being denied entrance by officers on duty.
10:03 a.m. - Lynn Welch: Rev. Jackson tells crowd to keep hope alive. Then leads march from King Street to corner of East Washington Street on the Capitol square. Crowd chanting: "Recall Scott Walker!"
9:57 a.m. - Lynn Welch reports that Joe Parisi is giving an update: a few minutes ago we tried to escort Rev. Jackson into the building and were denied entrance. Then we asked if we (assembly representatives) could go in and were told the building is closed to everyone.
9:53 a.m. - Jonathan Rosenblum reports that State Patrol at King Street is refusing to open doors, saying they have no orders. The crowd is getting ugly. Protester just kicked out a panel in one of the exterior doors. Crowds of Hamilton Middle school and Madison West school students declare solidarity and march to the Capitol.
9:50 a.m. - Rev. Jesse Jackson and Democratic assembly members Rep. Mark Pocan and Rep. Joe Parisi are now negotiating with police at King Street door. Rev. Jackson said he was denied entrance at other side and directed to this entrance. Again denied entrance.
9:32 a.m. - Lynn Welch reports that Rev. Jesse Jackson is praying outside King Street entrance with crowd. Lead chants before praying. Remain nonviolent as before.
9:23 a.m. - Lynn Welch reports: King Street crowd reverbing around cap grounds outside.
9:21 a.m. - Lynn Welch: Firefighter parade is processing up State Street steps led by drums bagpipes and flag.
9:15 a.m. - Lynn Welch reports: Among massive and growing King St peoples rally of doors opening at other entrance. Big chunks of crowd moving. No door open yet.
9:00 a.m. - Read at King St entrance: Explaining Capitol did not open because of events last night and it will not open until a full law enforcement assessment is complete.
THURSDAY, MARCH 10, 2011 MORNING NEWS ROUNDUP
Abbreviated news round-up of the events that have transpired in Madison, Wis., in the past 24 hours. In an unprecedented, move the Wisconsin Senate went into a surprise joint conference committee last night and then moved to the Senate floor to vote on an "amended" version of the budget repair bill. Thousands of protesters immediately headed to the Capitol to witness the votes but were not allowed in. Please keep up with the news on our live blog, Facebook page, twitter account and today with our reporter's tweets http://twitter.com/Steve_Horn1022.
Wisconsin State Journal: Budget repair bill passes Senate, Thursday vote set in Assembly
In a surprise move late Wednesday, Senate Republicans used a series of parliamentary maneuvers to overcome a three-week stalemate with Democrats and pass an amended version of the governor's controversial budget repair bill. With a crowd of protesters chanting outside their chambers, Senators approved Gov. Scott Walker's bill, which would strip most collective bargaining rights from public employees. The new bill removes fiscal elements of the proposal but still curbs collective bargaining and increases employee payments in pension and health benefits. The changes would amount to an approximate 8 percent pay cut for public workers.
The Capital Times: Budget bill foes say stealthy vote broke open meetings law; challenges coming
Shortly after Senate Republicans' surprise vote Wednesday to eliminate most collective bargaining rights for most public employees, protesters started collecting signatures from citizens in preparation for filing an open meetings complaint. It is not yet clear where these complaints will be filed, but former Attorney General Pat Lautenschlager said they can be filed with either the Dane County District Attorney's Office or the Attorney General's Office. But, she added: "Frankly I don't know how either of those men would need a complaint to file an action in this. It's clear that the conference committee's meeting on its face violated Wisconsin's open meetings law."
Milwaukee Journal Sentinel: Captiol police delay opening of building
Administration Secretary Mike Huebsch said he wanted to open the building up. But first, he said, he wanted demonstrators to clear out of the Assembly antechamber, gather on the ground floor of the rotunda and allow themselves to be checked with metal detecting wands. That may be problematic. Several dozen protesters have gathered in the Assembly antechamber and have filled the narrow hallway leading to the office of Assembly Speaker Jeff Fitzgerald (R-Horicon). Those protesters told a Journal Sentinel reporter they had no plans to leave, which sets up the possibility of arrests.
Milwaukee Journal Sentinel: Madison police plan to bring in more officers
The Madison Police Department does not have jurisdiction in the State Capitol, but spokesman Joel DeSpain said Thursday that more police were being called in to work in anticipation of large crowds.
Milwaukee Journal Sentinel: Holperin says Democrats will return to Madison
Befitting the chaotic and tense situation involving the budget standoff, Sen. James Holperin (D-Eagle River) said Thursday that Senate Democrats were going to return to Madison on Thursday. That was at odds with a statement by Sen. Chris Larson (D-Milwaukee) who said that decision had not yet been made pending a meeting of the Democrats later today in Illinois.
The Badger Herald: Unions encourage business as usual until further notice: Leaders express disappointment, betrayal in light of Senate passing revised bill, but currently do not say if there will be a strike
Mary Bell, president of the Wisconsin Education Association Council, addressed the organization's members through a video conference Thursday evening urging them to allow the democratic process to take its route by attending classes and not creating further disruption in Wisconsin's education system.
WisPolitics: Wisconsin State AFL-CIO: Wisconsin labor leaders urge return to work and focus on recall of Republican eight, pledge the fight will continue
WisPolitics: Rep. Danou: Comments on Senate committee actions at the Capitol
"I am very disappointed with the actions of the Republicans in the State Senate. We have reached out to our Republican colleagues and asked to have negotiations, compromise and work together on the budget repair bill. From the moment this bill was proposed by the Governor, democracy has not only been compromised but simply shut down. I know the people of Wisconsin deserve better than this and I will continue to work with all my colleagues to bring some bipartisan sanity back to Madison."
WisPolitics: RMarathon County Dems: Suder, Galloway may have participated in illegal vote
Reports are sketchy, but tonight Assembly Majority Leader Scott Suder (R-Abbotsford) appears to have participated in an illegally called conference committee meeting that had not been properly notified under Wisconsin Open Meetings Law. The meeting produced a bill that Senate Republicans claimed was not subject to the 3/5 quorum in the Senate. After that potentially illegal meeting which lasted only a few minutes, the Senate went into a lightning quick session where Sen. Pam Galloway (R-Wausau) voted for Gov. Walker's union-busting bill. This session also lasted only a few minutes, with no debate, and again, the bill voted on may not have been legally contrived due to the potentially illegal conference committee that approved it. There are also questions as to whether the Capitol's doors were open at the time of Galloway's vote per the requirement of the Wisconsin Constitution and a judge's recent court order.
Democratic Party of Wisconsin: RAbuse of Power: Republicans Rubber-Stamp Scott Walker Power Play; Clock Begins Ticking on Days Before He Is Eligible for Recall
Following is the statement of Democratic Party of Wisconsin Chair Mike Tate following the Republican vote to end collective bargaining for public employees in Wisconsin. "Using tactics that trample on the traditions of our Legislature, the Republican leadership has betrayed our state. Republicans have rubber-stamped the desire of the Koch Brothers and their godhead Scott Walker to cripple Wisconsin's middle class and lower benefits and wages for every single wage-earner in our state. The vote does nothing to create jobs, does nothing to strengthen our state, and shows finally and utterly that this never was about anything but raw political power. We now put our total focus on recalling the eligible Republican senators who voted for this heinous bill. And we also begin counting the days remaining before Scott Walker is himself eligible for recall."
Republican Party of Wisconsin: WISGOP Statement on Senate Action
In response to the action taken by the State Senate, Brian Schimming First Chairman of the Republican Party of Wisconsin released the following statement: "After a month of delay from Senate Democrats who clearly were not negotiating in good faith, Senate Republicans acted to reform an unsustainable, broken system and move our state forward. "Local governments will need the flexibility this bill provides to cope with budget cuts, but Senate Democrats refused to do their job and insisted on stalling the process to allow national union bosses and Moveon.org to continue to pump millions of dollars into our state. The Joint Finance Committee had one of the longest hearings in its history on this bill, followed by the longest debate in the history of the state Assembly. The time for political stunts has long passed a vote was long overdue. "When these much needed reforms are signed into law, Wisconsin public employee unions will still have more collective bargaining rights than 80% of Wisconsin's work force and more bargaining rights than Barack Obama gives to federal workers."
WisPolitics: Sen. Fitzgerald: Statement on Senate action
"Before the election, the Democrats promised "adult leadership" in Madison. Then a month and a half into session, the Senate Democrats fled the state instead of doing their job. "In doing so, they have tarnished the very institution of the Wisconsin state Senate. This is unacceptable."
WisPolitics: Sen. Lassa: A sad night for Wisconsin democracy
State Senator Julie Lassa (D-Stevens Point) issued the following statement in response to the Republican's move to end collective bargaining rights for public employees: "This is truly a sad night for Wisconsin democracy. In the dark of night, in blatant violation of open meeting laws, and without even having a bill in front of them, the Republican leaders of the Assembly and Senate used a shady procedural move to end fifty years of workers' rights in Wisconsin. Deaf to the pleas of the overwhelming majority of Wisconsin citizens, Governor Walker and Republican legislators have demonstrated absolute contempt for the democratic process. They should be ashamed of themselves."
NY Times: Wisconsin Dispute Could Mobilize Democratic Base
"If only there were precedent for the upper chamber monkeying around with the fiscal part of a bill to bypass the need for supermajority," the Republican strategist Patrick Ruffini noted on Twitter last night.
Mr. Ruffini was referring, of course, to the decision by Wisconsin Republicans to strip collective bargaining provisions from Gov. Scott Walker's budget proposal and vote on them separately, overcoming the need for the quorum that Democratic state senators had denied them by leaving the state. He was also referring to the the Patient Protection and Affordable Care Act, the health care bill that Democrats passed by using a budget reconciliation procedure that bypassed the possibility of a filibuster.
The Washington Post: GOP's shenanigans in Wisconsin ensure the fight will only escalate
Here's what Wisconsin Republicans accomplished tonight: In a situation where they had repeated opportunities to resolve this standoff and plausibly declare victory for themselves, they have now ensured that this battle is only going to escalate.
This evening, Wisconsin Republicans took the drastic step of breaking up the budget repair bill and passing only a measure rolling back the collective bargaining rights of public employees. A committee removed some parts of the bill, allowing Republicans to pass it by a simple majority, without missing Dems, and it's expected to pass the Assembly tomorrow.
8:17 a.m. - Mary Bottari reports that the Capitol doors are still locked and the lawyers are headed to Court in front of Judge Albert this morning.
THURSDAY 7:30 am - Word from the Capitol is that people have occupied the Assembly Chambers to prevent a vote this morning, stay tuned.
LIVE STREAMING VIDEO
11:30 pm: UpTake Independent Video Team is live streaming from the WI Capitol. Click here to see the live stream.
WEAC's Mary Bell and AFSCME's Marty Beil say that the fight continues, but they expect workers to show up on the job tomorrow. See the video here.
SCHEDULE FOR THURSDAY, MARCH 10, 2011
8:00am - WI SEIU has called citizens to be at the Capitol tomorrow by 8:00 a.m.
9:00am - WI AFL-CIO RALLY IN MADISON



What:  Rally to discuss ongoing fight for workers rights

Where: State Capitol, Corner of State and Mifflin

When: Thursday, March 10th at 9:00am
1:00pm - 4:00pm Pick up signs from the Capitol
4:00pm - 5:30pm Forum on Public Authority status at UW-Madison Education Building
Rallies will also be occurring at 9:00am around the state at the following locations: Dodge County Administration Building, Eau Claire City Hall, Veterans Park in Fond du Lac, Green Bay Chamber of Commerce, La Crosse County Courthouse, Milwaukee County Courthouse, Senator Ellis' District Office in Neenah, Oshkosh Opera House Square, Platteville City Hall, Monument Square in Racine, Richland County Courthouse, Ripon at 303 Blackburn St. and River Falls City Hall.
---
Wisconsin Protests photo gallery