TWO WEEKS IN MADISON - A TRIBUTE
NEW ETHICS COMPLAINT FILED WITH FOCUS ON KOCH MONEY IN STATE
CMD's Erica Pelzek reports:
Monday morning, the Democratic Party of Wisconsin filed a complaint with the state's Government Accountability Board against Gov. Scott Walker, citing comments Walker made during a prank call phoned in by a Buffalo, NY blogger Ian Murphy masquerading as David Koch, one of the billionaire co-owners of Koch Industries and a top contributor to Walker's gubernatorial campaign.

The Democratic Party complaint sites multiple issues summarized by the Milwaukee Journal Sentinel:

The complaint charges that Walker:

Asked the impostor posing as Koch to run ads in the districts of Republican incumbents in swing districts. That would constitute an illegal, third-party coordination to initiate an independent expenditure.
Spoke to the impostor from his office in the State Capitol. The law prohibits requesting a political contribution inside any state-owned building.
Asked the attorney general's office to look into strategies to force the Democratic senators to return. According to the complaint, "this constitutes a misuse of the independently elected office of the attorney general for primarily political motivations."
Conspired with others about the idea of planting troublemakers to "incite violence in the peaceful crowds," as that "would scare the public into thinking that maybe the governor has to settle to avoid all of these problems." The complaint alleges that such activity constitutes a conspiracy to recklessly endanger safety.
Disclosed that he would send out layoff notices to working people to exert political pressure on his political opponents in the Senate. According to the complaint, "this use of threat against, and intimidation of, public sector employees for political purposes constitutes an unfair labor practice."
Accepted the invitation to be flown out to California by the impostor posing as Koch. According to the complaint, state public officials may not use his or her public position to obtain financial gain or anything of substantial value for the private benefit of himself or herself.

This is not the first call in recent weeks for the Wisconsin Government Accountability Board (GAB) to look into possible legal or ethical violations stemming from Walker's admissions on the call. Former Wisconsin Attorney General Peg Lautenschlager said, as early as Feb. 24, 2011 (the day after the call) that Walker's statements raised potential ethics, election law, and labor law violations. Madison attorney Marilyn Townsend filed a complaint with the GAB Tuesday, March 1, 2011, citing Walker's admission on the call and in subsequent press interviews that he considered planting "troublemakers" in the crowds of families demonstrating, his collaboration with third parties to promote messages in favor of his political agenda, and his openness to the offer to fly him out to California for a vacation once he finishes crushing the unions.
NEWS OF THE DAY: TEMPERS FRAYING IN THE CAPITOL WHILE POLL NUMBERS SHOW PUBLIC WANTS NEGOTIATION
6:00 p.m. Erica Pelzek reports:
As Governor Scott Walker's poll numbers continue to tank and with new poll by a conservative WI group indicating that over 65% of Wisconsinites want Walker to negotiate with Democrats, nerves are fraying and insults are flying in the Wisconsin State Capitol.
This morning, Democratic Senate leader Sen. Mark Miller apparently started it off with a mild mannered letter, reprinted below, asking Governor Walker for face to face meetings "near the Wisconsin-Illinois border to formally resume serious discussions."
The letter prompted a a heated press conference today, by Walker and Senate Republican Leader Scott Fitzgerald who called the letter "ridiculous" and accused Miller "of standing in the way of progress." But at no point did the two mention any item they were willing to negotiate. The press conference revealed that meetings had been taking place with small groups of democratic senators in Beloit and Kenosha, including one with democratic Senators Bob Jauch and Tim Cullen.
Later in the day many of the missing 14 weighed in with a flurry of letters indicating their desire to meet and negotiate with Walker. Walker and Fitzgerald emphasized throughout the press conference that they were willing to work with the "reasonable" Democratic senators, but by outing Jauch and Cullen as "reasonable" they likely did more harm than good. Late in the day, Senator Jauch told the Wisconsin State Senate "I've worked with seven governors and Gov. Walker is the first one who comes to the peace table with a grenade."
Desperate to have the last word, Fitzgerald weighed-in late in the day, with a new low. In a letter to Miller printed in full below, Fitzgerald wrote: "Your grasp of reality, and control of your caucus as minority leader, continues to amaze me," Fitzgerald wrote to Miller, "I hope you are enjoying your vacation, and your vacation from reality. Sincerely, Scott Fitzgerald, Senate Majority Leader CC: Governor Scott Walker."
RESPONSE FROM SENATOR SCOTT FITZGERALD TO SEN. MARK MILLER
March 7, 2011

Sen. Mark Miller

Parts Unknown, IL

Dear Senator Miller,

Thank you for your hand-delivered letter with an offer to meet, in Illinois, about the business and future direction of Wisconsin.

Let's set aside how bizarre that is for a moment.

As you know, this legislation is designed to finally balance the state budget, prevent layoffs and create jobs in the real world. There are hundreds of thousands of unemployed or underemployed Wisconsinites, and at least 1,500 more whose jobs are in the balance because of your media stunt. We all deserve better than this.

In the meantime, members of your caucus have been meeting with the governor's staff, talking to the media, trying to find a way back to Madison, and contradicting your message in public. In case you don't remember, you were present yourself at one of those meetings with the governor's staff. Your grasp of reality, and control of your caucus as minority leader, continues to amaze me.

As you know, your opportunity to compromise and amend the bill was on the floor of the state Senate. As you know, you forfeited that right and opportunity when you decided to flee the state instead of doing your job.

Your stubbornness in trying to ignore the last election and protect the broken status quo is truly shameful. While we wait for you and your colleagues to finally show up, Senate Republicans continue to stand ready to do the job we were elected to do, here in Wisconsin. I hope you are enjoying your vacation, and your vacation from reality.

Sincerely,

Scott Fitzgerald

Senate Majority Leader

CC: Governor Scott Walker
LETTER FROM SENATOR MARK MILLER TO GOVERNOR WALKER AND SENATOR FITZGERALD
March 7, 2011
HAND-DELIVERED
Dear Governor Walker and Senator Fitzgerald:

Over the past several weeks we have witnessed an unprecedented public debate in Wisconsin over the value of public workers and the importance of collective bargaining rights. I write today to offer to meet, in-person, as soon as possible to resume discussions on how we reach a bipartisan solution to our differences on January 2011 Special Session Senate and Assembly Bill 11.

The working people of Wisconsin are deeply concerned about what the future holds for their families, and for the great state they call home. Now more than ever they are counting on us as leaders to work together to resolve our differences to move our state forward.

Since the bill's introduction, public workers have come forward to offer economic concessions and Democrats have offered a number of proposals to try to reach a bipartisan resolution.

I assure you that Democratic State Senators, despite our differences and the vigorous debate we have had, remain ready and willing to find a reasonable compromise. To that end, I would ask that you or your authorized representatives agree to meet with us near the Wisconsin-Illinois border to formally resume serious discussions as soon as possible.

The people of Wisconsin are overwhelmingly supportive of us reaching a bipartisan, negotiated compromise.

Senate Democrats stand ready to do just that, we ask that you do the same.

Sincerely,

Mark Miller

Senate Democratic Leader
DAVID KOCH DONATES TO FIGHT CANCER WHILE HIS COMPANY FIGHTS THE REGULATION OF CARCINOGENS
CMD's Anne Landman reports:
Scientists, politicians and Nobel laureates lauded billionaire David H. Koch at an event on March 4, 2011 for donating hundreds of millions of dollars to cancer research. Koch decided to put money towards cancer research after he contracted prostate cancer in 1992. But one of Koch's companies, Georgia Pacific, produces formaldehyde, which the U.S. Environmental Protection Agency says causes cancer in animals, and may cause cancer in humans. Moreover, Georgia Pacific has been lobbying to keep the EPA from listing formaldehyde as a human carcinogen. While he has donated millions to science, Koch's company, the oil/coal/chemical/paper conglomerate Koch Industries, is known to be a major polluter, and Greenpeace has called Koch "a kingpin of climate change denial." Meanwhile, Koch's PR offensive continues with the big profile in the New York Times, headlined "Cancer Research Before Activism, Koch Brother Says." The Center for Media and Democracy--which has profiled the political activities of the company leaders and Mr. Koch's investment in special interest groups to push his ideological agenda--responded by noting, "The truth is that it costs a lot more to cure cancer than to buy influence with a politician through donations or provide the funding to fuel a bunch of special interest groups to peddle policy, push talking points, and pay for expensive ad campaigns" said Lisa Graves, CMD's executive director, adding "A little money goes a long way in the business of manufacturing consent; it's apparently and unfortunately got a great return on investment."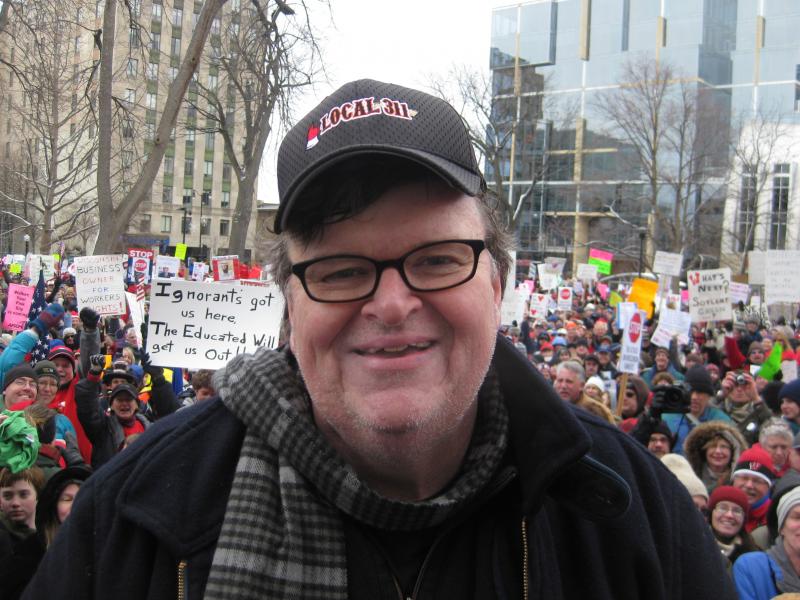 MONDAY, MARCH 7, 2011, MORNING NEWS ROUNDUP
GOV. SCOTT WALKER HAS LOST THE WAR
Forbes:
In what may be the result of one of the great political miscalculations of our time, Scott Walker's popularity in his home state is fast going down the tubes.

A Rasmussen poll out today reveals that almost 60% of likely Wisconsin voters now disapprove of their aggressive governor's performance, with 48% strongly disapproving.

While these numbers are clearly indicators of a strategy gone horribly wrong, there are some additional findings in the poll that I suspect deserve even greater attention.

It turns out that the state's public school teachers are very popular with their fellow Badgers. With 77% of those polled holding a high opinion of their educators, it is not particularly surprising that only 32% among households with children in the public school system approve of the governor's performance. Sixty-seven percent (67%) disapprove, including 54% who strongly disapprove.
Wall Street Journal - DEMOCRATS TO END UNION STANDOFF:
"Playing a game of political chicken, Democratic senators who fled Wisconsin to stymie restrictions on public-employee unions said Sunday they planned to come back from exile soon, betting that even though their return will allow the bill to pass, the curbs are so unpopular they'll taint the state's Republican governor and legislators."
ERPENBACH RESPONDS TO WALL STREET JOURNAL HEADLINE ON FACEBOOK
Today's headline in the Wall Street Journal left many scratching their heads, while the headline was dramatic, the content did not say anything new. Clear that the WI 14 would prefer to be in Wisconsin, but no new breakthrough was announced. The headline prompted one of the 14, Jon Erpenbach, to respond. "Sen Miller's comments in the Wall Street Journal are taken out of context.... What he is saying is something we have said all along, we are going to have to come home at some point.... We could be home tomorrow if there were a compromise, its that simple.
See Erpenbach's Facebook response here.
Milwaukee Journal Sentinel - DEMOCRATS TO FILE COMPLAINT AGAINST GOV. WALKER:
"Mike Tate, chairman of the Democratic Party of Wisconsin, is expected to detail the complaint at a teleconference later this morning."
WALKER BLAMES SENATE MINORITY LEADER FOR ONGOING BUDGET STALEMATE
Wisconsin State Journal:
With calls for a compromise growing louder, Gov. Scott Walker on Monday pointed to a series of secret meetings with Democrats and placed the blame for the continued stalemate over his budget repair bill squarely on the shoulders of Senate Minority Leader Mark Miller.

The press conference was called in response to an open letter to the governor by Miller, in which he asked Walker and Scott Fitzgerald or their representatives "to meet, in person, as soon as possible" to work out a solution to the standoff. He asked that the meeting be held near the Wisconsin-Illinois border.
POLL: MAJORITY WANT WALKER TO NEGOTIATE
Wisconsin State Journal:
A strong majority of Wisconsin residents want Republican Gov. Scott Walker to negotiate with Democrats and public sector unions to find a compromise in the current budget standoff, according to a new poll by the conservative-leaning Wisconsin Policy Research Institute.

Sixty-five percent of survey respondents said Walker "should compromise," while 33 percent said he should "stand strong."
The Cap Times - JOHN NICHOLS: 'CONSTITUTIONAL CRISIS' CREATED BY FITZGERALD:
"Senate Majority Leader Scott Fitzgerald, the Juneau Republican who serves as Gov. Scott Walker's consigliere, tried to put the best face on his attempt to rewrite not just the rules of the Senate but the Wisconsin Constitution."
WALKER VISITS SUPPORTERS AT COUNTRY CLUB ON SATURDAY
On Saturday, Governor Scott Walker visited a country club in Columbus Wisconsin, and was greeted by an estimated 1,500 protesters chanting "Shame on Walker." See a clip of the crowd here.
WALKER PRANK CALLER GETS CULT HERO'S WELCOME FROM PROTESTERS
Wisconsin State Journal:
Say what you will about his method, but the editor who tricked Gov. Scott Walker into thinking he was billionaire supporter David Koch got a cult hero's welcome Saturday from the protesters he showed up to rally with in Madison.

Ian Murphy, editor of the online Buffalo Beast, spoke to protesters in the rotunda of the Capitol — reopened to the public by court order — and made a video of a fake fight under an inflatable palm tree.
RECALL DRIVES COULD MAKE HISTORY
The Milwaukee Journal Sentinel reports:
Formal recall campaigns have now been launched against 16 state senators - eight Republicans and eight Democrats. That's everyone in the 33-member Wisconsin Senate who is legally eligible to be recalled this year.

Much like the ongoing budget fight, the recall battles could play out on a national stage. The two parties and groups across the political spectrum will be invested in the outcome, with Wisconsin now serving as the state testing ground in a broader struggle over government spending, unions and the public workforce in the run-up to the 2012 election.
OPINIONS POLLS SHOW SHARP DIVISIONS ON WALKER
From the Milwaukee Journal Sentinel:
Gov. Scott Walker's bitter standoff with Democrats and labor unions in Wisconsin has turned the newly elected Republican into a deeply polarizing figure, eroded his standing and left him struggling to win the battle for public opinion, a flurry of recent polls suggests.

In one new survey, 54% of Wisconsinites disapprove of Walker's performance while 43% approve. Walker is viewed less favorably than either of his main antagonists in the state's stormy budget debate: public employee unions and Democrats in the Legislature. And after just two months in office, he inspires more intense feelings - pro and con - than President Barack Obama does in Wisconsin.

In an automated survey of 800 Wisconsin voters taken Wednesday by Rasmussen, 43% approved of the job Walker is doing and 57% disapproved.

In an automated survey of 768 Wisconsin voters taken Feb. 24-27 by Public Policy Polling, 46% approved of Walker's performance and 52% disapproved.

"This is stunning polarization like we used to see with George W. Bush in 2004," said [Ken] Goldstein, who has done numerous polls in Wisconsin, including the Big Ten Battleground polls in 2008 for a consortium of Big Ten universities.
---
Wisconsin Protests photo gallery