11:58 p.m. - Jonathan Rosenblum reports: According to unofficial count approximately 300 protesters are staying the night and a low profile contingent of law enforcement, some with "State Fair" patches on their shoulders. Less than two dozen visible.
10:51 p.m. - Jonathan Rosenblum sends this photo of Representative Brett Husley's office door papered with post-its from unions, students and regular citizens thanking him for staying around the Capitol to oppose SB 11. He and Representaive Kelda Roys were present through the announcement around 7:00 p.m. tonight that protesters of the bill would not be expelled from the Capitol.
8:48 p.m. - Jonathan Rosenblum reports that he is in line for official occupation manna (more pizza) with Andrew Rohn and Cat Capellaro who wrote the musicals Temp Slave and Walmartopia. They say they have contributed the following chant to the rotunda: "Unions make Wisconsin better. This revolution is fueled by cheddar.
8:14 p.m. - WE SHALL NOT BE MOVED
From PR Watch, Lynn Welch reporting:
A large, multi-union coalition gathered near the "Fighting" Bob LaFollette bust on the first floor of the East Gallery in the Wisconsin State Capitol this afternoon. Wearing grey T-shirts with the words "Wisconsin United for Worker's Rights," printed in red across an outline of the state sat down and started to sing, "We shall not be moved," just after the official building shut-down at 4 p.m.

"We know we have a right to peaceful protest," said Candice Owley, a Milwaukee nurse with the Wisconsin Federation of Nurses and Health Professionals. "We don't believe they should be removing us from the State Capitol."

Owley said those in her group planned to follow directions outlined by a grass-root group inside the capitol that this week has been preparing those for today. The goal: to keep the protest peaceful, and allow those who wish to continue to keep vigil in protest of Gov. Scott Walker's Budget Repair Bill to remain in the building.
PROTESTERS MAKE WAY FOR THE CLEAN UP
As 500 protesters remain in the Capitol tonight to peacefully assemble, they make way for the janitorial staff which has moved in to polish the downstairs floors. Chants of "thank you thank you" follow the workers. It looks like another peaceful night in the Capitol building -- so far no trouble of any kind and no arrests either.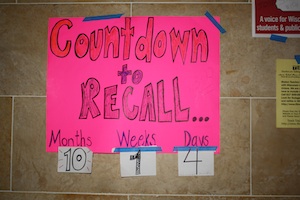 8:01 p.m. - Jonathan Rosenblum reports that as janitorial staff wax the the center marble of the Capitol rotunda, crowds chant "thank you" and an acrobat does cartwheels across the floor.
7:45 p.m. - Jonathan Rosenblum reports that "our house" chant rises up again at Liberty Bell replica on the 2nd floor. Announcement from Erica Wolf of United Council of UW Students urges crowd to return to ground floor for dinner (served by Ian's and maybe others). Signs will not be removed tonight, which is another reversal. Janitors will prepare for Monday business day. It looks like the protesters are in for the night without arrest.
RAPPER OB (http://www.youtube.com/watch?v=OHKL21xivJw), HIS BAND KILL THE AUTOCRAT, WROTE THIS SONG ON THE PICKET LINE IN SUDBURY, ONTARIO, CANADA. UNITED STEELWORKERS (USW) LOCAL 6500 LED A SUCCESSFUL YEAR LONG STRIKE AGAINST AGAINST BRAZILIAN-OWNED VALE ENDED IN JULY 2010. HE CAME TO MADISON TO SHOW SOLIDARITY AND PERFORM A SONG POPULARIZED BY MADISON'S OWN JOHN SYLVESTER OR SLY ON WTDY RADIO.
7:24 p.m. - Jonathan Rosenblum reports that Jeremy Ryan rides by on a Segway on the second floor of the Capitol. He is with DefendingWisconsin.org and is giving out pink slips for Scott Walker. He has a cardiac condition and says the Segway sure beats a wheel chair. He is the lead pursuer of the future recall for Governor Walker.
7:12 p.m. - Jonathan Rosenblum reports that those fastidious festive Capitol occupiers have amended the backwards 2 with blue painters tape. Now it's time the Wisconsin Senate amended SB 11 to preserve freedom of association and collective bargaining to Wisconsin public sector workers with blue ink.
6:57 p.m. - Jonathan Rosenblum: Sign goes up "Wisconsin needs 2 cou(R)ageous Senators" to vast applause in appreciation of rumor that Senator Schultz opposes the bill. Needless to add the 2 is written backwards because this is sometimes what democracy looks like.
6:40 p.m. - Jonathan Rosenblum reports that pizza deliverers say cars circling the Capitol are honking to the rhythm of "this is what democracy looks like"
6:35 p.m. - Jonathan Rosenblum reports that the protesters are chanting "two more!" for the next two Republicans who need to come on board. Chants of "Si se puede!"
6:34 p.m. - Jonathan Rosenblum reports that a single red helium heart from Valentine's Day remains lodged in the center of the cupola of the Capitol's dome ceiling. It's a very representative heart in the festive center of Wisconsin demoracy.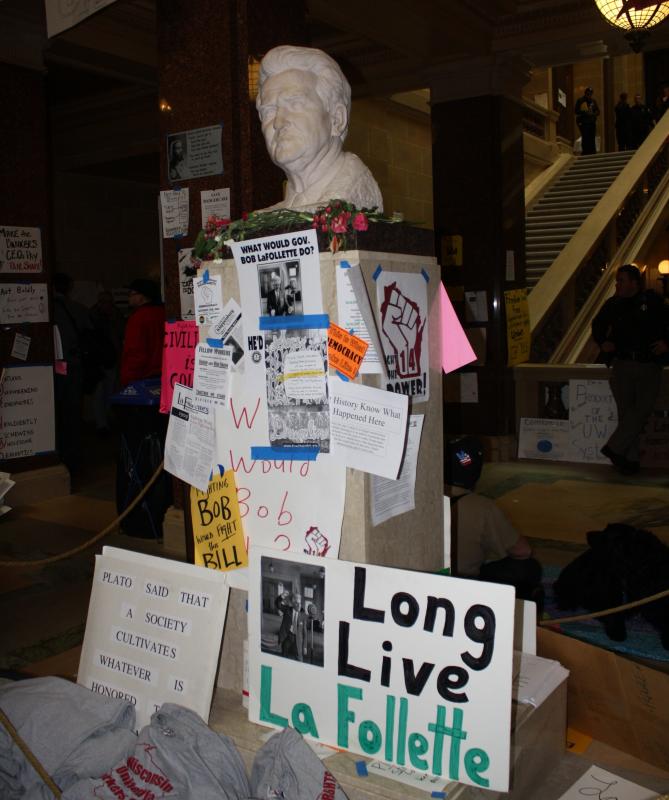 6:27 p.m. - Jonathan Rosemblum reports that a huge burst of applause erupts from the area around the Fighting Bob LaFollete bust. Rumor flashes through that Republican Senator Schultz has withdrawn support for the bill. Drum rolls and chants of "Thank you Dale Schultz!"
6:26 p.m. - Jonathan Rosenblum reports that Assembly member Kelda Roys says she has the magic key to bring the first Ian's pizza of the post-legality sit-in into the Capitol. She's not sure if the magic key was her Assembly key card or orange t-shirt, but the police waved it in.
6:23 p.m. - According to WORT News, Police Chief Tubbs confirms there are no plans to arrest or forcibly remove protesters tonight.
5:33 p.m. - SAY A LITTLE PRAYER FOR ME
Mary Bottari reports: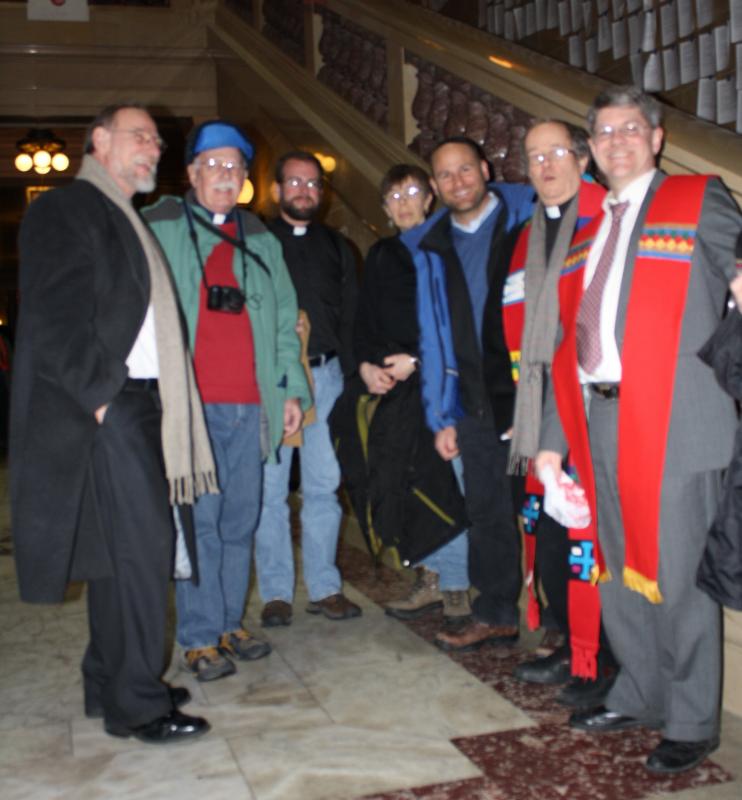 In addition to lawyers acting as legal observers, nurses acting as medics, volunteer marshals and more, the religious community of Madison turns out to watch the events and lend the support of a higher power.
Before the doors shut to the Capitol this evening, a contingent of rabbis, pastors, nuns, and other religious members walked in to the capitol. CMD spoke to Rabbi Renee Bauer who is the Director of the Interfaith Coalition for Worker Justice who said "We are here to lend our support so that people's voices keep being herd. This has been a peaceful demonstration since the first day. It has been attempt after attempt to silence people's voices. Taking away collective bargaining rights is an ethical and moral issue. Our religious traditions call upon us to treat workers with justice, and this bill is the opposite of that."
When CMD asked if religious group was going to spending the night, Rabbi Bauer said that "We are in it for the long haul."
5:12 p.m. - Erica Pelzek reports that protesters outside the Capitol have started holding hands and forming rings around the building. Currently there is one full ring, and once the next is complete they will form another. Law enforcement presence has increased and they continue to expect voluntary compliance. Has not seen any arrests.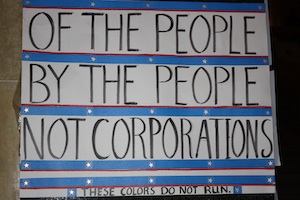 5:00 p.m. - The video feed from inside the Capitol has been cut. Several are reporting that wireless internet inside the Capitol is down.
4:57 p.m. - From Erica Pelzek: Representative Brett Husley is still inside the Capitol after encouraging people to leave with him at 4:00.
4:40 p.m. - One Madison police officer, not in uniform, plans to remain in the building even if he is asked to leave. Other officers are with him.
4:35 p.m. - From Lisa Graves: Crowd singing lyrics to "The Star Spangled Banner" and then chanting "Recall Walker!"
4:32 p.m. - From Erica Pelzek: Jim Palmer, Executive Director of the Wisconsin Professional Police Association believes people will not be made to leave and the Capitol will stay open.
4:30 p.m. - From Lisa Graves: Crowd is chanting and drumming "Peaceful protest." Then, "Kill the bill. Then "The whole world is watching."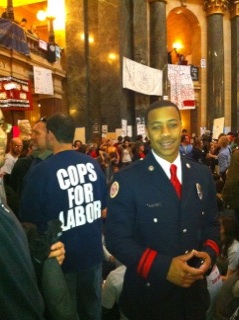 4:29 p.m. - Erica Pelzek reports that Mahlon Mitchell, President of the Professional Firefighters of Wisconsin said that the firefighters will be standing their ground until the job is done.
4:27 p.m. - From Lynn Welch: First Floor East Gallery next to La Follette statue sits a large group chanting "Whose house? Our house!" Dave Mahoney looks on from the 2nd floor above the statue.
4:25 p.m. - People chanting "Who's house? Our house!" As the police have peaceably taken control of the main rotunda, the people have massed up stairs on the second and third floors, with this chant.
4:24 p.m. - Lynn Welch reports that the rotunda ground floor is being cleared.
4:23 p.m. - People chanting "This is what democracy looks like."
4:22 p.m. - Erica Pelzek reports that people inside are exiting via the State Street exit. A circle of people are sitting and singing "Solidarity forever, solidarity forever, solidarity forever, for the union makes us strong!" No arrests have been made at this point.
4:19 p.m. - From Lynn Welch: Reported action at King St entrance. People demanding to be let inside.
4:17 p.m. - From Lisa Graves: The crowd chanting, "The people united will never be defeated."
4:09 p.m. - From Lisa Graves: Thousands and thousands of people continue to stand in the Capitol and outside in opposition to Walker's union-busting plan. Continuing chants of "Who's house? Our house!"
Get live Twitter updates from @Firedoglake.
3:54 p.m. - Erica Pelzek reports that 1,500 people are outside, and 100 more were just permitted entrance to the Capitol. People who wish to risk arrest are being asked to move to the first floor.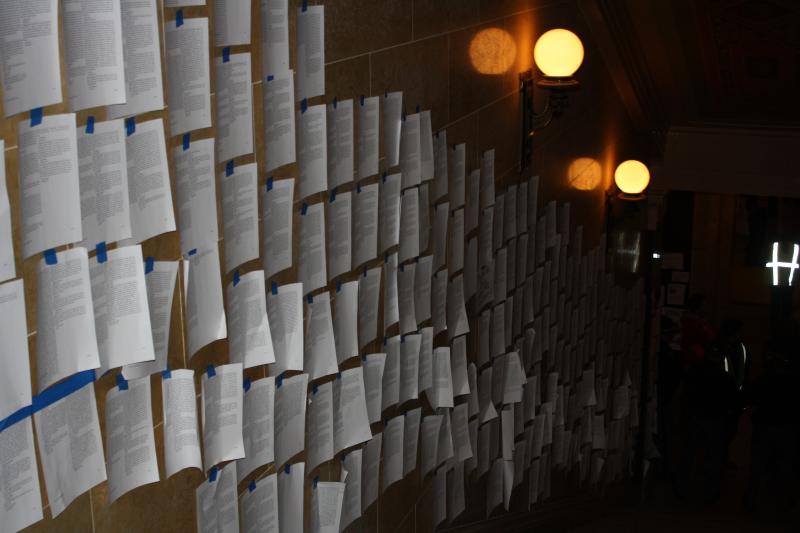 Wisconsin MoveOn members send 10,776 emails to Governor Walker and post every one on the walls of the state Capitol. This is to accompany the tens of thousands he has already received from irate Wisconsinites.
HUNDREDS OF PEOPLE PREPARE TO SPEND THE NIGHT EVEN IF IT MEANS ARREST
3:45 p.m - Mary Bottari reports that just a few minutes ago an announcement from the Capitol police came over the PA system that the building would be closing at 4:00 p.m. and people would be expected to leave at that time.
"If you are planning to stay please move to the first floor rotunda area and stay close the the railing to allow others to leave." This announcement was met immediately with cheers of "Hell no, we won't go!"
Mary Bottari reports this to the best of her ability over the noise of the crowds.
INTERVIEW WITH DANE COUNTY SHERIFF DAVE MAHONEY
3:42 p.m. - From Lynn Welch: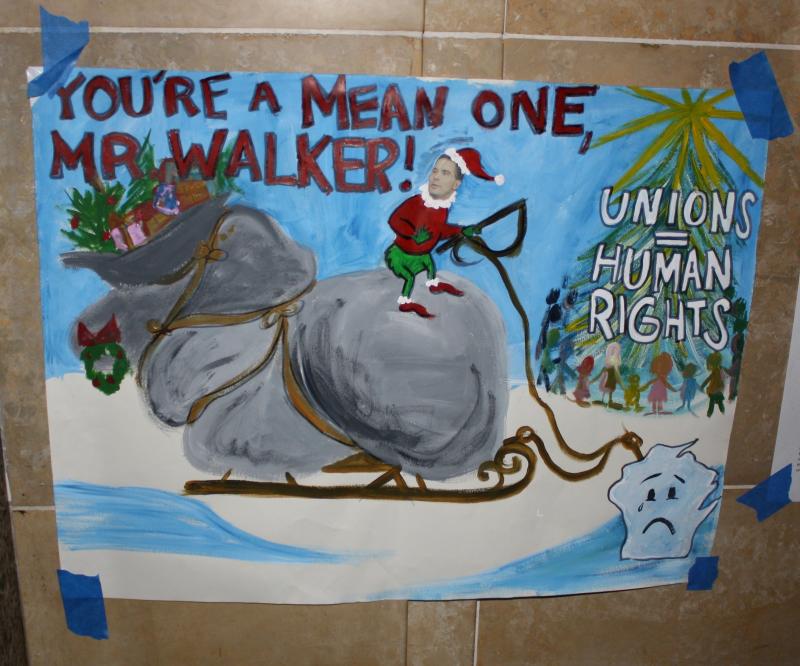 Mahoney entered the building at about 3:15 p.m. with bags under his eyes and a cup of coffee in his hand. He explained that police have been ordered the clear the building at 4:00 p.m. for cleaning. "The last two weeks have been outstanding. Capitol police have been working with labor leaders and citizen leaders and our understanding is that they will be cooperating to get the building clear so maintenance crews can clean."
"They have never allowed people to sleep over here, but this has been a unique situation. Law enforcement had exhibited extreme courtesy and democracy, taking into consideration what has happened here. We understand the impact this bill has on people. We understand they have to take extreme measures." He repeats "Law enforcement has shown an extreme measure of tolerance and understanding because we understand the impact and I'm proud to lead law enforcement today."
When asked if they would issue citations or what their plans were, Mahoney said citations would be issued "only if we have to in extreme measures. There is no grand plan. Certainly we hope that we will have volunteer compliance and people can understand."
As I left he shook my hand and he said "Thanks for being here. This is great time in our state."
3:34 p.m. - From Erica Pelzek: The first floor of the capitol has been designated for those willing to be arrested. Representative Husley is instructing people to follow him out the door at 4:00 p.m. "I know this is hard. I know you're angry. Now what we need to do is stop it. I am going to walk out that door at 4:00 p.m." Some members of the audience become angry and tensions are high.
3:25 p.m. - Erica Pelzek reports that Democrat Representatives Kelya Roys and Brett Husley are speaking: "I can tell you that we believe our fight is just beginning. We are with you, we will be with you and we will win!"
3:15 p.m. - From Erica Pelzek: An angry protester observes: "Now CNN is here. They just came to watch people get arrested. They didn't come to any of the rallies."
Mary Bottari reports that she spoke with Stuart Levitan, author of the book Madison: The Illustrated Sesquisentennial History in 2006. He is a Madison historian and radio host.
Bottari: "I asked Levitan about the crowd yesterday, which Madison observers put at well above 100,000 and CNN at 100,000 - 125,000. He said "I don't think there was a single rally in the '60s and '70s that attracted this type of crowd. And I don't know of a single mass arrest situation, which is what we might see tonight."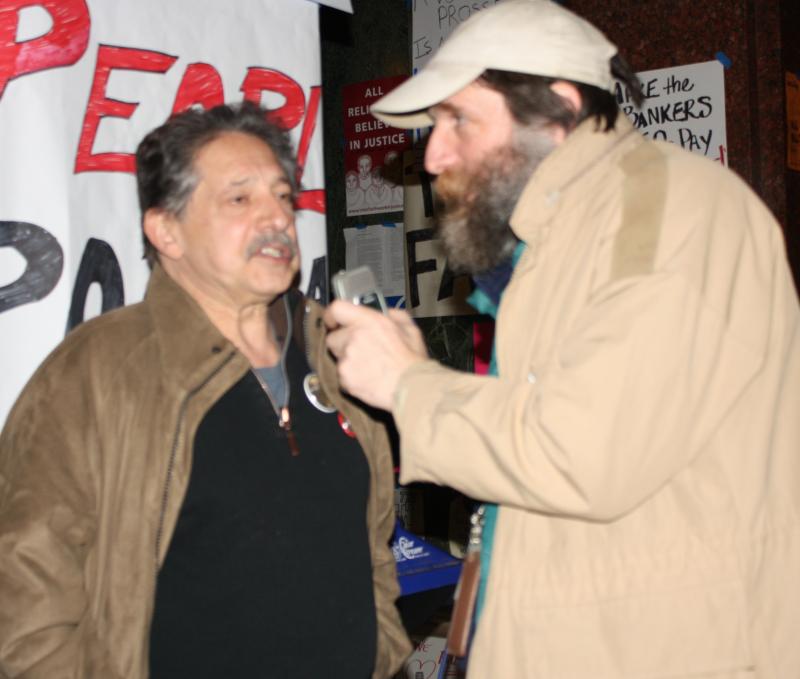 Former Madison mayor and current mayoral candidate Paul says the largest Madison crowd was for the Bruce Springsteen concert in support of John Kerry in 2004 and "that was a well-established 80,000. This was clearly much larger than that."
I asked Soglin if Madison had ever seen any mass arrests. He said "I was there for the Mifflin Street block party that went awry when dozens of people were arrested, but it was not political." Soglin has written on this topic on his blog, Waxing America.
3:14 p.m. - Erica Pelzek reports that nonviolent protest marshalls are instructing those willing to be arrested to make fists when handcuffed because it is more comfortable when wrists are slackened. She is also instructing people to take their contact lenses out in the unlikely event of teargassing.
3:00 p.m. - KNITTING FOR NEGOTIATION
Mary Bottari noticed a group of 22 women sitting in a circle in a quiet corner of the Capitol - knitting. She spoke to Andrea Noeske and asked her what she was kitting.
"I'm knitting a red neck warmer. If I get it done this week I will give it to one of the protesters who has been hanging out here this week," she said.
"The cool thing about knitting is that each loop is dependent on the other. The garment falls apart if you drop a stitch."
I asked her if she would be affected by Governor Walker's proposal in any way, and she said "I and my family are covered by BadgerCare, which will be cut under this proposal. I am in nursing school and will be affected by the UW Hospital being pulled in to this. I am a small business owner and I am affected when people lose their income for consumables. And I am a mom, and our teachers matter in this community."
I asked her how she heard about the knit-in, to which she replied "Facebook."
2:30 p.m. - Erica Pelzek reports that police authority are controlling crowd size within the Capitol by allowing one person entry per each person who exits.
UPWARDS OF 125,000 MARCH IN MADISON, AS ACTIVISTS RALLY NATIONWIDE TO BACK WISCONSIN WORKERS
John Nichols, reporting from The Nation:
It began outside the University of Wisconsin Memorial Union. A few dozen members of the Teaching Assistants Association, the oldest graduate employee union in the world, rallied to object to Wisconsin Governor Scott Walker's plan to strip public employee unions of collective bargaining rights. The message from the TAA was blunt: "All public sector workers are under attack. Faculty and staff are under attack. The UW as a whole is under attack. With these extreme acts, Scott Walker is seeking to undermine the labor peace of 50 years…. You need to get active now!

It worked.

Two weeks later, upwards of 125,000 Wisconsinites rallied at the state capitol in Madison, as tens of thousands more rallied in communities across the state that American Federation of State, County and Municipal Employees union President Gerald McEntee calls "ground-zero in the fight for labor rights. Police estimates from before the crowd hit its peak were in the range of 100,000, but busloads of union members and their allies continued to arrive through the afternoon. And while the crowds outside the capitol were massive, thousands more were inside the building. By nightfall, news outlets such as CNN were using the 125,000 figure, as the Wisconsin AFL-CIO cited estimates of 150,000.
50 PHOTOS FROM THE 50 STATE RALLIES TO SAVE THE AMERICAN DREAM
On Saturday, February 26th, Americans in all 50 states rallied to show solidarity with the people of Wisconsin, and to save the American Dream. It was a beautiful, powerful sight.
See a photo and video summary of this historic nation-wide event.
WASHINGTON STATE STANDS IN SOLIDARITY WITH WISCONSIN
10:00 a.m. - WISCONSIN STATE AFL-CIO: CONTINUING HIS POWER GRAB, WALKER TO EXPEL WISCONSINITES FROM STATE CAPITOL
From WisPolitics.com:
Continuing his unprecedented power grab Governor Walker ordered the State Capitol cleared on Sunday, closing the building to Wisconsinites protesting his plan to gut civil rights for tens of thousands of Wisconsin's citizens. Dozens of ministers, rabbis, and priests joined workers and students from across the state, risking arrest to protest the closing of the State Capitol to the public.

"First Governor Walker tried to take away workers' rights, now he is trying to take away our Constitutional right as Americans to peacefully assemble," said Steelworker Roy Vandenberg. "I have a message for Governor Walker, your plan to silence us won't work. We are not going away, and we will not be silenced."

"This is a critical moment for Wisconsin and for so many states," said Rev. Leah Lonsbury of Memorial United Church of Christ. "Clearly, this is about far more than a budget. It's a moral issue, and the rights at stake here are so basic to our common good and our common humanity, to the very idea of justice, that we are willing to risk arrest to protect them and have our voices be heard. Our faith calls us to stand with the vulnerable and speak truth to power. This is what we are called to do."

Wisconsinites from all walks of life—nurses, firefighters, snowplow drivers, police officers, students, teachers, and others—have been in the State Capitol building for 14 days. During that time, they set up an elaborate community called "Capitol City" to keep the capitol building clean, protesters safe and fed, and most importantly to keep up pressure on Governor Walker to come to the table and open up a dialogue to get Wisconsin moving forward again.

"Law enforcement working at the Capitol has been impressed with how peaceful and courteous everyone has been," said Wisconsin Professional Police Association Executive Director Jim Palmer. "As has been reported in the media, the protesters are cleaning up after themselves and have not caused any problems. The fact of that matter is that Wisconsin's law enforcement community opposes Governor Walker's effort to eliminate collective bargaining in this state, and we implore him to not do anything to increase the risk to officers or the public. Security cannot come at the cost of conflict."

"The police have been our allies throughout this struggle and we commend them for their professionalism and for joining us on the line during this crisis. Scott Walker hoped to drive a wedge between Wisconsin's workers and the police. He failed," said Peter Rickman, a student at University of Wisconsin, Madison.
BEST VIDEO OF THE SATURDAY RALLY FROM ONE WISCONSIN NOW
---
SUNDAY, FEBRUARY 27, 2011 SCHEDULE
8:00 a.m. - Capitol building to open.
10:00 a.m. - 4:00 p.m. - The People's Legislature will hold a forum at The Crowne Plaza Madison to discuss recent events and organize for future planning. The forum will encompass a wide variety of issues. All are welcome. Click here for more information. Speakers include: John Nichols, Ed Garvey, Mike McCabe and many more.
10:00 a.m. - GOVERNOR SCOTT WALKER ON NBC: Have a cup of coffee and watch NBC's "Meet the Press," as Wisconsin Gov. Scott Walker, a Republican who's skipping the conference and doing the show by satellite from the state capital where thousands of public employees and their supporters have been rallying for days against his plans to curtail collective bargaining. "Fox News Sunday" has Indiana Gov. Mitch Daniels and former Arkansas Gov. Mike Huckabee, who are both weighing bids for the GOP presidential nomination. Chris Christie, the outspoken Republican governor of New Jersey, stops by CBS's "Face the Nation" to discuss conservative solutions to states' fiscal woes.
4:00 p.m. - THE BEGINNING OF THE END OR THE END OF THE BEGINNING? Capitol building to close for cleaning. Unclear if the protestors will stay or go. Stay tuned.
---
Wisconsin Protests photo gallery