Whose Byline Is It Anyway?
One Station is Crystal Clear on a VNR's Source, the Other One Isn't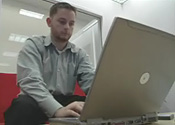 Clients: Computer Associates
Release Date: October 2006
Aired By: 2 stations
Disclosed By: 1 station
If you're a PC user with security concerns, Computer Associates (CA) would like you to know that they've got your back. On September 27, 2006, the software company announced that any U.S. customer who purchased and registered their 2007 Internet Security Suite would be eligible for up to $6,500 in virus and identity theft coverage. For the print media, CA issued a lengthy but straightforward press release that explained all the details of their special warranty. For the television crowd, they were a little more creative.
Through D S Simon Productions, CA launched a video news release (VNR) titled "A New Kind of Kidnapping." The two-minute segment, narrated by faux reporter Sonia Martin, begins on an ominous note: "Could you imagine being on your computer and getting a note...demanding money before you get your data back? It's the newly-dubbed 'ransomware,' and it's one of the latest ways crooks try to nab your money and possibly your identity."
The VNR features soundbites from Sam Curry, CA's Vice President of Security Management, who explains the threat of ransomware in greater detail; and Jay and Linda Foley, a husband-and-wife team who founded the Identity Theft Resource Center after Linda became a victim of online fraud. It's not until the final 30 seconds of the VNR that the focus shifts to CA's 2007 Internet Security Suite, specifically the warranty offer. "What we're offering is more than just software," says Curry. "We're offering peace of mind."
On October 5, the VNR was used by two different newscasts in two different cities, with two different results. WCPO-9 (Cincinnati, OH) ran a 31-second segment on ransomware [Quicktime - 2.9 MB] using soundless footage from the VNR. Instead of plugging CA's software, the station merely recommended that users "have the latest firewalls and anti-virus programs." However, WCPO-9 did mention CA in the one place where it counts. Ten seconds into the story, consumer reporter John Matarese reveals to viewers that the "video was provided to us by Computer Associates."
WCPO-9 had been cited twice in CMD's April 2006 "Fake TV News" report, for airing unlabeled VNR content from a pharmaceutical company and a floral trade group. The station has clearly improved their disclosure policy since then, and is to be commended for identifying the VNR's sponsor to viewers.
On the other side of the country, KOIN-6 (Portland, OR) aired a self-produced report on ransomware and ID theft that included nearly a minute of non-promotional content from the VNR. In a story created and reported by anchor Lynn Huston, KOIN-6 incorporated soundless footage from the VNR and used Linda Foley's soundbite in its entirety.
KOIN-6 failed to identify CA as the source of their video, but according to both Huston and KOIN-6 news director Jeff Alan, the station itself was unaware that the material originated from the company. Huston retrieved the footage from Pathfire DMG, a content distribution service that carries both VNRs and legitimate news feeds. In a phone conversation, Huston and Alan attested that the clip in question wasn't properly labeled by Pathfire.
In April 2004, Pathfire announced new VNR labeling features in the interest of "eliminating the confusion and risk that accompanies sourcing VNR material co-mingled or categorized with news service feeds." Pathfire is currently available to over 1,300 stations across the U.S. and Canada.
| | |
| --- | --- |
| Original Computer Associates VNR | KOIN-6 5AM newscast |
| Created by D S Simon Productions | October 5, 2006 |
| Voiced by publicist | Re-voiced by station anchor |
| | |