WJAR-10 Gives Viewers a Shot in the Dark
Station Uses Flu Vaccine VNR, Omits Disclosure and Risk Info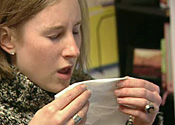 Clients: GlaxoSmithKline
Release Date: October 2006
Aired By: 1 station
Disclosed By: No stations
For nearly ten years, the pharmaceutical industry has enjoyed the right to market its products on television. But the U.S. Food and Drug Administration (FDA) requires all advertising materials to include "fair balance," important safety information about potential medical conflicts and side effects.
Although video news releases (VNRs) are subject to the FDA's fair balance requirements, television newscasts aren't. So one can only imagine the gratitude that drug companies have for stations like WJAR-10, that are all-too-happy to carry a sales message while leaving safety information behind.
On October 5, 2006, the NBC affiliate in Providence, Rhode Island, devoted its entire "Health Check" segment to FluLaval, a seasonal influenza vaccine that, mere hours earlier, was approved for use by the FDA.
"Every year, more than 200,000 folks in this country are hospitalized because of the flu," said WJAR-10 health reporter Barbara Morse Silva. "That's why once again the CDC [U.S. Centers for Disease Control] is recommending folks get a protective shot in the arm: a flu shot. And now there's a new option. A newly-approved vaccine called FluLaval."
The story included a soundbite from Dr. William Schaffner, a Vanderbilt University professor who attested that the approval of FluLaval will "add millions of doses to the U.S. vaccine supply and will add a choice for preventing influenza."
What WJAR-10 viewers had no way of knowing is that the entire story was built from a VNR created by the broadcast PR firm Medialink Worldwide on behalf of GlaxoSmithKline, the makers of FluLaval. WJAR-10 neglected to reveal the pharmaceutical giant as the funding source behind the segment, and failed to provide any of its own research or video to supplement the information provided with the VNR.
WJAR-10 wouldn't have had to dig very deep to find another side to the story. Affixed to the end of the VNR itself was over two minutes' worth of fair balance information, which revealed several notable points, including:
FluLaval should not be administered to anyone with known systemic hypersensitivity reactions to egg proteins (eggs or egg products), chicken proteins, or any component of FluLaval.
FluLaval should not be administered to anyone who has had a life-threatening reaction to previous administration of any influenza vaccine.
FluLaval should not be given to individuals with bleeding disorders such as hemophilia or thrombocytopenia[.]
And, most strikingly:
There have been no controlled trials demonstrating a decrease in influenza disease after vaccination with FluLaval.
An independent journalist might have found that last point especially worthy of mention, but apparently the WJAR-10 newsroom didn't. The only fair balance information that made it to the newscast was that FluLaval can't cause infections and is only approved for use in patients 18 or older.
At the end of her segment, Silva referred viewers to the station's website to find out more about the vaccine. Although the site contains a three-year archive of WJAR-10 health stories, the Center for Media and Democracy couldn't find any mention of FluLaval.
| | |
| --- | --- |
| Original GlaxoSmithKline VNR | WJAR-10 11PM newscast |
| Created by Medialink | October 5, 2006 |
| Voiced by publicist | Re-voiced by station health reporter |
| | |