E! Gets an "F" For Non-Disclosure
Entertainment Network Pushes "Very Sexy Makeup" for Victoria's Secret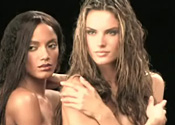 Clients: Victoria's Secret
Release Date: September 2006
Aired By: 1 station
Disclosed By: No stations
It may be hard to believe, but it's true: even cheesy entertainment news programs are subject to Federal Communications Commission regulations. And yet on September 22, 2006, the [tv:E!|E! Entertainment Network] broke the rules by blending a promotional video from Victoria's Secret into their evening newscast, without any attribution.
The original video news release (VNR) was created by D S Simon Productions to promote Victoria's Secret's new "Very Sexy Makeup" collection. The two-minute video featured promotional soundbites (and numerous eye-candy shots) of supermodels Gisele Bundchen, Heidi Klum, Karolina Kurkova, Alessandra Ambrosio, Izabel Goulart and Selita Ebanks.
In adapting the VNR for its nightly "E! News" program, the network ran a heavily-edited version, using soundbites from Klum and Bundchen from additional video accompanying the pre-packaged segment. Additionally, "E! News" staff replaced the narrative of the D S Simon publicist with the voice of one of their own reporters. At no point did the network disclose to viewers the true funding source of the story.
The E! Entertainment Network is jointly-owned by Comcast and Disney.
In February 2006, the Center for Media and Democracy observed a previous Victoria's Secret VNR (also from D S Simon) being used without attribution on "The Daily Buzz," a nationally-syndicated morning news program.
| | |
| --- | --- |
| Original Victoria's Secret VNR | E! News 7PM broadcast |
| Created by D S Simon Productions | September 22, 2006 |
| Voiced by publicist | Re-voiced by station reporter |
| | |