The Buzz Gets a Rush from Victoria's Secret
Morning show that delivers "news with personality" also delivers VNRs with T&A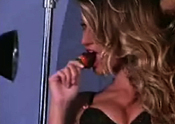 Clients: Victoria's Secret
Release Date: February 2006
Aired By: 1 station
Disclosed By: No stations
Nobody expects The Daily Buzz to be a paragon of good TV journalism. Since its September 2002 debut, the high-energy, three-hour syndicated morning news program has been committee-tailored to appeal to the younger demographics that advertisers crave. In addition to flashy, fast-paced segments from contributors such as the Diet Diva, the Fashion Guy, the Lit Chick and Dr. Jimmy, the show culls most of its soft news content from wire services and network feeds.
But on February 22, the Daily Buzz took its lead from another source: Victoria's Secret. Anchor Kia Malone introduced and narrated a 90-second segment on the company's new Beauty Rush line of candy-flavored lip glosses. The story featured numerous glamour shots and soundbites of scantily-clad Brazilian supermodel Gisele Bundchen, who testified that if you use these products, "I think you're cool."
In reality, the story was taken from a video news release (VNR) created by D S Simon Productions and funded by Victoria's Secret. In adapting the news release, producers re-edited the video to look like a self-produced report, adding new background music, inserting custom-branded text overlays, and replacing the original narration provided by D S Simon with the voice of Kia Malone. At no point did anyone on the show disclose to viewers that the entire feature was paid for and provided by Victoria's Secret, a violation of the Radio-Television News Directors Association's ethical guidelines.
The Daily Buzz is co-owned by ACME Communications and Emmis Communications, and is available weekday mornings on 139 stations nationwide.
View the original VNR, as well as the Daily Buzz news feature, below.
| | |
| --- | --- |
| Original Victoria's Secret VNR | Daily Buzz 7AM news feature |
| Created by D S Simon Productions | February 22, 2006 |
| Voiced by publicist | Re-voiced by reporter |
| | |