Pay No Attention to the Man Behind the SmartScreen™
CBS station runs fake report on high-tech mall displays, no questions asked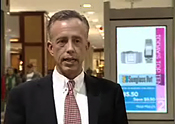 Clients: AdSpace Networks
Release Date: February 2005
Aired By: 1 station
Disclosed By: No stations
"Browsing for the best deals is a lot easier now, thanks to the latest in smart shopping technology."
So said WRDW-12 reporter Meredith Taylor, during the station's February 10 broadcast. In the 10:00 PM newshour, the CBS affiliate in Augusta, GA, ran a nearly two-minute feature on the SmartScreen, a 60-inch networked plasma video display that gives mall shoppers information about the latest sales and bargains. Taylor's feature included positive soundbites from two consumers, two mall retailers, and the president of AdSpace Networks, the company behind the SmartScreen.
What viewers couldn't possibly know is that Taylor never came within 100 miles of anyone featured in the story. The entire report was covertly lifted from a video news release (VNR) created by D S Simon Productions and funded by AdSpace Networks.
In adapting the story, WRDW-12 made only minimal cuts to the original VNR. To help disguise the news release as their own journalistic product, the station inserted custom-branded text overlays and enlisted Taylor to replace the voiceover provided by D S Simon's Sonia Martin. Despite the re-voicing effort, Taylor's narrative matched the original VNR script nearly word-for-word.
It's not known whether the statistical figures cited in the VNR were independently verified before being used in the newscast. At no point did Taylor or WRDW-12 anchor Tom Campbell disclose to viewers that the story was commissioned and funded by AdSpace Networks.
View the original VNR, as well as the WRDW-12 feature, below.
| | |
| --- | --- |
| Original AdSpace VNR | WRDW-12 10PM newscast |
| Created by D S Simon Productions | February 10, 2006 |
| Voiced by publicist | Re-voiced by station reporter |
| | |