Nice Shirt, But Where's the Label?
WTIC-61 Tries Corporate VNR on for Size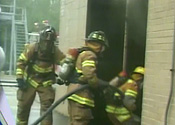 Clients: Vivometrics
Release Date: July 2006
Aired By: 1 station
Disclosed By: No stations
On July 31, 2006, WTIC-61's "News at Ten" aired a 50-second story on the LifeShirt, a "super undershirt, of sorts" designed to monitor the vital signs of firefighters in action and capture physiological data such as heart rate, blood oxygen, respiration and temperature. The information collected can be used to establish safer rescue and training guidelines for first responders, and thus potentially save lives. The segment included positive testimony from Lt. Jim Eastwood of the Fairfield, CT Fire Department, plus several shots of the LifeShirt itself.
But what's good news for firefighters is bad journalism from WTIC-61. The FOX affiliate in Hartford, Connecticut built its entire story from a video news release (VNR) created by the broadcast PR firm Medialink Worldwide. The segment was funded by VivoMetrics Government Services, the privately-owned company that manufactures and distributes the LifeShirt worldwide. While the product had previously been limited to the pharmaceutical industry and academic researchers, VivoMetrics has expanded the use of their product to include firefighters, hazmat workers and military personnel.
In adapting the VNR, WTIC-61 edited the original video for length and replaced the narrative audio of the Medialink publicist with the voice of their own anchor. The station failed to cite VivoMetrics as the funding source of the story.
Responding to the Center for Media and Democracy's inquiries, WTIC-61 news director Bob Rockstroh said that the station generally avoided VNRs unless they contained crucial footage that editors couldn't get anywhere else. Even then, WTIC-61 policy dictates that all VNR materials are properly labeled with full sponsor identification. "In this case," said Rockstroh, "we screwed up."
| | |
| --- | --- |
| Original Vivometrics VNR | WTIC-61 10PM newscast |
| Created by Medialink | July 31, 2006 |
| Voiced by publicist | Re-voiced by station anchor |
| | |