Nashville Station Cheats on Tax Report
Local ABC news story is secretly filed by a national tax preparation franchise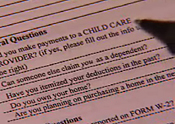 Clients: Jackson Hewitt
Release Date: March 2006
Aired By: 1 station
Disclosed By: No stations
On March 1, 2006, WKRN-2 in Nashville, Tennessee ran a short news feature on the best ways to deduct charitable donations on your income tax report. The segment, which was introduced and read by afternoon anchors Bob Mueller and Anne Holt, featured numerous tax deduction tips and a lengthy soundbite from an accountant.
What viewers didn't know is that the entire story was built from a video news release (VNR) from Jackson Hewitt, the second-largest tax preparation franchise in the United States. The imitation news story was created by Medialink Worldwide and reported in voiceover by publicist Kate Brookes. As a subtle promotion, the VNR featured over 30 seconds of soundbites from Jackson Hewitt CEO Mike Lister, and ended with a call for viewers to seek out a "qualified tax preparer."
Unfortunately for Jackson Hewitt, WKRN-2 trimmed over a minute of content from the original VNR, replacing Brookes' narrative audio with the voice of Anne Holt and removing every mention of Jackson Hewitt. In addition to the loss of promotion, there was a full demotion for Mike Lister. Instead of being identified as the president of his own company, WKRN-2 merely billed him as an "accountant."
Soundbite speaker Mike Lister, as he appears in the original VNR (left) and the WKRN-2 news feature (right).
While it's nice to see that WKRN-2 stripped the ulterior sales angle out of the corporate news release, they still failed to inform viewers that every piece of their brief report came from Medialink and Jackson Hewitt.
View the original VNR, as well as the WKRN-2 news story, below.
| | |
| --- | --- |
| Original Jackson Hewitt VNR | WKRN-2 4:30PM newscast |
| Created by Medialink | March 1, 2006 |
| Voiced by publicist | Re-voiced by station anchor |
| | |