"Is Your Child Constantly Sick?"
Los Angeles station drops a two-minute medical commercial into their newscast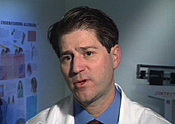 Clients: Quest Diagnostics
Release Date: September 2005
Aired By: 1 station
Disclosed By: No stations
On September 27, 2005, KABC-7 in Los Angeles aired a two-minute news segment on a blood test that can help diagnose allergies in children. What the station didn't tell its viewers was that the entire story was built from a video news release (VNR) funded by Quest Diagnostics. While Quest does not make the allergy test (Pharmacia Diagnostics does), Quest runs thousands of lab centers across the United States where people go to have such tests done.
The VNR, entitled "Is Your Child Constantly Sick?" was created by MultiVu and distributed to TV newsrooms on September 21.
In adapting the story, producers at KABC-7 edited the VNR slightly for length and rearranged the order of clips and soundbites. To help disguise the VNR as a product of their station, KABC-7 swapped the narrative audio of the MutliVu publicist with the voice of an unidentified station reporter, and replaced all text and graphic displays with network-branded substitutes:
Graphic display, as it appears on the original Quest Diagnostics VNR (left), and on the KABC-7 newscast (right).
Beyond failing to disclose the corporate source behind their "report," KABC-7 neglected to balance the VNR with any of their own journalism. Every single piece of information contained in the feature came straight from the VNR itself. The station merely took a two-minute commercial for a medical test, dressed it up, and passed it off on their unsuspecting viewers as news.
View the entire KABC-7 news segment, as well as the original VNR, below.
| | |
| --- | --- |
| Original Quest Diagnostics VNR | KABC-7 5PM newscast |
| Produced by MultiVu, Inc. | September 27, 2005 |
| Voiced by publicist | Edited VNR re-voiced by station reporter |
| | |