A Ruse By Any Other Name...
NBC station tries to turn a brand-name VNR into a generic news report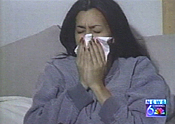 Clients: Matrixx Initiatives
Release Date: January 2006
Aired By: 1 station
Disclosed By: No stations
On January 30, 2006, WVVA-6, the NBC affiliate in Bluefield, West Virginia, blended a two-minute Zicam video news release (VNR) into their 5:00 PM newscast, but removed nearly every reference to Zicam itself. The result is a straightforward health segment about flu-related dehydration that, despite all the station's editing, is still fake news.
On behalf of Matrixx Initiatives, makers of the Zicam cold/flu remedies, D S Simon Productions created a two-minute VNR about the average American's failure to prepare for flu season, leading to increased chances for sickness and dehydration. The imitation news report featured several figures from a self-sponsored flu survey, as well as numerous bits of heath advice from a telegenic family doctor. It's only in the last thirty seconds that the VNR shows its true advertising roots and becomes an ode to Zicam's merits.
Since broadcast PR firms offer "full and unrestricted use" of their VNRs, TV stations are free to use the material however they see fit. In adopting this VNR, WVVA-6 health reporter Eva Pilgrim and her cohorts chose to lop off the promotional tail end of the video package, as well as most product shots of Zicam cold remedies. Pilgrim modified the script and re-voiced the narrative provided by D S Simon publicist Sonia Martin, closing the piece with a few independently-gathered facts from the U.S. Centers for Disease Control and Prevention.
While Pilgrim and her colleagues tried hard not to do the work of Matrixx Initiatives that night, they didn't do their own work either. The entire health story was still built from a corporate-funded news package that revolved around a questionable medical survey and still contained a few references to Zicam. And WVVA-6 viewers believed they were watching genuine journalism.
View the original VNR, as well as the WVVA-6 news story, below.
| | |
| --- | --- |
| Original Matrixx VNR | WVVA-6 5PM newscast |
| Created by D S Simon Productions | January 30, 2006 |
| Voiced by publicist | Re-voiced by station health reporter |
| | |