Journalism-on-Loan from Sallie Mae
The nation's "#1 paying-for-college" company also pays for favorable news coverage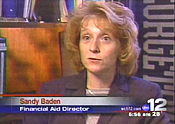 Clients: Sallie Mae
Release Date: December 2005
Aired By: 1 station
Disclosed By: No stations
"Paying for your child's dream college is much easier than people think," says Tom Joyce, the Vice President of Sallie Mae, Incorporated. The truth of Joyce's statement went unchallenged in a segment that aired on WCTI-12. But it might have proved a slightly different statement true: paying to get your company in a TV newscast is much easier than people think.
In preparation for the student loan application season, which begins each January, Sallie Mae hired MultiVu to create a polished two-minute news feature that subtly highlights their company. While the video news release (VNR) is essentially a "helpful tips" piece about the Free Application for Federal Student Aid (FAFSA), the story features multiple soundbites from Sallie Mae's Tom Joyce, and refers viewers to CollegeAnswer.com, a Sallie Mae website.
In distributing the VNR to newsrooms, MultiVu found a willing recepient in WCTI-12, the ABC affiliate in New Bern, North Carolina which serves over 230,000 households and whose motto is, ironically, "Coverage You Can Count On."
Rather than admit to viewers that they were running an externally-produced imitation news story funded by Sallie Mae, the station took steps to adopt the VNR as their own journalistic product. In preparing the feature, WCTI-12 editors swapped the narrative audio track of the MultiVu publicist, Danielle Addair, with that of their own reporter, Cle Pickett, and inserted station-branded text overlays over the MultiVu video.
So on December 21, WCTI-12 morning news anchor Colleen Maloney introduced the segment as an "Investigation Education" story, and left the rest to Pickett. Tens of thousands of viewers were deceived into thinking they were watching a legitimate news investigation, when all they got was borrowed spin from a private lender.
In addition to the Sallie Mae VNR, WCTI-12 has also been observed airing complete and uncut VNRs from DaimlerChrysler and Panasonic, Namco and Techno Source.
View the original MultiVu VNR and the WCTI-12 news segment, below.
| | |
| --- | --- |
| Original Sallie Mae VNR | WCTI-12 5:30AM newscast |
| Created by MultiVu | December 21, 2005 |
| Voiced by publicist | Re-voiced by station reporter |
| | |