The effort to recall Wisconsin Governor Scott Walker begins today, and organizers and volunteers are readying their clipboards to begin collecting more than half a million signatures throughout the holiday season. But as volunteers celebrated the launch at midnight "recall-themed" pajama parties, the many challenges ahead were underscored by a deliberate, grinch-like cyber-attack on a key recall website.
Recall On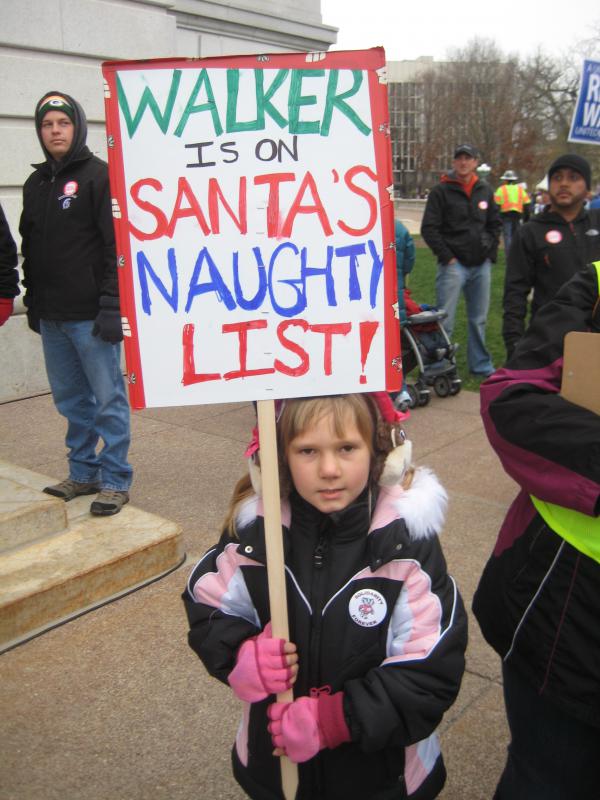 The recall officially began at 12:01 a.m. today, November 14. As children were nestled snugly in their beds, anti-Walker activists donned their kerchiefs, caps, and pajamas to kick off the recall at midnight parties across the state. But volunteers will not be settling in for a long winter's nap. The first step of the process will require recall supporters to collect 540,208 signatures -- one quarter of the number of votes cast in Walker's election -- inside a 60 day window, November 15, 2011 through January 17, 2011. It's up to the Government Accountability Board (GAB), Wisconsin's election referee and the arbitrator of the recall process, to make sure the signatures are valid. Organizers say they are aiming for at least 650,000 signatures because of the likelihood some will be disqualified. The GAB's recall guidelines are available here.
Petition circulators will need to collect about 77,000 signatures a week or nearly 11,000 a day. To meet this goal, a variety of pro-recall groups will be allowed to coordinate their efforts during the 60 day signature drive. Organizations like United Wisconsin (which formed in the past year in response to the governor's policies), We are Wisconsin (which is affiliated with labor unions), and the state Democratic Party will work together as the Committee to Recall Scott Walker. The coalition has opened thirty offices around the state and has reportedly trained 20,000 volunteer signature gatherers.
Organizers expect a huge influx of signatures immediately from eager opponents of the Governor, with large rallies planned for the weekend of the 19th in Madison and Milwaukee, and hundreds of circulators expected to be in attendance. After the initial burst of support, volunteers will fan out across the state to collect signatures door-to-door and at community events.
Proponents are also seeking to recall Lieutenant Governor Rebecca Kleefisch, which will require an equal number of signatures on a separate petition. Volunteers will have a third petition to circulate if they live in the districts of Senators Van Waangard (R-Racine), Terry Moulton (R-Chippewa Falls) or Pam Galloway (R-Wausau), all of whom are also up for recall. Petition gatherers will have to juggle as many as three separate clipboards and do it in the midst of dropping temperatures and the holiday rush.
The Grinch Who Stole the Recall
But the mischief in Wisconsin goes well beyond Jack Frost nipping noses, ears, and toes. Some individuals have made or threatened very serious, criminal acts to protect Governor Walker from recall.
Unidentified groups have tried to thwart the recall before it even began by hacking a key website for distributing information about the effort and coordinating volunteers. Last night, the United Wisconsin site was subjected to "a coordinated and deliberate" distributed-denial-of-service cyber- attack, according to a press release from the organization. The attack has been reported to the state Department of Justice and the FBI, and United Wisconsin expects to have the site repaired by today.
Now that the recall is underway, there are concerns that Walker supporters will follow through on plans to sabotage the recall effort by destroying petitions and misleading residents. The blog Politiscoop first reported that a group of self-identified conservatives have been posting to Facebook their plans to pose as recall supporters and gather signatures, then burn or shred the petitions they collect. The story has been featured in local newscasts statewide.
"I am canvassing an area that is very liberal," said one poster, commenting under the name Will R. Jenkins. "I will be taking all those petitions and shredding them once I am done… the best part is that I am entrusted with the petitions of several other people. When the time comes to turn them in, I'm sure it will be obvious that I don't have them. From my estimation, I'll be able to destroy 15-20k signatures."
Matt Wynn replies "Not bad, William! I won't be able to destroy nearly that many! I only have a few people gathering them in a mixed area." Another poster in the same thread, Charles Brey, displayed pictures with Republican legislators and Lt. Governor Kleefisch.
Individuals who destroy, deface or falsify an original petition would be committing election fraud. And the penalty is much worse than coal in their stockings -- election fraud is a Class I Felony.
Another concern is that grinches will mislead recall supporters by telling them can only sign the petition of one official, or that if they sign more than once, they'll be penalized. Wisconsin law permits voters to support the recall of more than one elected official. United Wisconsin assures the public that all their signature gatherers will be wearing official lanyards around their necks.
Update November 16: a rock with an anti-recall message was thrown through the window of a cafe displaying "Recall Walker" signs, as patrons were inside sipping coffee.
Unlimited Fundraising and Big Spending
Even without the presence of infiltrators, recall organizers are settling in for a difficult winter. Wisconsin statutes allow recalled candidates to accept unlimited donations while recall petitions are being circulated against them.
That fundraising period was triggered on November 3rd when a Walker supporter filed a phony recall petition just in time for the Governor's already-scheduled nationwide fundraising trip.
State law caps individual donations to gubernatorial candidates at $10,000 per person, but that limit is lifted from the start of the recall petition drive until the state elections board authorizes an election.
But the state does not schedule the election after all signatures are gathered -- the signatures must be counted and verified, and all legal challenges exhausted, before the election date is set. During that entire period Governor Walker will be able to collect unlimited donations.
The funds Walker raises cannot be used in the four-week election campaign that would follow a successful signature collection effort. However, as petitions are being circulated, the governor can spend the donations on TV ads and mailers touting his record and urging people not to sign the petition (update: Walker ran such an ad during Monday's Packer game). Once petitions are turned in, the funds can be used to pay lawyers to challenge signatures or technicalities. Additionally, if Walker has any outstanding debts from the period before an election is called, he can continue to raise unlimited funds to pay it. The recall election is expected to set a new spending record.
The governor will be required to disclose all donations. However, outside "independent expenditure" groups are also expected to flood the state with ads, robocalls and direct mail. They can keep their donors secret, preventing voters from knowing which out-of-state interests are trying to influence their vote. Third party groups spent four times as much as candidates in the summer 2011 recalls, and will likely spend much more than Walker for this campaign. Ads in support of Walker from the Tea Party Express, the Koch brothers' Americans for Prosperity, and the MacIver Institute have already been running in the state for weeks. Additionally, some argue Walker has already begun campaigning using taxpayer dollars, creating a new website that looks a lot like a campaign site.
National labor unions are also expected to spend big in the state, running an on-the-ground and on-the-air operation tested in last summer's senate recalls. We are Wisconsin, a union-funded group, is expected to spend far more than they did in their earlier effort.
Making a List, Checking it Twice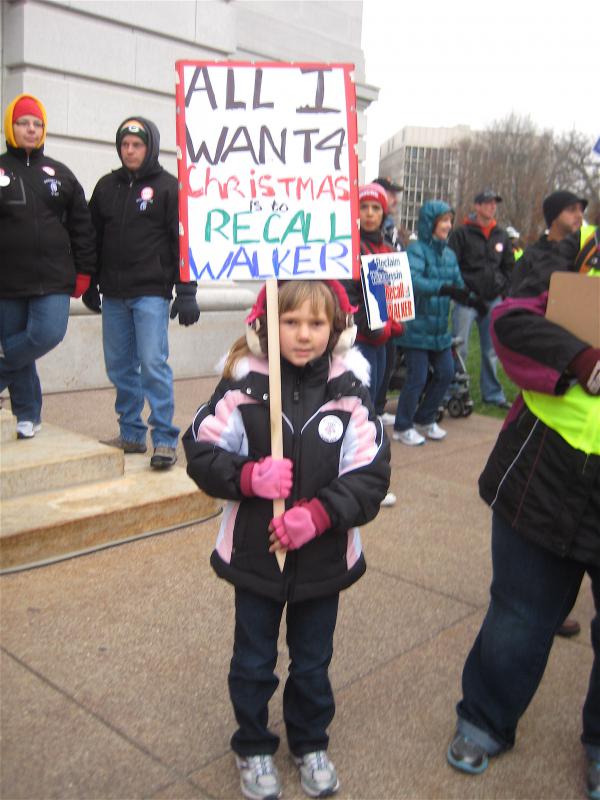 After the signatures are gathered, the Government Accountability Board (GAB) has 31 days to certify that enough signatures were collected and call an election, but GAB Board Spokesman Reid Magney says the verification process will likely take far longer. State law allows the GAB to seek an extension, and depending on how many elected officials are recalled, the process could take months.
"We don't know for certain if we'll be dealing with one set of petitions for the Governor, or two for the Governor and his Lieutenant Governor, plus any number of State Senators," said Magney. "We'll be dealing with far larger numbers here than any recall in state history."
The GAB took nearly 60 days to certify signatures during Senate recalls this summer. For the Governor's recall petitions, the elections board will have to count more than twice the number of signatures than they did last summer, in addition to verifying the petitions to recall Lt. Gov. Kleefisch and Senators Van Waangard, Moulton, and Galloway.
Recall proponents are hopeful that the board can verify recall signatures as quickly as Ohio counted referendum petitions. Magney says the GAB plans to hire temporary staff to make sure the process stays on a reasonable timeline.
Legal challenges to the signatures, petitions, and procedures will likely follow. Some of the grounds for challenges are outlined in the Wisconsin statutes, but Walker's legal team is expected to explore every possible avenue, especially because the governor can continue fundraising while legal challenges are ongoing.
Gonna Find Out Who's Naughty, Who's Nice
The state will schedule a recall election for the Tuesday six weeks after all petitions are certified.
Once that date is set, those seeking to run against Walker will have two weeks to file their candidacy. If more than one candidate enters the race, a primary will be held on the date originally set for the recall election, with the general election scheduled for a Tuesday four weeks later.
Democrats reportedly are hoping to enter a single candidate and avoid extending the race with a primary. High-profile Democrats rumored or confirmed to be considering a run include 2010 Gubernatorial candidate and Milwaukee mayor Tom Barrett, former Dane County Executive Kathleen Falk, retired Congressman David Obey, State Senator Jon Erpenbach, Assembly Minority Leader Peter Barca and state firefighter's union president Mahlon Mitchell.
However, with a requirement of only 2,000 signatures, it is possible there could be a Democratic primary, an independent bid, or even a spoiler candidate designed to draw out the campaign for an extra 4 weeks. The latter tactic was used by GOP senate candidates in recall elections last summer.
If organizers succeed in collecting enough signatures, it is still too early to predict a date for the recall election, but most expect it sometime in late spring. In any case, warmly dressed petition circulators will likely become a fixture at most major public holiday events and celebrations, and it will be a long, cold winter.
(The Center for Media and Democracy does not endorse or oppose any candidate for office. Since 1993, CMD has been reporting on corporate spin and government propaganda, exposing public relations tactics, and debunking PR campaigns.)
See CMD's coverage of the November 19 "Recall Walker" rally here and here.