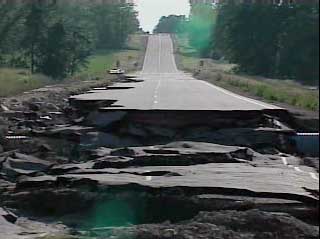 Next week, I will moderate a panel titled "Beyond the Phony 'Debate': Government Science and the Climate Crisis" in Washington, DC. In case I needed any proof that the climate is important, last month's flooding in the Midwest gave me a personal look at what the Intergovernmental Panel on Climate Change was talking about last year when it warned of "an increased chance of intense precipitation and flooding due to the greater water-holding capacity of a warmer atmosphere."
The photograph at right shows a road not far from my home in Portage, Wisconsin that was damaged during the floods. In Sauk County, just a few miles from where I live, officials estimated that 95 percent of the roads were damaged. The seven states where the flooding occurred are still trying to assess the cost of the disaster, but it is already clear that the damages will run into billions of dollars.
In Lake Delton, about 20 miles from Portage, the water broke through a dam, causing the entire lake (600 million gallons of water) to drain into the Wisconsin River, washing away several homes in its path. The Wisconsin River passes through Portage. Like other local residents, I spent some time at the levee, gawking at the rising waters and watching for bits of other people's homes as they floated downstream.