--by Nick Surgey of Common Cause; originally posted on CommonBlog.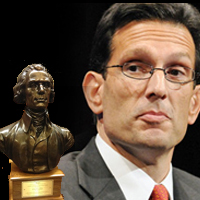 In February, Common Cause wrote to House Majority Leader Eric Cantor, asking for an explanation about an apparently unreported $1,350 gift from the American Legislative Exchange Council (ALEC) in 2009. Cantor's office immediately responded, claiming our inquiry was without foundation, but last week his office quietly amended his financial disclosures to include the gift from ALEC.
At that time, I wrote about Cantor's failure to disclose:
ALEC, the so-called "free market, small government" lobby group underwritten by some of the nation's largest corporations, reported in its tax filings for 2008 and 2009, making "cash grants" to the recipients of several annual awards. Common Cause has identified 22 legislators who received ALEC awards in those two years, including Rep. Cantor, who ALEC records indicate received $1,350 in 2009 as part of their Thomas Jefferson Freedom Award.