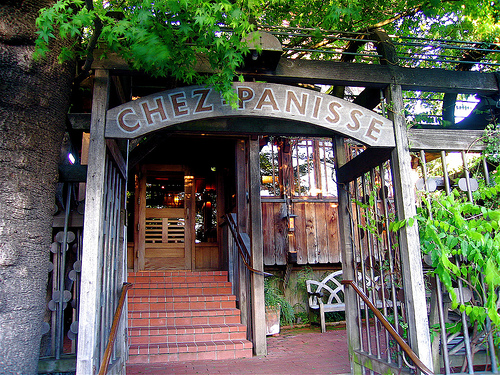 It is happening on April Fool's Day, but it is no joke. The Organic Consumers Association, upon whose Advisory Board I serve, is picketing chef Alice Waters' world famous Chez Panisse Restaurant, Cafe and Foundation offices in Berkeley, California, over the noon hour on April 1, 2010. The protest is a direct result of the growing controversy in the Bay Area where the City of San Francisco, through its Public Utilities Commission, has been giving away and selling thousands of tons a year of toxic sewage sludge to be put on farms and gardens. The nasty entropic stuff, filled with a potential stew of thousands of chemicals and microbes, has even been bagged by the PUC as "organic compost" and used by unsuspecting victims who would never have intentionally put sewage sludge on their home or school gardens.
What has this got to do with Alice Waters and Chez Panisse? Francesca Vietor, the Executive Director of the Chez Panisse Foundation, whose mission is to promote Edible Schoolyard organic gardens, is also the Vice President of the Public Utilities Commission.
The PUC is refusing to permanently end their sludge give-away, nor agreeing to clean up the gardens already contaminated with the sewage sludge, as the Organic Consumers Association and the Center for Food Safety have asked.
Waters Ducks the Sludge
Ronnie Cummins, the director of the OCA, sent Alice Waters a letter on March 23 asking her to speak out strongly against growing food in sewage sludge. On March 30 Alice refused. Cummins' letter to Waters reads in part:
Considering that the sludge was given to several local schools for use on their educational gardens, your work with the Edible Schoolyard should especially elicit your concern. This is certainly in direct opposition to the standards that Chez Panisse Foundation and the Edible Schoolyard encourage and uphold. It seems to us a clear conflict of interest that Francesca Vietor should serve as both the Executive Director of the Chez Panisse Foundation and the Vice President of the PUC. In light of your dedication to non-GMO foods, would you have the Vice President of Monsanto as your Executive Director? The two do not seem much dissimilar as both work for organizations that compromise the integrity of the movement for which you are both a pioneer and a leading voice.
Alice Waters responded:
I have been involved with the organic garden movement for 40 years. I believe in the transparency of public institutions and count on the government to offer the highest standards outlined by the Organic Consumers Association and other reliable advocates. I look forward to reviewing the science and working with the SFPUC to ensure the safety of composting methods. I support Francesca Vietor, Executive Director of the Chez Panisse Foundation and a PUC commissioner, whose environmental work I have admired for many years and whose integrity has been questioned.
In the news release announcing the picket at Chez Panisse, Cummins responds:
Growing food on sewage sludge violates USDA Organic Standards and threatens public safety. We are shocked and disappointed that Alice Waters has now become a poster child for food grown on toxic sewage sludge. Is food served at Chez Panisse grown on toxic sewage sludge? Is toxic sewage sludge used to grow food in Alice Waters' Edible Schoolyard program? We hope Alice's many admirers and customers will ask her to oppose growing food on toxic sewage sludge.
The Sludge Scam Continues
I, too, am stunned that Alice Waters has gone to bat for growing any food in sludge. Obviously, she is extremely close to Francesca Vietor, and indeed Vietor has been handling this issue for Waters since early February when the OCA invited Chez Panisse Foundation to join its call to the Mayor and the PUC to stop its sludge give-away. But politics make for strange bedfellows, and deep personal friendships can often blind people to what from the outside appear to be rather obvious conflicts of interest. Is Alice Waters' Chez Panisse Foundation committed to promoting organic soils, pure foods and healthy diets, and is there really a place in that for growing food in toxic sewage sludge?
I am strongly on the side of not growing any food in toxic sludge. My 1995 book Toxic Sludge Is Good for You blew the cover off this outrageous "biosolids" scam. Unfortunately, 15 years later, the scam continues. Now sludge is deceptively promoted as "organic compost" and still fooling people, even natural food icons.
======
John Stauber in an independent writer and activist whose opinions are his own.