Sometimes even the slickest public relations effort doesn't improve a person's or an institution's image. Think of the U.S. State Department's $15 million "Shared Values" ad campaign, which tried to assuage anti-American sentiment in Muslim countries.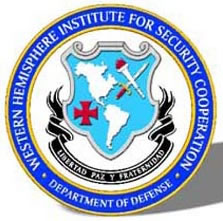 More commonly, PR campaigns enjoy partial successes. That appears to be the case with the Western Hemisphere Institute for Security Cooperation (WHINSEC, formerly called the School of the Americas or SOA), a Defense Department facility at Fort Benning, near Columbus, Georgia. While media coverage and Congressional attitudes haven't improved appreciably since WHINSEC launched a major PR effort three years ago, the Institute has achieved a partial détente with some academic figures and human rights organizations.
According to its mission, WHINSEC provides "professional education and training to military, law enforcement, and civilians to support the democratic principles of the Western Hemisphere." Unlike the dozens of other U.S.-based military training facilities, though, the Institute receives a significant amount of public scrutiny. This mostly negative attention is due in large part to protests, outreach and lobbying activities organized by the School of the Americas Watch (SOA Watch).
Since 1990, SOA Watch has worked "to close the SOA/WHINSEC and to change oppressive U.S. foreign policy that the SOA represents." The organization points to hundreds of cases where WHINSEC graduates have been found guilty of or implicated in human rights abuses, including the November 1989 killing of six Jesuit priests and two associates in El Salvador and the February 2005 murder of eight members of the San Jose de Apartado Peace Community in Colombia.
WHINSEC public affairs officer Lee Rials rejected any culpability in these cases, telling PR Watch, "No one's been able to show even one person that took a course here and committed a crime that was related to the course." Yet there are ongoing contacts with trainees, according to WHINSEC's website: "When students return to their own countries, the U.S. military groups there maintain ties with them as part of the U.S. military-to-military engagement plan."
Eventually, the fallout from alumni crimes -- along with revelations that the Institute had used training manuals describing "'coercive techniques' such as those used to mistreat the detainees at the Abu Ghraib prison in Iraq," as described by the National Security Archive, which made the manuals public last year -- became too much to ignore. In 2000, the then-School of the Americas became WHINSEC, ostensibly because the SOA "had fulfilled its Cold War era mission." Critics dismissed the change as a PR ploy.
In mid-2002, "to counter negative political rhetoric that detracts from the mission of both WHINSEC and the Army," the Defense Department approved a $246,000 "consistent, programmed, proactive public affairs effort in direct support of the Institute." Dubbed WHINSEC's "Strategic Communications Campaign Plan," it was also ridiculed as "putting a new label on a bottle of poison" by SOA Watch communications coordinator Christy Pardew.
(SOA Watch obtained a copy of the PR plan from California-based journalist and activist Aaron Shuman, who was given it by WHINSEC's Rials. SOA Watch shared the plan with PR Watch; it can be downloaded from our SourceWatch article on the Institute.)
Three years later, have its PR efforts improved WHINSEC's public image? Based on media coverage and Congressional attitudes, the answer is no.
One major goal of the WHINSEC plan is that "media coverage of the WHINSEC is characterized as neutral to positive." An annex to the plan provides a baseline measurement, by evaluating opinion/editorial pieces on WHINSEC published from April 1999 to April 2000. Of these, 77 percent were judged "negative," 9 percent "balanced" and 14 percent "positive." A similar analysis by PR Watch of pieces published from January to mid-July 2005 that mention WHINSEC found a similar trend; 68 percent were negative, 23 percent neutral and 9 percent positive.
Another PR goal -- listed as the first of four "desired 'end states' of WHINSEC communications" -- is that the "Congressional audience will not support legislation to close the WHINSEC." However, a bill in the House of Representatives that would do just that, HR 1217, had 115 cosponsors by the 2005 summer recess. Although the PR plan calls Congress "a crucial audience," Rials downplayed the importance of HR 1217, saying that WHINSEC was established by Congress through the National Defense Authorization Act for Fiscal Year 2001.
However, WHINSEC has been successful in obtaining "third-party (non-Army) public support" -- though the Institute may wish it were more public. Its PR plan includes outreach to academic, religious and political leaders and non-governmental organizations (NGOs) as "key influencers" and targeting human rights NGOs, educational institutions and think tanks as "key audiences."
These groups might seem unlikely to respond to overtures from WHINSEC, but they have -- after sustained, persistent courting via various channels.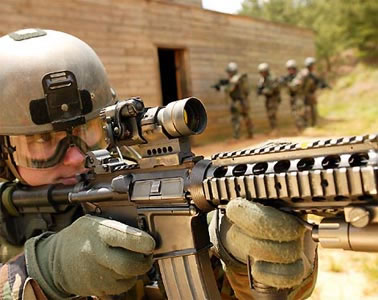 WHINSEC's early attempts at securing third-party backing were abysmal failures, according to the Board of Visitors, a Congressionally mandated WHINSEC oversight and advisory body. The Board's December 2002 meeting minutes note that "the Institute had sent over 35 invitations to NGOs" for WHINSEC's second annual Hemispheric Security Conference, "but none had been accepted." WHINSEC's Simon Bolivar Award for Democracy and Human Rights Award and Lecture Series, a recently-launched annual event, also enjoyed little support. The Board of Visitors "recommended continuing to invite NGOs to submit nominations, even though solicitation of some 50 NGOs this year yielded no response," read the minutes.
Adam Isacson, a senior associate at the Center for International Policy in Washington DC, said it's no surprise that WHINSEC's initial outreach fell flat. "They faxed out invites for several years," he told PR Watch, "but they weren't to anyone's attention," just addressed to whichever organization. Isacson said several Washington-based groups with Latin America programs, including his own, received but ignored these WHINSEC contacts.
WHINSEC's outreach to the academic community saw more rapid gains. One of the many talking points in its PR plan stresses "the academic environment of the WHINSEC." This environment "encourages relationships between military and civilian students and faculty dedicated to building stronger societies through constructive interaction and peaceful change," the plan states.
In keeping with that theme, WHINSEC announced in May 2003 that "the first Canadian academic to serve as a Fellow" there, Dr. Dennis Rempe, received a prestigious award for his doctoral dissertation. Another WHINSEC press release noted that Professor Diego Rodriguez-Pinzon from Washington College of Law and Padre Alvarez, a dean of the Jesuit University in Bogota, Colombia, participated in WHINSEC's "Human Rights Week" in July 2003.
An April 2004 release titled "WHINSEC Hemispheric Security Conference Draws Eminent Educators" named Norwich University's Russell Ramsey and Hal Kearsley, the University of Georgia's Thomas Whigham, the University of California at Irvine's Cesar Sereseres, and the University of Louisiana at Lafayette's Robert Buckman as U.S. academic presenters.
During this time, human rights NGOs remained aloof. The International Committee of the Red Cross, which has given lectures and taught courses at WHINSEC on the law of armed conflict and international humanitarian law since at least 1997, seems to be the exception.
However, as predicted in the Board of Visitors' 2002 meeting minutes, "relatively soon the NGO community will begin to respond." According to WHINSEC's website, the Georgia-based Carter Center nominated Peru's Dr. Jorge Santistevan de Noreiga for the Institute's Simon Bolivar award. He became the award's first recipient, prior to September 2002 (exactly when is unclear). Participants in WHINSEC's Command and General Staff Course visited the Carter Center in the summer of 2003.
The next sign of thaw came in late 2004, when WHINSEC Commandant Colonel Gilberto Perez accompanied the head of U.S. Southern Command, General Bantz Craddock, to Washington DC. They held a joint meeting with NGOs working on Latin America, including Amnesty International, Human Rights Watch and the Center for International Policy. The conversation focused on Colombia and the U.S. base at Guantanamo Bay, Cuba, with "not much talk about WHINSEC," Adam Isacson told PR Watch.
The turning point in WHINSEC's relations with NGOs appears to have been a January 2005 workshop at Fort Benning itself, titled "Democracy and Human Rights at WHINSEC." The event was organized by the Carr Center for Human Rights Policy, part of Harvard University's John F. Kennedy School of Government. The Carr Center's website says that it "uses its convening power to create a safe space for human rights organizations and other policy actors to engage in constructive self-criticism and to forge new partnerships" (emphasis in original).
Unlike most previous attempts to involve NGOs, this one was successful. Human Rights Watch, the Carter Center and the Center for International Policy participated in the WHINSEC workshop, according to Isacson. He said that the invitation came from the Carr Center, though the event was "probably" a WHINSEC initiative.
In a blog entry written directly afterwards, Isacson said he attended the workshop "to learn more about the part of the Institute's mission that sounds most like something [the Center for International Policy] would support: training in human rights, civil-military relations and the military's role in a democracy." His assessment was that WHINSEC did have "a genuine interest in making human rights more than just window-dressing to improve the school's image."
However, Isacson also had serious concerns. Foremost was that WHINSEC "training doesn't explore the importance of tolerating -- not to mention protecting -- those who relentlessly criticize and seek deep reforms, but do not violate the law: human rights defenders, labor organizers, investigative journalists, whistleblowers and denouncers of abuse and corruption, among others." Another concern was that "collaboration with or toleration of other groups that do the dirty work," such as Colombia's pro-government paramilitaries, "do not appear to be a prominent training topic." That's an especially glaring deficiency, since Colombia sends more students to WHINSEC than any other country.
Four months later, WHINSEC moved to institutionalize its interactions with NGOs. In May 2005, about 20 students in WHINSEC's cadets school traveled to Washington DC for a joint meeting with several organizations, including the Center for International Policy and SOA Watch. SOA Watch's Christy Pardew told PR Watch that her organization had "a pretty big conversation" about whether to participate, but finally decided that "it was important for us to go and act as observers."
The meeting, about two hours long, featured "lots of debate" and was "pretty fun," said Isacson. Pardew recounted that one Colombian student "raised his voice, asking, 'Why are we here to discuss that human rights is good? We all know that our career is over if we commit a human rights abuse.'" She found the student's comment rather ironic, given how infrequently Colombia has prosecuted its military for abuses. Similar meetings with NGOs are planned as a routine part of future WHINSEC cadets courses.
Perhaps the feather in WHINSEC's cap, though, is Human Rights Watch's decision to give a lecture during the Institute's "Human Rights Week" in August 2005 -- the organization's first-ever involvement in a WHINSEC course. Bonnie Docherty, a researcher in Human Rights Watch's Arms Division and the person who gave the lecture, told PR Watch that her presentation was based on "our battle damage assessment to Iraq that we have given in many forums. In Iraq, we found that the United States killed or injured hundreds of civilians with their use of cluster munitions in populated areas."
Docherty said her goal was "to explain that militaries can and should abide by international human law," which historically "Latin American militaries have abused." Human Rights Watch saw the WHINSEC course as "a good opportunity for us to train officers on [international humanitarian law] standards and to show the impact of their actions on civilians," she explained. Human Rights Watch has not made an ongoing commitment to WHINSEC, seeing the lecture as a "one-time event," according to Docherty. She stressed, "Our participation is not an endorsement of the group we are training."
SOA Watch's Pardew commented on Human Rights Watch's involvement in the WHINSEC course by saying, "There are a lot of NGOs working to ensure that there is more human rights training. They're in a position of being able to encourage that, while still realizing that it's nowhere where it needs to be."
Isacson responded similarly when asked how the Center for International Policy decided whether and how to engage with WHINSEC. "You don't want to give a tacit seal of approval," he told PR Watch. "So, you make clear that we still don't think that this institution is necessary and we don't want our pictures in your promotional materials. And they agree to that."
Such systematic and sustained outreach to human rights NGOs directly contradicts what WHINSEC's public affairs officer, Lee Rials, told PR Watch. "I don't want to sound lazy," he said, "but I'm not doing too much work now, in terms of having to go out and seek people" to support WHINSEC. In fact, Rials called soliciting support from outside organizations an inappropriate activity for WHINSEC staff: "We'd almost consider that lobbying."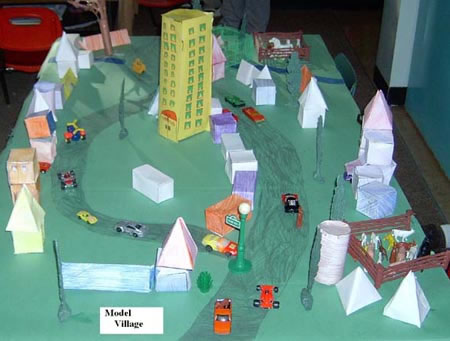 The larger question is whether WHINSEC's partial PR success might help deflect attention away from where the United States carries out the vast majority of its foreign military training. While the Center for International Policy's Adam Isacson credits the "laser-like pressure from SOA Watch" with forcing Fort Benning to become more transparent, he admitted, "I wish we could find out more about other training, other programs."
Isacson estimates that there are around 100 other U.S.-based facilities training foreign military personnel. WHINSEC trains just 700 to 800 of the 14,000 Latin American military members trained annually in the United States. Even the Institute's PR plan lists the five other Defense Department training facilities "that concentrate on Latin America": the Center for Hemispheric Studies at Fort McNair in Washington DC, the Inter-American Air Force Academy at Lackland Air Force Base in Texas, the Navy Small Craft Instruction and Technical Training School at the Stennis Space Center in Mississippi, the U.S. Army Helicopter School Battalion at Fort Rucker in Alabama, and the U.S. Army Helicopter Maintenance Company at Fort Eustis in Virginia.
Moreover, both Isacson and SOA Watch's Christy Pardew warned that more and more U.S. military training is being done overseas. "Why keep on doing those courses in Georgia," Isacson asked rhetorically, "when you can just send the Special Forces down there, where no one's watching?"
Is WHINSEC being promoted as "Democracy in action" (as one of its PR plan's talking points claims) while more questionable practices are outsourced elsewhere? Perhaps that's what the Institute's Strategic Communications Campaign Plan means when it lists "counter[ing] negative perceptions of the Army" as one of its two overarching objectives.